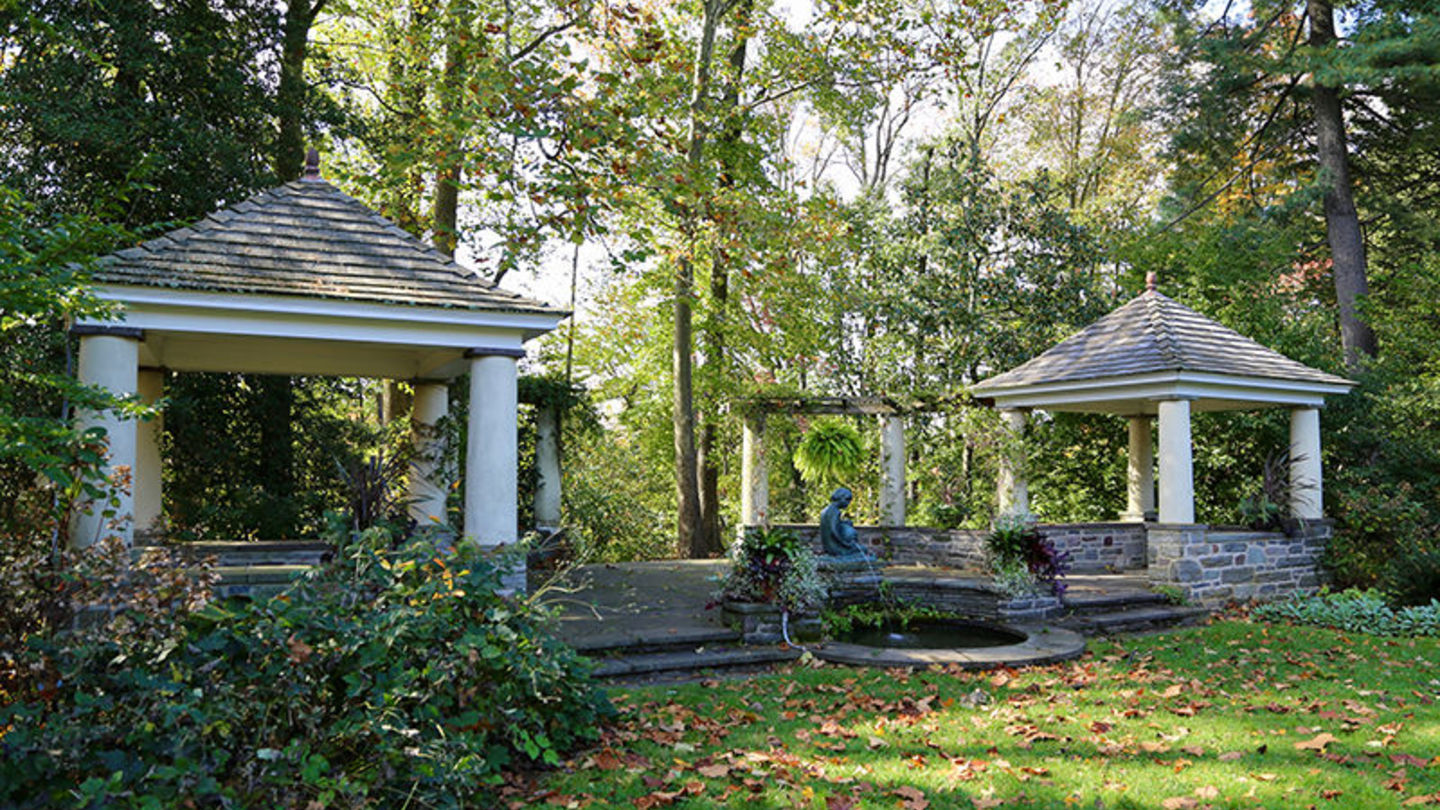 When Karyl Evans came to the Ambler Arboretum of Temple University in the fall of 2017, it was a bit like seeing a dream.
After studying the life and work of Beatrix Farrand for years, she was actually standing in the wonderfully preserved Louise Bush-Brown Formal Perennial Garden, which Farrand and James Bush-Brown designed in 1928.
"When I first saw the garden, I had an emotional response, it was so exciting. After being a trailblazer for women working in the field of landscape architecture, how pleased Farrand must has been to receive the commission to design this garden," said Evans, a six-time Emmy Award-winning filmmaker and Yale Fellow — she was a Yale Fellow with Susan Cahan, Dean of the Tyler School of Art. "Beatrix Farrand was the most successful female landscape architect in early 20th Century America and one of the founders of the American Society of Landscape Architects, a true pioneer in a male-dominated field. To create this signature garden for the Pennsylvania School of Horticulture for Women — itself known for opening so many doors for women in landscape architecture and horticulture — it must have held such significance for her."
Evans will share Farrand's rich history when she presents her new documentary, The Life and Gardens of BEATRIX FARRAND, during the Ambler Arboretum's Celebration of Women in Horticulture, on Wednesday, March 14, at 7 p.m., in the Ambler Campus Learning Center Auditorium. Evans will provide an introductory lecture and take questions following the film.
"Beatrix Farrand is an American master — I'd say as important in her field as someone like Frank Lloyd Wright was in the field of architecture — and no one had produced a documentary about her. For a documentarian, it's exciting to be able to forge new ground like that," Evans said. "I wanted to give a voice to an extremely significant historical figure who was close to not being remembered."
Born in 1872, the niece of Edith Wharton, Farrand found very few educational opportunities for her unique interests and skills.
"There were no real programs in landscape architecture at the time and certainly nothing for a woman. So she studied plant material at Harvard's Arnold Arboretum and Civil Engineering with private tutors at Columbia University," Evans said. "At the age of 23, she opened her own garden design firm in New York City and was the only woman among the 11 founders of the American Society of Landscape Architects. She grew up in the privileged world of the East Coast elite and fought through the challenges of working in a male-dominated profession to design over 200 landscape commissions during her remarkable 50-year career."
Evans' documentary takes viewers on a cross-country journey to Dumbarton Oaks in Washington, D.C.; the Peggy Rockefeller Rose Garden at the New York Botanical Garden; Garland Farm in Bar Harbor, Maine; the Abby Aldrich Rockefeller Garden in Bar Harbor; and Farrand's California gardens among many others. Farrand's life and work are recounted by Farrand scholar Diana Balmori, landscape historian Judith Tankard, and landscape architect Shavaun Towers.
"I have spent a lifetime around plants and gardens. My dad was an agronomist and my mother was a plant geneticist, both trained at Cornell; I have a horticulture/landscape architecture degree," Evans said. "After hearing (Balmori) speak at my garden club about Beatrix Farrand's work as a landscape architect and then after visiting several of Farrand's gardens, I was on a mission to give voice to this innovative landscape architect. Over the past three years, I have photographed Beatrix Farrand gardens from Maine to California, visiting her archives at the University of California, Berkeley, and interviewing scholars and head gardeners who know her work intimately. I was able to see for myself the sophistication and timelessness of her work and her vast knowledge of plants."
After completing The Life and Gardens of BEATRIX FARRAND, Evans continues to research and photograph Farrand's designed gardens in addition to interviewing scholars, gardeners and Farrand enthusiasts.
"This is really just the tip of the iceberg. There is so much more work that could be done," she said. "One day, I'd love to create PBS American Masters: Beatrix Farrand!"
Owner of Karyl Evans Productions LLC, Evans has won six Emmy Awards for her documentary projects among many other national and regional awards. She has been producing and directing video projects for more than 30 years and has worked in broadcast television nationally and locally on documentaries and multiple-part series for public television and network affiliates. Evans also worked in Los Angeles for five years in feature film development and production for director Taylor Hackford, developed an animated children's series for Showtime, and worked as a producer on a national PBS documentary.
Tickets for the film screening and discussion of The Life and Gardens of BEATRIX FARRAND are $20 for Arboretum Associates and $30 for non-members (Learn how to become an Arboretum Associate). Temple University students may attend this event free of charge with a discount code — contact kathleen.salisbury@temple.edu for the code.
1.2 Landscape Architecture CEUs from the American Society of Landscape Architects (ASLA) are available. Two Professional Certified Horticulturist CEUs are also available through the Pennsylvania Landscape and Nursery Association. The CEU fee is included in the registration price.
This program is co-sponsored by the Department of Landscape Architecture and Horticulture, with support from Tyler School of Art GAF Funds. 
For additional information, contact 267-468-8018 or duffyj@temple.edu.