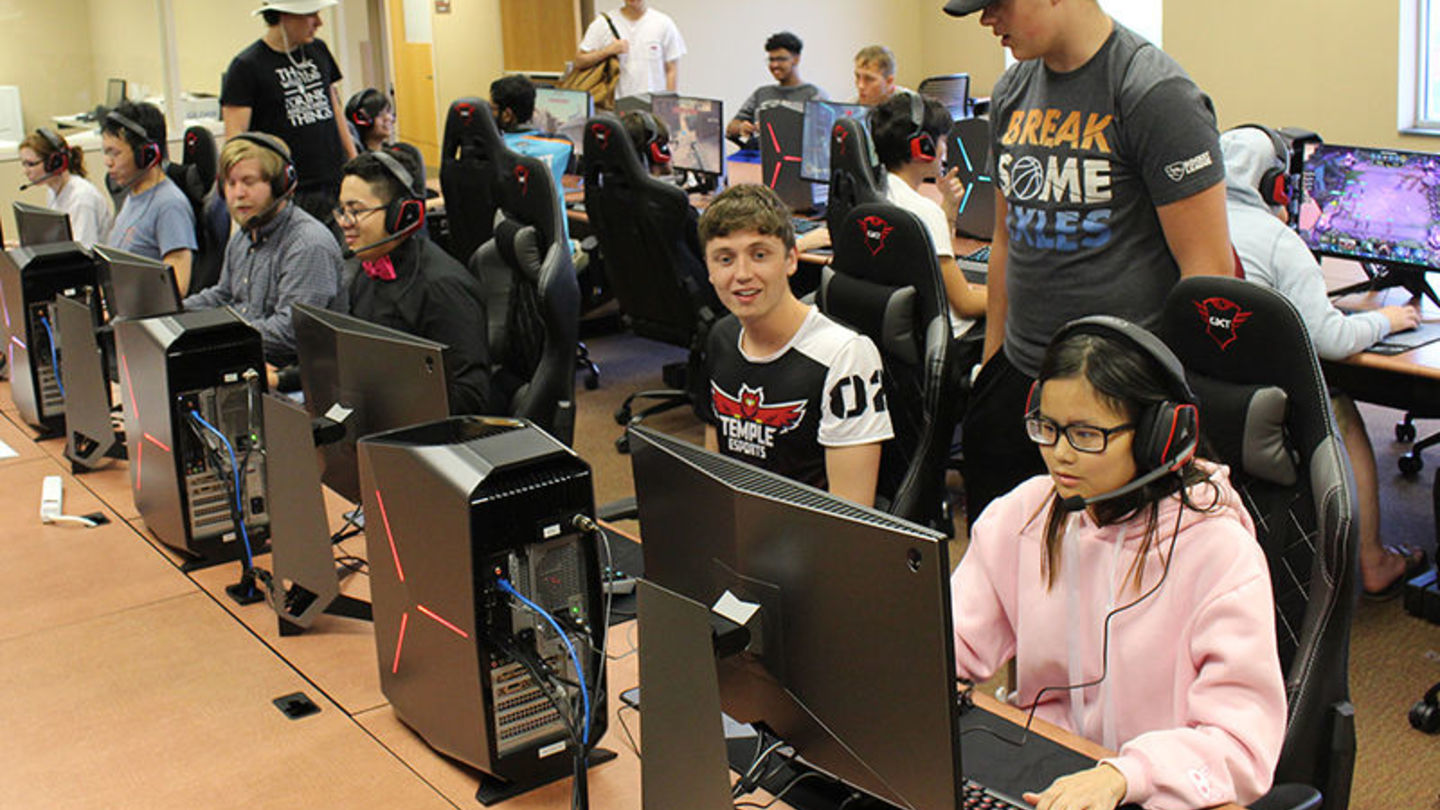 Overwatch. League of Legends. DOTA. Rocket League.
You may or may not be familiar with the names, but they are some of the most popular Esports games among competitive players who are constantly striving to improve their skills and connect with others of similar interests.
Esports — competitive, organized video gaming — has become a huge business. According to Fortune and Reuters, industry revenues topped over $1 billion in 2019, an astounding 27 percent increase from the prior year, and shows no sign of slowing down in 2020. Switch on ABC on any given weekend and you'll catch an Overwatch tournament. Entire streaming services today are dedicated to competitive Esports.
In fall of 2019, thanks to support from Temple University grants, Esports arrived at Temple University in the form of a dedicated space for students to connect, work as teams and socialize while building their critical, analytical and strategic thinking skills.
"When we first began planning the Temple Ambler Esports Center, we recognized that the campus was uniquely positioned to provide all Temple students the opportunity to take part in the rapidly expanding world of organized, multiplayer video game competition," said Reid Overturf, Assistant Director of Information Technology Services at Temple Ambler. "It's an innovative way to give students a new space in which to create new student organizations, make friends, connect to the campus, participate in a rapidly growing sports trend and relieve stress between classes."
According to Overturf, creating the Esports Center within Temple Ambler's existing Technology Center was made possible through a $29,300 Temple University Technology Fee grant and $3,200 from the Ambler Campus.
The Ambler Campus Esports Center includes 12 Alienware gaming computers with state-of-the-art graphics cards; 12 25-inch high definition monitors; 12 specialized gaming chairs; gaming keyboard and mouse for each dedicated gaming space; mics and headsets; an available X-Box adaptive gaming controller; and a 75-inch high definition television display with sound bar for spectator viewing.
"In determining what equipment was needed for this space to be state-of-the-art, we went to experts we have right here at Temple. We sent the specs to Temple's Esports Club and they provided feedback and important suggestions, which we were able to implement — their input was essential to the process," said Overturf. "Implementing Esports at Temple Ambler has provided a new and different social environment for students who share an interest in gaming."
Beyond gaming, Overturf said, these high-end graphics systems "have practical applications for a variety of Temple academic programs."
"Landscape Architecture, for example, would be able to use them for graphics-intensive software such as Lumion to very positive effect," he said. "Temple programs like this are already integrating technologies such as VR and augmented reality into their coursework. This is another technology tool that is now readily available on campus."
Since its inception, the Esports Center has played host to several Ambler Campus Student Life and Temple University Esports student organization events with additional tournaments and competitive and social programs planned throughout the spring 2020 semester and beyond.
"Esports is about team building and communicating. It's about strategizing, creating a plan and thinking on your feet. I can certainly see the Center at Temple Ambler being used for tournament play, practice and free play — for some students it's just going to be great to be able to have a gaming computer to just hop on between classes and have some fun," said Steve McFarland, a Computer Science junior and member of the Temple University Esports club. "I'm ecstatic about having this dedicated gaming space. I think it definitely provides an opportunity for students who might not otherwise get involved in student life to connect with other students and the campus and University as a whole."
Information Systems and Technology major Matthew Berman said community events and programs such as gaming tournaments have great potential to attract community members to campus and help prospective students learn about Temple and the Ambler Campus. 
"Esports-based scholarships given by universities and colleges are becoming more and more common. There are more than 60 colleges that offer Esports programs and I expect there will be many more to come," he said. "Groups like High School Esports League (HSEL) offer tournament prizes in the form of scholarships to help students pay for college. Working with local high schools to offer a scholarship could potentially motivate previously uninterested students to continue on to higher education."
Brent Whiting, Executive Director of Information Systems at Temple University, said an interesting aspect of implementing the Esports Center project has been the direct involvement of the students.
"Often at universities, Information Technology staff or faculty are the driving force behind technology advancements. What has been interesting to me in this case is that there has been a real reversal in that dynamic," he said. "The students are the experts; they follow the trends closely and are experienced with the essential equipment. We've worked with the students to determine their priorities and they've truly made this space their own."