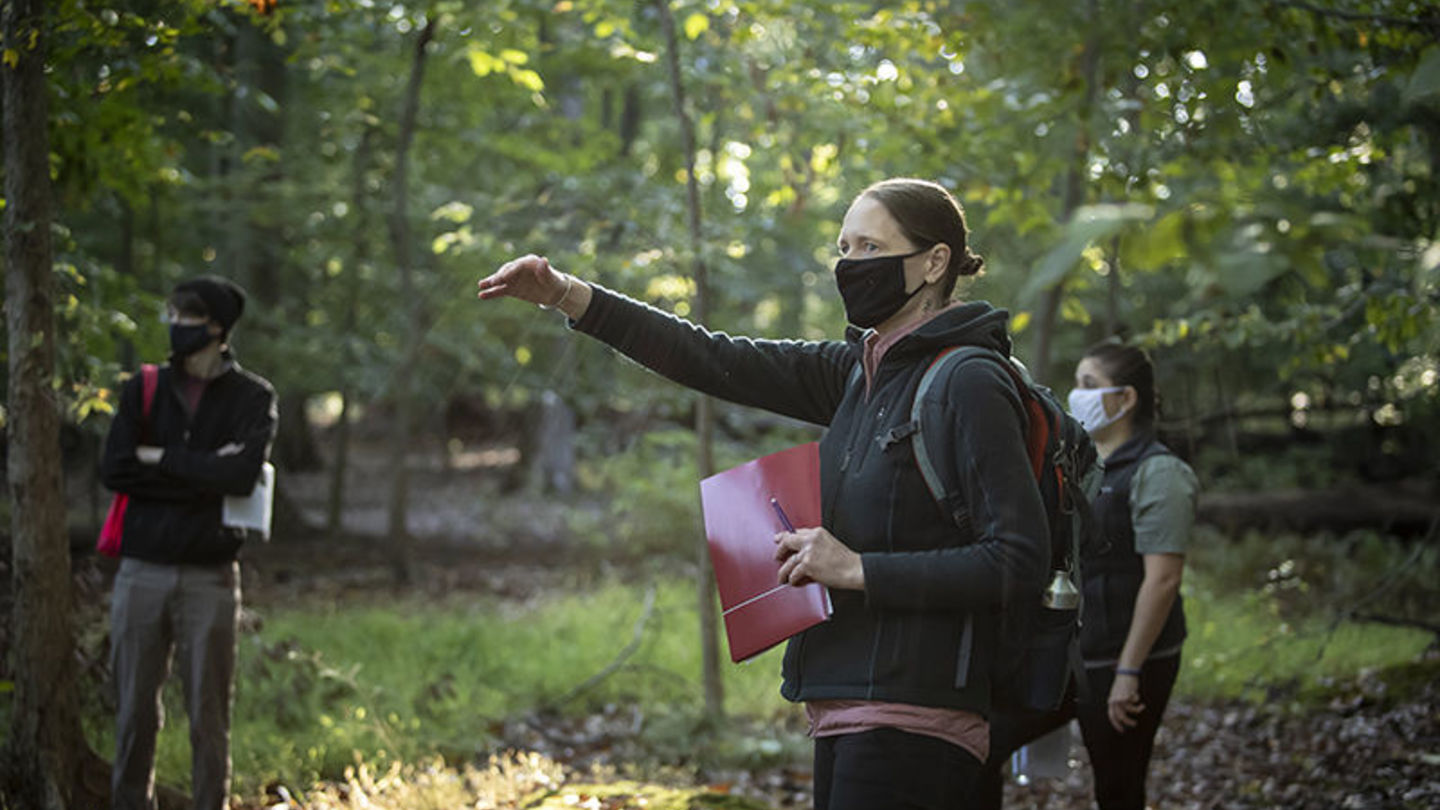 Temple University Ambler has more than a century of teaching and researching sustainable practices and building important connections to the natural world as both a campus of Temple and as its forerunner, the historically significant Pennsylvania School of Horticulture for Women.
Today researchers from a variety of disciplines currently conduct research at the Ambler Campus in everything from urban hydrology and stormwater management to ecology and seismology. Now researchers from Temple and well beyond have a new home and access to a broad range of natural resources and technology.
The Temple Ambler Field Station will be "an important resource for essential research taking place throughout the University," said Dr. Michele Masucci, Vice President for Research at Temple, who announced that a field station would be formally established at Temple Ambler at the University's inaugural President's Innovation Awards Gala earlier this year.
"It will be the focal point for cross-disciplinary, cutting-edge scientific research; hands-on teaching and learning; and important outreach programs. The Field Station will distinguish Temple University from other institutions by offering a rich and diverse University resource to our faculty and their collaborators," she said. "It will greatly enhance the educational experience of our students by preparing graduates for further study, for scientific careers, and to be informed citizens."
Field Station initiatives will be guided by its new director, Dr. Amy Freestone, an Associate Professor in Temple's Department of Biology in the College of Science and Technology.
Dr. Freestone conducts field work in nearshore marine ecosystems on both the Atlantic and Pacific Coasts of North and Central America, and has collaborative projects that span other ecosystems and continents. She is a community ecologist by training, but, according to Freestone, she uses comparative approaches to understand natural systems across continental and global scales. 
"The field station is an outdoor laboratory. It is a platform for environmental field research and education across multiple disciplines," said Dr. Freestone. "As someone who is involved in ecological research, being outside and in nature is essential. You need that external extension to the lab space and other resources, which Temple Ambler also provides — you need to be able to take samples and conduct studies in real time to answer research questions. You can't recreate all the complexity of natural ecosystems in a lab." 
 Dr. Freestone, Masucci said, "is an inspiring and collaborative leader, who will help Temple realize the vision for the Field Station in the years to come."
According to Dr. Vicki Lewis McGarvey, Vice Provost for University College, of which the Field Station is a part, Dr. Freestone, "brings a wealth of research and field station experience that has taken her all over the world."
 "From Antarctica to Madagascar to Panama, Dr. Freestone comes to her new role as director having fully experienced what field stations can and should be. It is very exciting to be working with her to establish Temple's Field Station from the ground up," she said. "Under her leadership, University researchers, students and other research partners will be able to take full advantage of the diversity of resources that the Ambler Campus has to offer and advance scientific knowledge across the board."
The field station designation includes all of the Temple Ambler campus, according to Dr. Freestone.
"One of the greatest assets of the Ambler Campus is its mix of natural and designed landscapes in addition to facilities that include laboratories, classrooms, a library, technology center, offices, meeting spaces and an auditorium. The natural environments on campus provide excellent opportunities for field studies by advanced undergraduate and graduate students, faculty and university researchers," she said. "The key is providing access to resources that are secure and sustainable. Researchers are able to engage in long term planning knowing that they have a safe place in which to conduct research that could continue five or 10 years into the future." 
  Temple University Ambler and the Ambler Arboretum of Temple University — which marks its 20th anniversary in 2020 — "are truly a living laboratory for faculty and students," said Dr. McGarvey.
 "The 187-acre campus is rich in natural and ecological assets — woodlands, streams, meadows, designed and natural garden areas, and wildlife representing numerous ecosystems," she said. "Together with our classrooms, laboratories, and Arboretum, these assets will be fertile ground for faculty research, a destination for hands-on field experiences for students and, potentially, researchers from throughout the country and beyond."
In collaborating closely with the Field Station, "I look at the Arboretum as a canvas for other activities," said Kathy Salisbury, Director of the Ambler Arboretum of Temple University.
"There are so many different habitats, from old growth forest to large open spaces, that I think the Arboretum can be a foundational space for research. The Field Station will raise awareness about the campus among researchers at Temple and other universities in addition to government organizations and non-profits — it opens up the expansive potential of the campus for broad-based collaboration," she said. "I think the research that takes place on campus will help us gain a greater understanding of the different ways our gardens are maintained and operate. It might even help guide plant selection in the future as we continue to build upon the unique plant collections that we already have on campus."
The Field Station will also spearhead new citizen science opportunities for learners of all ages, providing hands-on experiences unavailable elsewhere, said Susan Spinella Sacks, Manager of Research and Grants at Temple University Ambler and Co-Director of Temple Ambler EarthFest Presents, which provides environmental and STEM educational opportunities to students, educators and families throughout the year.
"I see the potential for the Temple University Ambler Field Station to become a hub of environmental education throughout the region. The campus is perfectly situated between rural, suburban and urban centers, which I think will make it appealing to a broad range of researchers and learners who want to be involved in practical, hands-on educational initiatives," she said. "Having a director of the Field Station who has so much energy, who has committed so much to furthering the understanding of global ecological systems and has produced meaningful research all over the world, I can't think of a better foundation on which to build this exciting new initiative."
Dr. Freestone said while in the early stages of planning, University researchers have already expressed great interest in the resources made available to them through the new Field Station.
"The early feedback has already been quite positive. The field station will be a resource for both educators and students; it will be a particularly useful tool for courses that already include — or want to include — field research components," she said. "They can plan field courses or training opportunities or citizen science outreach that might not be possible at other locations.  Developing partnerships with other field stations can provide even broader field opportunities, opening up access to the coast, to the Poconos, and other areas."
In the first few years, Dr. Freestone said, she and the field station team are working to establish the Temple Forest Observatory, a research site providing detailed and publicly available data on the forests at the Ambler Campus.  In collaboration with the Smithsonian Institution, they are adopting standardized protocols from the Smithsonian Forest Global Earth Observatory, an international network of 72 sites across 27 countries, and using the Temple site to expand environmental science training opportunities to a diversity community of students and early-career investigators. She is also developing a complementary Global Change Program to conduct research on ecological impacts of climate change, land use change, and invasive species, and potential for ecological restoration.
"Through our Forest Observatory and Global Change programs, we will be able to study the big environmental challenges facing our ecosystems," she said. "As a field site, we will be able to collect standardized data on plant, bird and insect diversity over time to understand what changes are taking place.  We will also use time-lapse photography to document phenological changes through time, which will reveal how climate change is altering the natural rhythms of our ecosystems."
Expanding invasive species research will also be an important part of the Field Station's initial goals, she said.
"Controlling invasive species is a tall order. We will track the abundance, spread, and impact of key invasive species — emerald ash borer, spotted lantern fly — and develop management and restoration approaches. Temple already has several invasive species and ecological restoration initiatives in place that can inform this research," she said.
"Temple's expertise in ecology, environmental science, global change, and sustainability will support and advance this research agenda," Dr. Freestone said. "The Ambler Campus is a valuable asset to the Temple community."
"I think the Field Station will be an extension of what Temple Ambler already does in meaningful, valuable ways. The value to Temple research more broadly is that students and faculty alike will have the opportunity to study and help address key challenges to our ecosystems, which we know are threatened," she said. "This will be a community of researchers, students, citizen scientists, internal and external partners, educators and learners working to deepen understanding of our natural environments, from local to regional and even global scales. The Field Station will be a focal point for global change research and education."