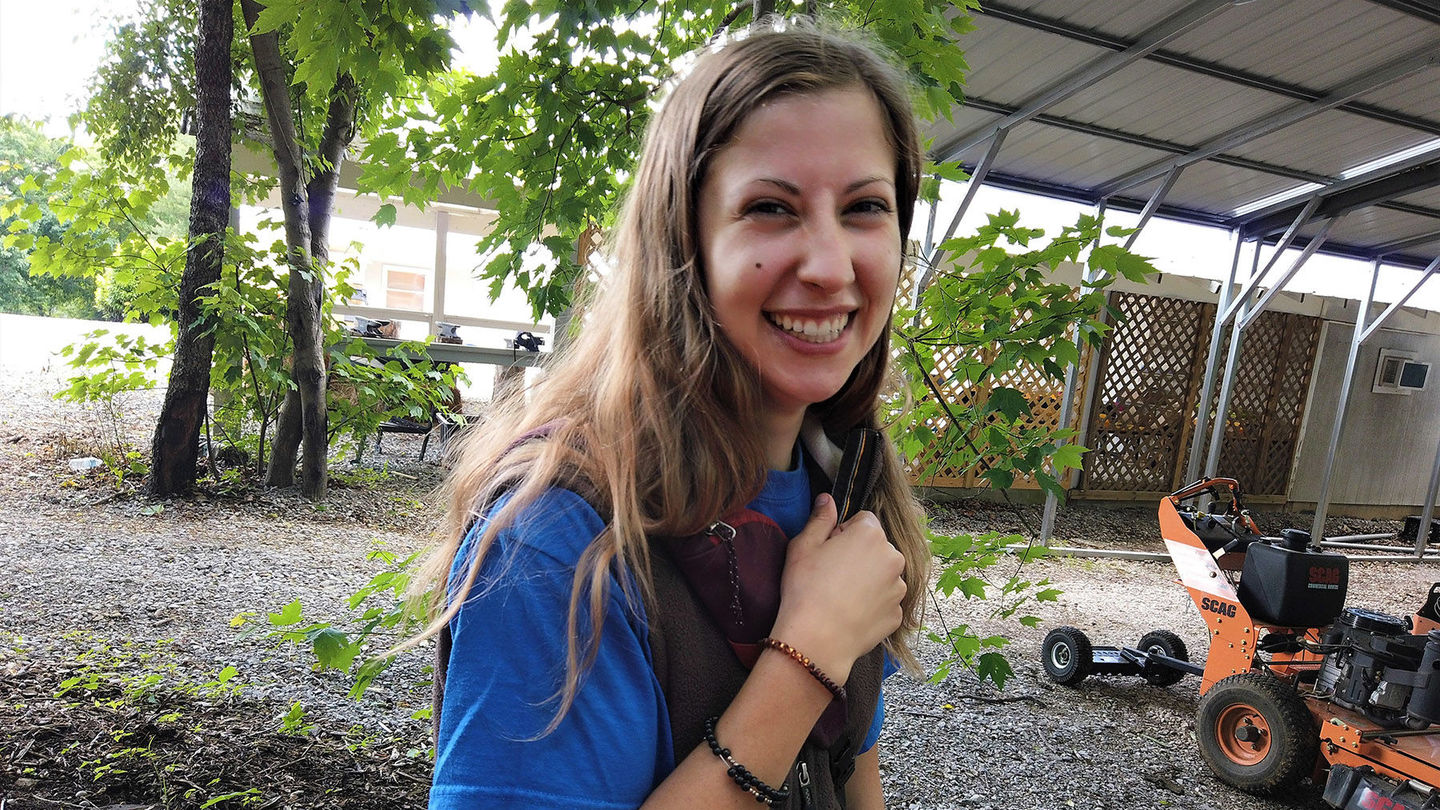 Photo provided by Mary Cortese
Mary Cortese, a PhD candidate in Biology at Temple University and Research Assistant with the Temple Ambler Field Station and Freestone Lab, is not afraid to dive right into her interests. In fact, she prefers it.
You're as likely to find her below the water as above it, all in the service of leaving the planet a better place than she found it and educating others on the importance of doing the same.
"As a research assistant, I am very excited about being involved in a lot of community engagement and community outreach. I think back on to my childhood and the opportunities I had to be outside and explore," said Cortese, who arrived at Temple University in August 2019. "Even if it wasn't in a structured setup — even just walking through the woods with my Dad, or going to (the Great Smoky Mountains) National Park — there are so many benefits that come from that. With the Temple Ambler Field Station, I want to be able to say 'Come outside and be outside with us.' I think that's a huge benefit to the community."
The Field Station, Cortese said, provides the perfect intersection between innovative research and community engagement.
"I hope we can create a place for really interesting research activities but then also a place where the community can directly engage with the research and citizen science; where they can see scientists and science happening in real time," she said. "They can meet a scientist and make these connections to science, so that when they see something about climate change research or they see a science headline, they can think, 'Oh, I know people who do that.' It makes science less obscure."
Prior to arriving at Temple, Cortese packed an impressively diverse amount of experience into just a few short years.
After completing her bachelor's degree in Marine Science at the University of South Carolina, she started with the Conservation Corps in the "American Conservation Experience" based out of Asheville, North Carolina.
"They have different Conservation Corps units in different states; I was in the southeast unit. I bounced around the southeast for three months doing a variety of conservation projects; anything from planting trees to building trails at national parks," she said. "We also did some wetlands mitigation, restoration work and invasive species removal, so anything and everything in the conservation realm. It wasn't just being on a trail crew. I did get to do that and see what it was like, but also got to work with wetlands, which I was very interested in with my marine science background."
While completing her undergraduate degree, she took the plunge - literally - into an aquarist internship at the Riverbanks Zoo and Aquarium in Columbia, South Carolina.  
"I did a lot of feeding and a lot of tank maintenance. We learned about everything it takes to work in an aquarium — I don't think there are many people that have any idea what happens behind the scenes. I learned what all of the different fish like to eat and their preferences," she said. "This one type of fish really loved cucumbers, but only peeled cucumbers. For some you had to cut peas in half because their mouths aren't big enough to eat a whole pea — quirky, fun facts that you learn on the job."
Cortese was also a dive volunteer in the big tanks.
"If you go to an aquarium and see a diver cleaning the tank, that was me," she said. "I would go in twice a week and scrub down all of the rocks and wave to the people, which was fun."
Part of 2017 found Cortese interning at the Central Caribbean Marine Institute on Little Cayman Island — not a bad place to work if you happen to love the sea.
"I spent a month on Little Cayman Island, which has 150 permanent residents — when they say little, they really mean little. There's a field institute out there on the island that brought in several coral nurseries; they are trying to re-habitat the reef with local corals that had died off," she said. "It's like a coral farm. They place a PVC 'tree' into the big sandy bed and tie the baby corals to them — the water goes by them in the coral pieces just grow in all directions. We were doing maintenance on these big coral farms."
Corals, Cortese said, "don't like algae."
"We were scrubbing algae off of the PVC pipes to make sure that no algae were on the baby coral," she said. "Once they are fully grown, you take them and essentially glue them back onto the reef where they had experienced successful coral growth in the past."
From studying microplastics created by lobster traps off the coast of Maine for Oceanwide to working as a camp director and outdoor education specialist at Tate's Day Camp in Knoxville, TN, to working as a research assistant to Dr. Scott White at the University of South Carolina to becoming a founding member of the Women in Geosciences organization, Cortese's deep well of experience is informing her career goals today.
"With Dr. White, for example, I was involved in sediment geology and deep-sea geology. He does a lot of the submarine work with Alvin, a deep-sea submarine out of the Woods Hole Oceanographic Institution," she said. "He would take videos of deep-sea sediments and I would process the data. My project was studying the correlation between what the biology is in a location and what the sediment type is. Is it really rocky? What things are going to be more associated with the rocks? Is it a lot of fine sediment cover or is it lava rock? I was creating a log of the organisms and the type of sediment."
Those experiences, she said, "solidified for me that marine science was the right career path for me."
"I like doing the work and gathering my own data. That's why I wanted to come to Temple on the PhD track in Biology; I wanted to be hands-on and take my own data and craft my own projects," she said. "Every new experience has some relation to my previous experiences. The outdoor education work connects to EarthFest Presents and Arboretum programming; having the opportunity to re-engage with that aspect of my personal experience is exciting. All of my research experience meshes right into all of the research that is and will be taking place with the Field Station."
Cortese said the work of Temple's Freestone Lab, under the guidance of Temple Ambler Field Station Director Dr. Amy Freestone, is what initially drew her to Temple.  
"It's funny. People asked me, 'You're going to study marine and ocean science in Philly? How does that work?' Amy Freestone does a lot of work internationally, so there are a lot of research opportunities," said Cortese, who is also a teaching assistant in Temple's Biology Department. "I was very interested in how organisms behave differently at different latitudes. The project I'm working on looks at biogeography and where organisms are and how they are moving. We are seeing these really large-scale movements of animals due to climate change. My interests overlapped well with the lab's interests and the projects that are taking place."
Looking ahead, Cortese hopes to become a lead researcher and have her own lab.  
"I love the idea of being able to track the projects that ask the questions that I want to ask. I could work at a university or a research facility or a field station — that was a great tie-in with the Temple Ambler Field Station," she said. "Having Temple Ambler and the Field Station to provide space for students and faculty to engage in ecological, hands-on research experiences is essential. It's a way to give students great insight on what it's like to be outside, to be a field researcher in a space that is easily accessible for them."