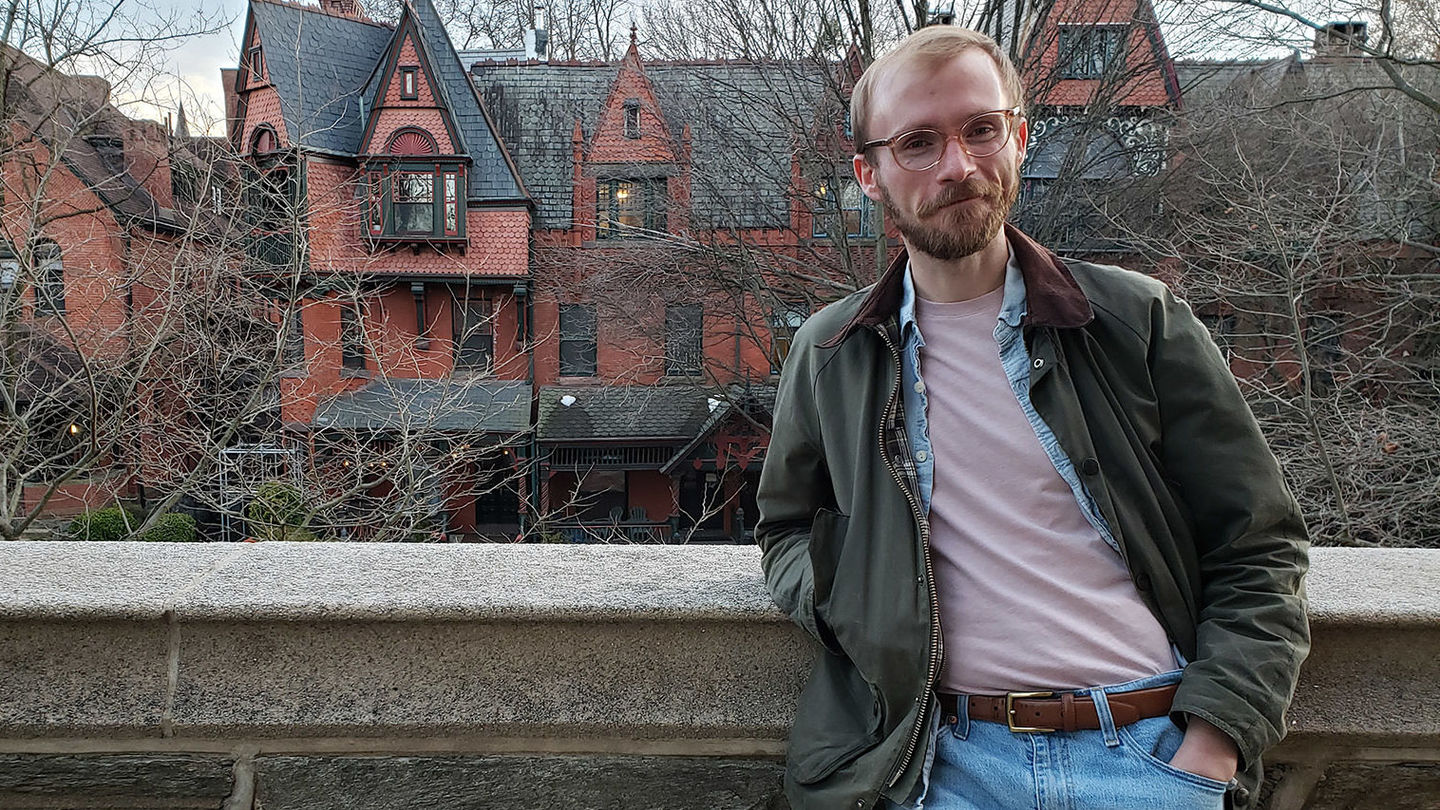 Sam Emory
Since early 2020, an aging metal hulk has sat lifeless and dormant on a mile-long stretch of coastline where the Schuylkill transitions to the Delaware River in Southwest Philadelphia.
In 2019, an accident at the 1,300-acre Philadelphia Energy Solutions refinery — the largest refinery on the East Coast at the time — set off a series of explosions that released more than 5,000 pounds of hydrogen fluoride, a deadly gas, and sent pieces of shrapnel weighing more than 19 tons raining down on the site.
While the site has been purchased by a new developer with the likely intention of continuing industrial use, Sam Emory, a Master of Landscape Architecture (MLArch) student in the Tyler School of Art and Architecture, has an altogether different vision for the location — an ecologically sound answer to the question "What do you do with an old refinery about the size of Center City Philadelphia?"
"The closure of the refinery offers an unprecedented opportunity, but the first order of business has to be remediation. We have to ask to what extent the site can be cleaned up to allow for public access, as well as immediate economic uses," said Emory, a licensed architect with the firm SMP Architects in Philadelphia. "I think this is also the best time to consider replacing these extractive and dangerous systems with actively restorative systems, as opposed to ones that only do less harm. I envisioned the site hosting a diverse array of light industrial uses which are interwoven with ecological restoration and public recreation opportunities."
This comprehensive vision for the site was demonstrated in his project entitled "Harvest | Enrich | Grow," which recently garnered Emory Second Place in the prestigious international Edmund Bacon Urban Design Awards Student Competition, sponsored by the Philadelphia Center for Architecture and Design and named in memory of Philadelphia's iconic city planner. Bacon is recognized as one of the most significant city planners of the 20th century.
"Being honored in this particular competition is very humbling — in this field and in this city, you hear and talk about Bacon's legacy all the time," said Emory of the award, which recognizes students whose work "epitomizes excellence in urban design," according to the Philadelphia Center for Architecture and Design.
The Urban Design Challenge asks university-level students from around the world to imagine innovative solutions for Philadelphia's neighborhoods, abandoned land, and infrastructure.   Emory was the only individual award recipient this year — the other honored projects were developed by student teams.
"I join the MLArch program in Fall 2020. In my first studio, the professors — Donna Shumpert and Andrew Hayes — gave us the competition as our design problem. One of the ideas emphasized in the prompt was interdisciplinary collaboration," said Emory. "While I wasn't working with a student team on this particular project, I do have an interdisciplinary background.  I felt like I might be able to put together a submission that addressed architectural questions as well as landscape and urban design questions. My professors were invaluable resources and collaborators — they were an essential part of the process."
Emory said the refinery site presented a unique set of challenges, not the least of which was its sheer size.
"Trying to wrap your head around 1,300 acres and get it down from that scale to the scale of a design problem was difficult. In the competition prompt, we were also asked to think about the economics of the site — it had been a huge employer in the neighborhood," he said. "But many of the jobs offered at the refinery were dangerous, and there was a real and documented public health impact to the surrounding neighborhoods. I wanted my project to negotiate between these economic imperatives and the need to create public green space that has a restorative effect on the communities that surround it."
Keeping all of those complexities in mind, Emory hit upon three key ideas — materials recovery, soil creation and ecological restoration.
"Materials recovery is about remediating and reusing things at the site where possible," he said. "The soil creation piece came out of that same line of thinking. One of my goals was to restore certain portions of the coastline to historic floodplain elevations, and that would normally entail the costly removal and disposal of huge amounts of soil from the site. Could that soil be remediated and reused on site instead?" 
The idea of dirt as a material that might be recovered and healed through bioremediation by using plants to extract toxins "led me to the idea of a soil creation facility," he said.
"Urban areas have been suffering from declining soil quality due to legacy pollution, construction, and many other factors. Cities, including Philadelphia, also have goals to implement green infrastructure and bolster urban canopy — goals that require quality soil for planting," he said. "A soil creation facility would build the specifically engineered soils that are needed to meet this rising demand for urban planting projects."
Key elements of Emory's plan included a recycling facility, soil creation facilities, a garden center, an urban forest park, and also a school which "would interface with soil creation so students could learn from this restorative process."
"The school would be able to leverage these new spaces as academic tools to help teach systems thinking. The site itself is a system that is composed of components all working toward the goal of restoring the environment. The idea of including educational components and inviting the public into the site through that lens was something I felt was essential," he said. "People go to nature centers all the time and learn from the natural systems that take place there. In the context of a city, I felt like there are these analogous cultural systems — recycling, restoration of the soil, green infrastructure — that should be educational as well."
In creating his concepts, Emory was under no illusion that such a transformative change for the refinery location would happen overnight. His project maps out the future of the location through the next 50-plus years.
"This is in every sense a long-term project. We have to take the long view if we want to fundamentally re-imagine places like this one, which has been used for generations as a refinery," he said. "Just grappling with that, with the refinery's legacy, is a long project in itself. If you really want to invite people into this site, it has to be safe for habitation."
Landscape architecture and architecture, Emory said, are "about how we as humans inhabit this planet."
"That could go in a lot of directions. We can express it heavy-handedly and destructively or we can go about it respectfully — thinking about these two disciplines through a lens of respect for the environment, that's where I want to start," he said. "I joined Temple's program with the intention of learning more about the environment, about ecology, about the natural world. I see architecture and landscape architecture as very interrelated, and I would like to practice as a designer of buildings and landscapes in a way that respects natural systems."
With those goals in mind, Emory found that Temple's MLArch program, with its focus on ecological restoration, was the right place for him.
"I knew after a few weeks of returning to school for my graduate degree that I had made the right decision," he said. "Temple Ambler is a beautiful campus and the Ambler Arboretum is an excellent resource, which we have still been able to make use of. I'm very thankful to be studying a subject that allows me to spend time outside and to learn from nature."