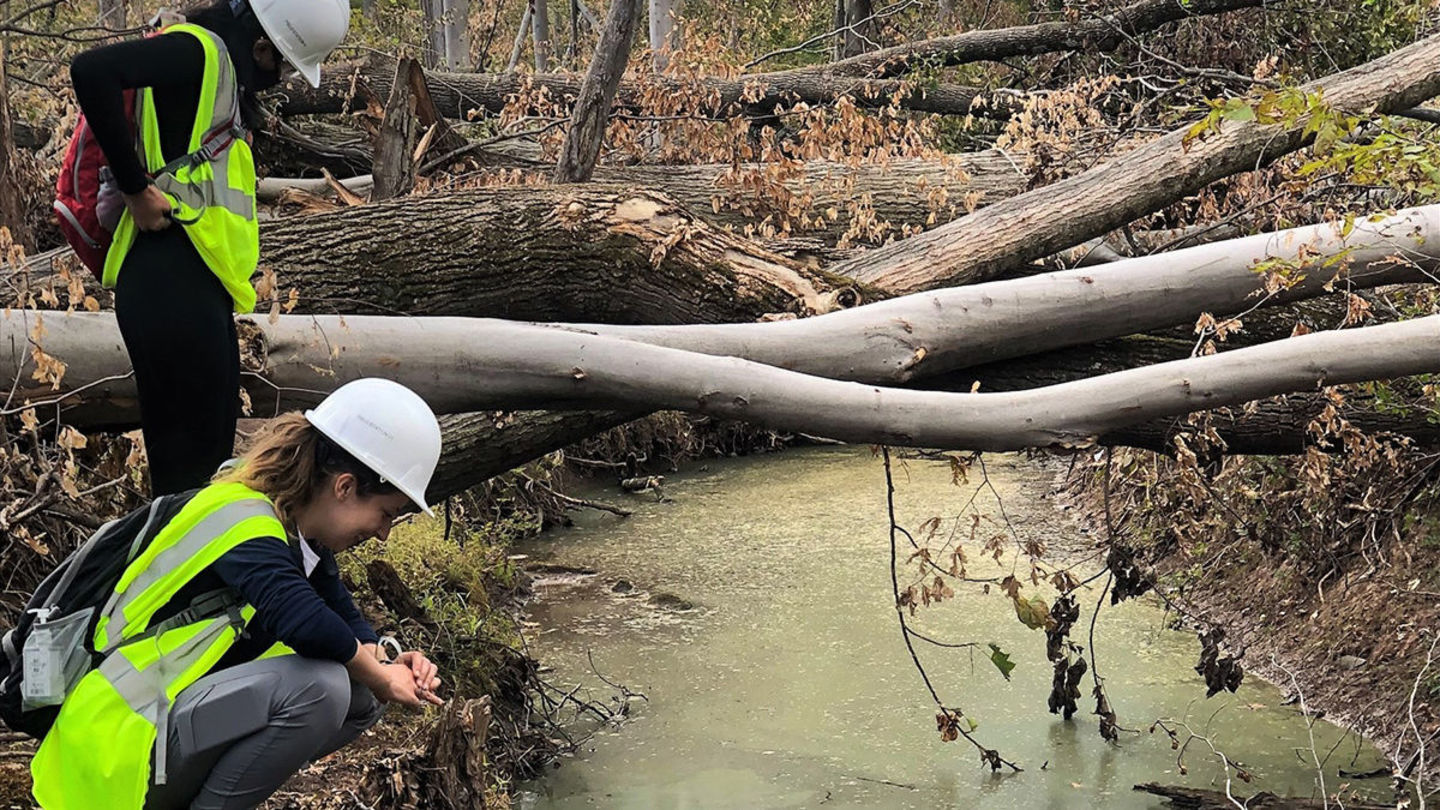 Photo by Mariana Bonfim
On September 1, the Temple Ambler Field Station was confronted with a seemingly impossible question.
How do you continue in-depth research in an ecosystem that has been forever changed by a natural disaster?
The answer: "Tell the story that nature has given us to tell," said Dr. Amy Freestone, Director of the Temple Ambler Field Station.
"Prior to the tornado that swept through the Temple Ambler campus in September, the Field Station had spent the last year establishing the Temple Forest Observatory in what we had called the Old Growth Forest. This is a collaboration with the Smithsonian Forest Global Earth Observatory (ForestGEO) to look at large scale and long-term forest dynamics," said Freestone, an Associate Professor of Ecology in Temple's Department of Biology and Director of the Ecology, Evolution and Biodiversity Program. "There are ForestGEO sites all over the world — 73 sites in 28 countries. The Smithsonian is interested in collaborating with us as a platform for training, particularly for promoting diversity in the sciences. Despite the extensive damage to the forest, the partnership with the Smithsonian hasn't changed, but our research focus has."
According to Freestone, the EF2 tornado that hit campus on September 1, "largely leveled the Old Growth Forest," where a large portion of the Field Station's research was based.
"Most of our trees were downed or stripped of branches and foliage — these were trees that were 150 years old and more, 100 feet tall and more than 1.3 meters in diameter. It was quite devastating. The change to the ecosystem was dramatic; I don't think that can be overstated," she said. "While there was the immediate aftermath and shock at what had happened, we had to begin to wrap our minds around what comes next. Soon after that we began to view it as an opportunity to understand the disturbance effects on forest dynamics."
Forest systems in general are not static, "they're not the same all the time," said Freestone.
"A large-scale disturbance like this is quite unusual in this section of the country. I think the larger story is that of climate change," she said. "We're seeing an increase in the frequency and intensity of storms impacting different regions of the world in different ways, changing what we call in ecology disturbance regimes —the disturbances that ecosystem is adapted to handle. Certainly, tornadoes are not one of those in this section of the world."
Finding Opportunity Among the Fallen Trees
According to Freestone, the aftermath of the storm provides "an opportunity for us to understand the impact of the tornado and the recovery process of the forest within the larger context of these changing disturbance regimes that are happening worldwide."
"What does it mean when you have an ecosystem that is impacted by a type of disturbance that is large scale, intense and quite different from the disturbances that it would normally be subject to — it offers an interesting research opportunity for us," she said. "We've been pivoting our research activities to study the impact of the tornado. With the establishment of the Temple Forest Observatory, we collected detailed data on the old growth forest before the storm. The research plot is four hectares, and we had censused 2.56 hectares prior to the storm. That means that in that area, we tagged, mapped, identified and measured every woody stem that was taller than 1.3 meters and greater than 1 centimeter in diameter — that is an amazingly detailed data set."
Having that data, Freestone said, "gives us a tremendous opportunity to understand the impact of the storm. We can and have been re-censusing the plot and seeing not only what was lost but what survived."
"It allows us to explore a lot of relevant questions. What are some of the predictors of survival? What are some of the factors that shape the recovery process? What plant species will emerge from the seed bank? What will be the balance of native versus invasive species?" she said. "What does this mean for wildlife activity in the forest? We have a large deer population. Will they use this habitat as much as they have in the past — we have data on how they used the habitat before the storm that can serve as a point of comparison."
Hands-on, Real World Learning
The Smithsonian, Freestone said, continues to support expanded opportunities for integrated research and training at the Temple Forest Observatory.
"We are still providing research and training opportunities in a lot of different ways, not only for our field station interns, but in the classroom. In addition to new courses, we are designing new teaching modules, some of which we are developing collaboratively with our interns," she said. "We are trying to ramp up educational opportunities that are related to understanding not only forest ecology but specifically disturbance ecology."
The Field Station will be offering new undergraduate and graduate Disturbance Ecology courses — Biology 3380 and Biology 5466 — during the spring 2022. Learn more about the courses here.
"Disturbances from an ecological perspective are any given process that allows resources to be redistributed, directly or indirectly. For example, a tornado impacted the campus and felled numerous trees," said Dr. Mariana Bonfim, Research Assistant Professor with the Temple Ambler Field Station and the Department of Biology, who will be teaching the courses. "It opened up space, for example, for other plants to re-colonize. It also released nutrients — the tree that was once taking up water and other nutrients from the soil is no longer there. Other species can use those resources."
According to Bonfim, the goal of the new course is to "provide an opportunity for students to study ecology from an inquiry-based approach.
"I want to get students out in the field making their own observations, making their own documentation, experiencing nature and applying those concepts to what we'll be focusing on in class," she said. "This will be an active, learner-centered course to study disturbances in general."
While the spring 2022 course is specifically focused on disturbance ecology, the Field Station is also launching a new field course during summer 2022 — Field Research in Community Ecology, according to Freestone.
"When I was designing this course a couple of years ago, tornado impact was certainly not on my radar. Now undoubtedly the aftermath of the storm will be integrated into that course. It's also being integrated into our internships," she said. "We're actively pursuing external funding for other training opportunities to leverage what has happened as a platform for integrated research and training."
Field Station Interns Transition to Studying Ecosystem Recovery
According to Freestone, the Temple Ambler Field Station's interns "have been fantastic in making this pivot with us and transitioning to projects related to disturbance."
According to Bonfim, the interns are currently studying important ecological dynamics such as biomass and biodiversity loss, the resilience of some tree populations on campus to the tornado, particularly red oaks, and changes in deadwood carbon distribution.
"In a community you have several different populations of species, so we're studying how the most abundant trees, for example, have resisted, or didn't resist, the impacts of the tornado. We're also studying how this has affected the invertebrate community, how spiders are responding, or how other vertebrates — deer, squirrels — are responding to this," she said. "The fact that we were studying these natural areas right up to the time of the tornado, really has created a unique opportunity for us to make some fascinating disturbance comparisons."
The students, Bonfim said, are particularly focused "on what we have that wasn't disturbed."
"Going forward we really want to see how these different systems will recover from this because that is the next step — they will recover," she said. "Will invasive species try to take hold or will our other dominant populations of native trees flourish?"
According to Freestone, the Field Station interns will be presenting some of their findings to the Ambler Campus community on Friday, December 3. Interns from the summer and the fall also presented their research at the College of Science and Technology Undergraduate Research Symposium in mid-November," she said.
"Every student identified different topics that they were interested in, and now they have this very large perturbation in the middle of their projects," she said. "They are looking at it as a unique opportunity as much as we are."   
Diverse Research Opportunities Take Shape
The Field Station interns aren't the only ones taking a keen interest in coming to campus to study the tornado's aftermath, said Freestone.
"We have researchers at Temple that are getting involved that weren't heavily involved before, but we're also having interest from researchers at other institutions and in other fields — now we have something even more unique to offer that people can come and study," she said. "It's not just an opportunity to understand the natural science and ecology of the forest. For example, we're working with researchers from the College of Public Health to understand disaster recovery efforts from a social science perspective. The Field Station is a platform for interdisciplinary research in this area."   
Towards the back of campus, the Field Station's PhenoCam continues to provide time lapse images of the conservation forest behind the Ambler Campus Learning Center just as it did prior to the storm.
"That forest was moderately impacted — you can actually see what took place that day, before the tornado and after. Across campus, we are already seeing differences in plant phenology, the natural rhythms of the ecosystem - when things are budding and blooming," she said. "Our field team has noticed very weird plant phenology following the storm — cherries that bloomed in October. Because of plant stress responses and the differences in the environmental conditions, we're having plants do some very strange things. On some of the trees that lost branches and leaves, we're already seeing sprouting again."
In what was the old growth forest, motion sensor wildlife cameras are back in place providing information on the wildlife patterns after the storm. 
"We've already started deploying sensors in the forest to understand differences in temperature and light regimes since the storm — as you can imagine, it used to be a very shady, wetter environment," Freestone said. "After the storm, it's open. You have exposed forest floor that has never been exposed before, at least not in recent history."
In this region of the world Temple Ambler "is now uniquely positioned to study the impact of a tornado," said Freestone.
"I think that we have a unique opportunity here, with both an ecosystem that was heavily impacted and very detailed data from before the storm. Being able to have that much detail in a pre-storm data set; I can't think of another example of an ecosystem that has that in this part of the country," she said. "We are a field station so we have the ability, desire, and infrastructure to support research and training in this field."