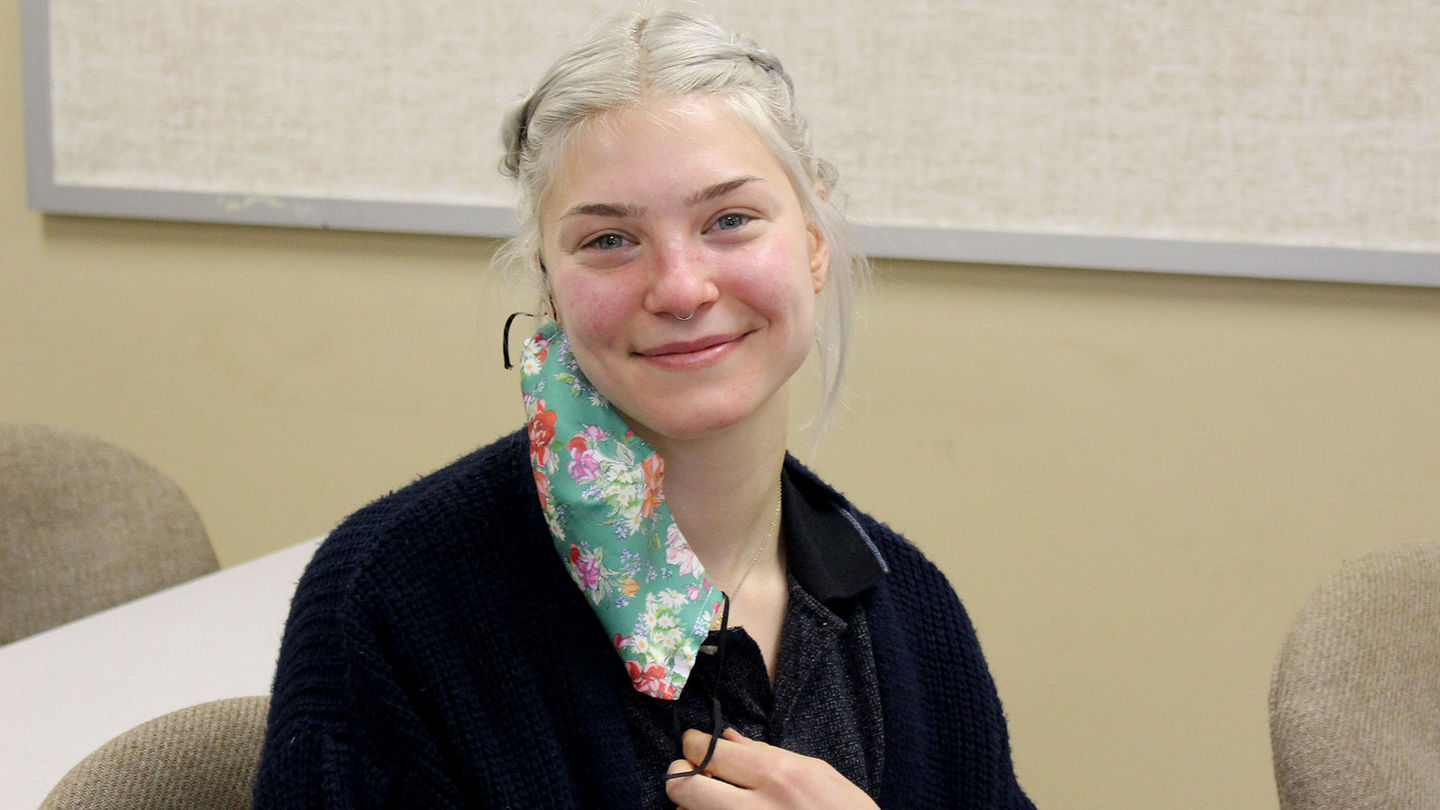 James F. Duffy
Temple University Horticulture sophomore Grace Lenart doesn't remember a time when she wasn't outside exploring the world around her.
"As a child, I was always outside, always exploring in the bogs near my house and the swamps and the forest. I feel like in school you are often told 'These are the specific jobs you can have' and you start wondering how you're supposed to fit into this whole outline of how life is supposed to work," said Lenart, who entered the Horticulture program offered by the Tyler School of Art and Architecture after transferring from Bucks County Community College. "I started to realize how much I truly enjoyed having plants in my house. I see plants as beings and I really enjoyed taking care of them. I knew this was a way that I could express my creativity and my passion and I could make a difference."
Fast forward to a fortuitous visit to the Pennsylvania Horticultural Society's Philadelphia Flower Show with her parents.
"I've been going to the Flower Show with my parents since I was in a stroller. A few years ago, we went and I saw the Temple Ambler/Tyler School of Art and Architecture exhibit," she said. "We ended up staying at that exhibit for a long time, talking to the students asking how they created the exhibit, how they planned it, the materials that they used. I really felt 'these are my people.' I kept that in the back of my mind for when I wanted to go to college."
For Lenart, Temple University Ambler, was "the university that's a few blocks away from my grandparent's house." After making the decision to transfer from Bucks County Community College, it became something else entirely, she said.
"It felt like home — it felt like a very natural fit. I have a passion and I wanted to discover how I could use it — Temple's Horticulture program seemed to me like, finally, this feels right. This is definitely what I want to do," she said. "The thing that sets Tyler's Horticulture program apart is that it's very dynamic. We learn in class then we can go outside on campus and apply what we've learned — I think that is the most amazing thing."
Lenart said she has never had a moment since entering the program where she wondered how she would apply what she was learning later in life.
"Here, I can learn the name of a plant, learn what it looks like, and then actually go out and see the plant and its characteristics right in front of me. You know instantly that you gained information on multiple levels; that stays with you," she said. "The fact that you're experiencing this with a bunch of other people that are also just as passionate about the subject just makes it that much better. It's a very close-knit group."
While Lenart's dedication to the craft has been clearly evident in her classroom work, her passion for horticulture has already gained recognition from professionals in her chosen field. 
Lenart was recently surprised with a $3,000 scholarship from the Pennsylvania Landscape & Nursery Association during a special Zoom presentation in Ambler Arboretum Director Kathy Salisbury's Woody Plant Identification class. PLNA presenters included Ted Ventre, Carrie Wiles, Cicily Elliot and Don Eichenlaub.
"Grace has shown not only strong academic ability, but a willingness to go above and beyond in her support for community service with groups like Habitat for Humanity, the American Cancer Society and Thomas Jefferson University Hospital," said Carrie Wiles of the PLNA Foundation. "Our industry needs more individuals such as Grace to get involved in leadership roles in student and industry organizations."
The award presentation, Lenart said, "came as an absolute surprise."
"I woke up that morning thinking it's just another day and next thing I know there's a group of people on Zoom congratulating me. This award, to me, means much more than its monetary value," she said. "It means that there are organizations out there that are invested in our future. If someone is willing to give money to support an individual on their career path, that means that they believe in me —it's very encouraging."
Beyond having a career in horticulture, Lenart said she wants to be involved in the green industry "in a way that makes a difference and makes more people aware of the importance of these fields."
"How I've approached horticulture is that I've been trying everything — floriculture, landscape management, greenhouse management. I'm open to any and all experiences in the field. My ultimate goal is that I want to help people; I want to do something that helps people individually or people as a society," she said. "Whether that is managing a landscape or a museum to keep a collection alive or working closely with volunteers in some aspect of horticulture or agriculture, anything that has to do with helping people and making a situation more comfortable, more positive, more welcoming."
According to Lenart, there is "something special about plants and trees, something magical about them."
"I think there is a lot we can learn from them, ways we can utilize them for the betterment of society. I think it's a matter of seeing the resilience of plants, seeing how they can help the environment, studying how we use them in our culture," she said. "We use flowers as a way to say thank you, as a way to say I hope you feel better, as a way to say I'm sorry for your loss. We have parks and natural areas that connect people to the natural world and show how communities can flourish. Plants are so embedded into our culture I don't think we even realize it — I wanted to be a part of that."
Lenart said she hopes other students take the time to explore the field of horticulture and, if they are pursuing their passions in the field, take the time to learn about the many scholarships opportunities that are available.
"If you have the passion and drive to succeed in this field, there are organizations that want to recognize that," she said. "More students need to take advantage of these opportunities and apply for these types of scholarships."
According to the PLNA's Ted Ventre, the organization makes scholarships available to horticulture students each year.
"We appreciate Grace and other students' decisions to make the green industry their focus in school," she said. "We'd love to see more applicants each year."
For students just starting to explore horticulture, "my advice, simply, is to talk to people," Lenart said.
"Talk to people are garden centers, at nurseries, at arboreta, at botanical gardens," she said. "Really explore and expose yourself to the world of horticulture and all of the possibilities within the field. If the horticulture field is for you, you'll know."