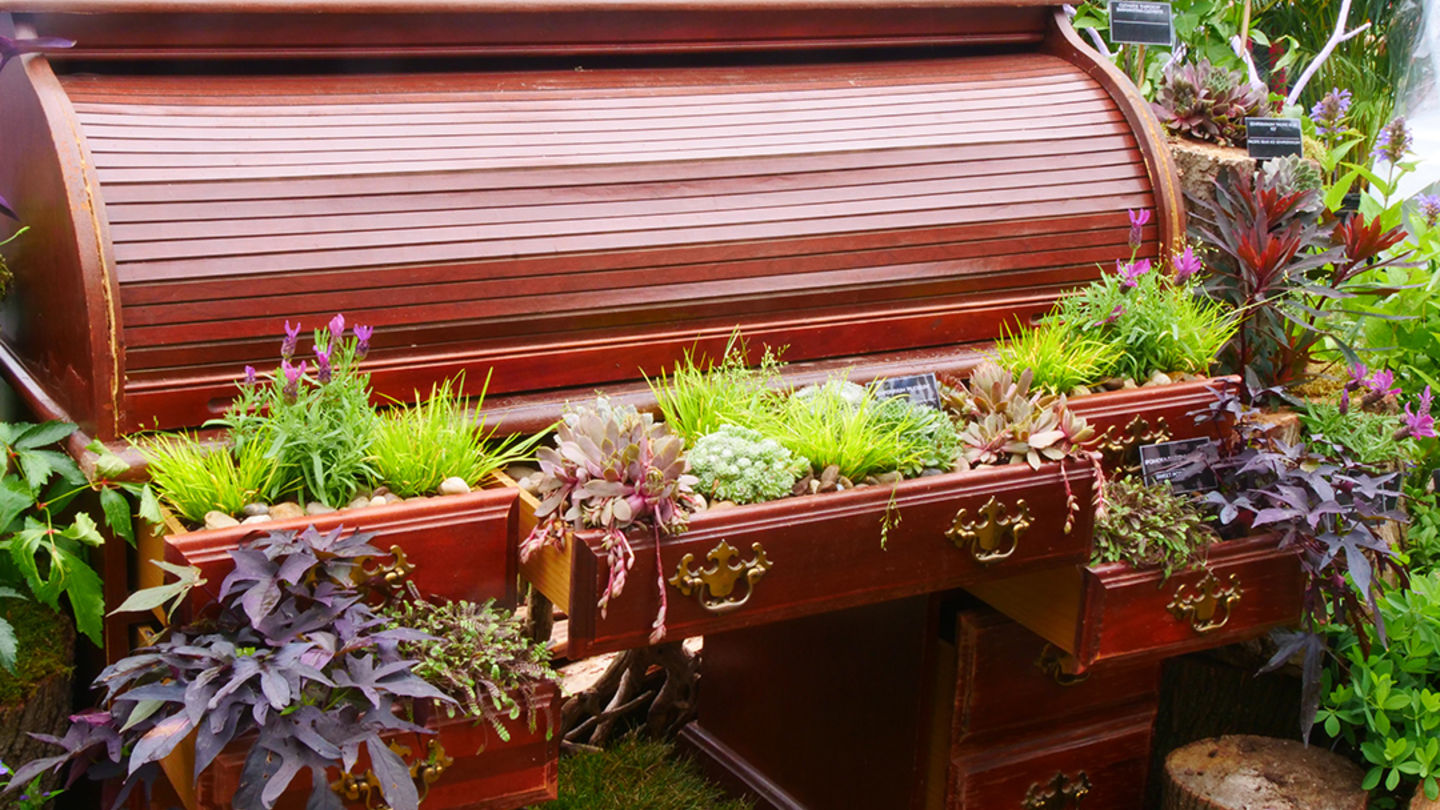 Photo by Juliana Capece
For centuries, lavender and other shades of purple have carried significant meaning in the LGBTQ community. However, early references in film and radio often poked fun at men and women who broke gender norms and carried a "streak of lavender." The "Lavender Menace" feminist collective bravely fought back and reclaimed what was once an insult into a rallying cry for representation. Today, the legacy of lavender in the LGBTQ community continues through events like lavender conventions and lavender graduation. — Taken from "The Lavender Menace" educational display, part of the Ambler Arboretum's Philadelphia Flower Show exhibit "Queer Roots to Nature: A Natural History of LGBTQ Botany"
LGBTQIA+ history is richly intertwined with the history of botany and the use of botanical imagery to convey message of love, identity and resistance. This dynamic history is the centerpiece of the Ambler Arboretum of Temple University's display at the 2022 Philadelphia Flower Show — Queer Roots of Nature: A Natural History of LGBTQ Botany.
"The goal of this exhibit is visibility. Although Pride Month gives LGBTQ+ folks a month of celebration, our existence as queer/gay/LGBTQ+ individuals is relevant all of other 11 months of the year," said Grace Lenart, a student gardener with the Ambler Arboretum and a Horticulture sophomore in the Tyler School of Art and Architecture. "We are not LGBTQ+ people, just people that happen to be proudly LGBTQ+. LGBTQ+ love and existence in society is natural. We aim to convey that LGBTQ+ folks' acts of love have largely been communicated through botanical means; that our identity, love, and belonging are all connected through the uniting medium of nature."
The Arboretum student gardener team that has designed and built the display is comprised of Lenart, fellow Horticulture student Frankie Napoli, Landscape Architecture student Danny Logue and recent Horticulture graduate Emilia Zabegay. Landscape Architecture senior Jasmine Henne — part of the team that designed and built the new Vine Display Garden in the Ambler Arboretum — has also provided assistance and support on the display. The advisor for the exhibit is Ambler Arboretum Director Kathy Salisbury.
Landscape Architecture alumnus Abigail Long, who in 2020 was part of the team of students and faculty who presented Temple's award-winning Philadelphia Flower Show exhibit Course of Action: A Radical Tack for Suburban Tracts, has also provided mentorship to the students working on this year's display.
"Our presentation this year is an educational display that details the long history between the LGBTQ community and the plant world, going back even to ancient times with Sappho and violets to modern examples like the Lavender Menace protests of the early 70s. Overall, we incorporated lavender plants and the color lavender as it has long been tied to the community — there's a subtheme of 'lavender as a color of resistance,'" said Napoli. "We wanted to reflect on how nature has been a source of healing for so many. We pulled plant quotes from famous writers and artists like Oscar Wilde, Mary Oliver and, of course, Sappho."
According to Napoli, the Arboretum student gardener team "worked and brainstormed for about two months" on developing the displays key themes and elements. The 18-foot by 22-foot display was first designed and built in the Innovation Studio of the Ambler Research and Collaboration Building. It was then disassembled and is currently being reassembled at FDR Park in Philadelphia. The students volunteered a great deal of their own time to the effort of bringing the display from concept to completion - the project was never part of a class and very much a labor of love and dedication to sharing this important piece of LGBTQ history.
"For all of May and June we've been working on collecting stumps and other materials from Temple Ambler to round out the exhibit — I would say 80 percent of our set pieces are created from recycled materials. We put this project together from start to finish in three months, which certainly factored in the decisions we made for the display," Napoli said. "We are all full-time students with part-time jobs, which meant that we had to move a lot faster and be considerably more flexible in our approach. I have been going to the Flower Show since I was 14 and always wanted to participate; I never imagined I would get to be involved on a scale like this."
Queer Roots to Nature: A Natural History of LGBTQ Botany will be on display at the Pennsylvania Horticultural Society Philadelphia Flower Show from now through Sunday, June 19 at FDR Park.
"We are focusing on themes of LGBTQ love, resilience, adaptability and identity. We drew inspiration from LGBTQ individuals in history that have used botanical imagery as a medium for communication, be it love, identity, or resistance," said Lenart. "We imagined the poetic scenes that LGBTQ+ individuals have written about, the symbol of a desk existing as a platform for their voices. We wanted to include plants mentioned in their poetry and writings, so guests could make a direct connection between the two."
The idea of reclaimed stumps, battling adversity after a natural disaster, represented the resilience of the queer community, Lenart said. Lavender, which is prominent throughout the display, "exists as a representation of love and a statement of identity," she added.
"Upon approaching our exhibit, guests will see an easel with a botanical image of lavender and its relevance to the LGBTQ+ community, a large roll-top writers desk featuring quotes of poetry from queer writers in history, and a large, withered trunk highlighting the relevance of Sappho and Oscar Wilde," she said. "The entire exhibit will be surrounded by branches from the Ambler Arboretum painted lavender. The writer's desk is flanked on both sides by a long, undulating bed — the plantings seek to bring to life the peaceful nature scenes referenced within the quotations. A wood chip path leading to the desk invites viewers to step into the shoes of these famous authors, botanists, and artists.; to feel inspiration surge as they are enveloped by the natural world."
The eye-catching screen of lavender branches is visible from multiple parts of the Flower Show, added Napoli.
"After guests are drawn in, there is educational signage about the history of lavender and its association with the LGBTQ community. Then on the left side of our display, there is signage and plantings dedicated to Oscar Wilde and Sappho — our plot is a unique shape, so it was a challenge to manage at first," he said. "More than anything, we want our exhibit to put viewers in a calm state of mind where they can be eager to learn. Our hope is that viewers leave with a deeper understanding of the people and plants around them."
A commitment to sustainability is also an important element throughout the display, according to the design brief put together by the Arboretum student gardener team for the 2022 display. Much of the materials used in the display were repurposed materials from the Ambler Arboretum and Ambler Campus. Logs are prevalent at various locations in the display, serving as benches, planters, or end tables. The logs were sourced directly from the Arboretum; some of them are from trees downed by the EF2 Tornado that hit Temple Ambler on September 1, 2021.
"In this way, we honor the trees that generations of students have learned from by extending their life. We hope that through botanic samples, compact educational signage, and specific quotations, the viewer is left with a deeper understanding of the people and plants around them," according to the design brief. "As the great unifier, nature serves as a nonjudgmental space where everyone is welcome to bask in the sun. Certainly, to be 'In Full Bloom,' this year's Flower Show theme, means to be open and visible as your full authentic self."
Lenart said the design-build aspect of the Arboretum's Flower Show project has given the student team opportunities to work collaboratively under deadline to meet common goals and work together to problem solve.
"Emilia (Zabegay) and I have spent hours researching plants that would work in full sun, that are drought tolerant, and would be blooming in June. Danny (Logue) has been crucial in using their Landscape Architecture background to finalize a rendering of our design," she said. "Frankie (Napoli) has used his researching skills to collect and organize information on the LGBTQ individuals relevant to our exhibit. We have all worked together, hauling countless logs, painting branches, salvaging unused pieces from storage buildings on campus, communicating with Ambler Campus staff, and taking our time to tie the whole concept together."
Original ideas, Lenart said, "grow and evolve — flexibility and adaptation are key."
"This is reflected in the necessary adaptation of the LGBTQ+ community in response to society's opinion of our existence. As a student, this project has strengthened my communication skills, my adaptability, and openness to new and different ideas," she said. "This project has connected us to the staff on campus, from the helping hands of Joe Imszennik, James Wilmore and the Facilities team, to Beth Shepard-Rabadam (Associate Director of Temple University Ambler), who has provided us with a space of our own to physically map out our exhibit space. The advice of Rob Kuper (Associate Professor and Program Head of Landscape Architecture and Horticulture) and Ben Snyder (Manger of the Tyler School of Art and Architecture Greenhouse Education and Research Complex at Temple Ambler), who have both been involved in previous PHS Flower Shows, has aided in both the hardscape and plant aspects of our design."
Ultimately, Lenart said, she hopes visitors gain "knowledge about the existence of LGBTQ+ individuals throughout history, and understand that in this moment, future history is being written."
"The LGBTQ+ folks of today will be tomorrow's Sapphos, Barbara Giddings, or Oscar Wilde's. I hope guests understand that our existence is natural, has been natural, and always will be natural," she said. "I hope guests will feel acknowledged as their authentic selves, feel a sense of belonging, and leave with a better understanding of how, through a botanical lens, the LGBTQ+ community has evolved, adapted, and conquered."
Temple University Ambler has a long and illustrious history with the Philadelphia Flower Show dating back to 1916 and Temple Ambler's predecessor, the Pennsylvania School of Horticulture for Women (PHSW). The Ambler Arboretum, Temple Ambler, and the Tyler School of Art and Architecture's Landscape Architecture and Horticulture programs have taken home dozens of awards throughout that rich history.
 For more information about the Ambler Arboretum display, visit ambler.temple.edu/arboretum/flower-show. For more information about the Ambler Arboretum, visit arboretum.temple.edu. 
For more information about the 202s Philadelphia Flower Show, visit theflowershow.com.