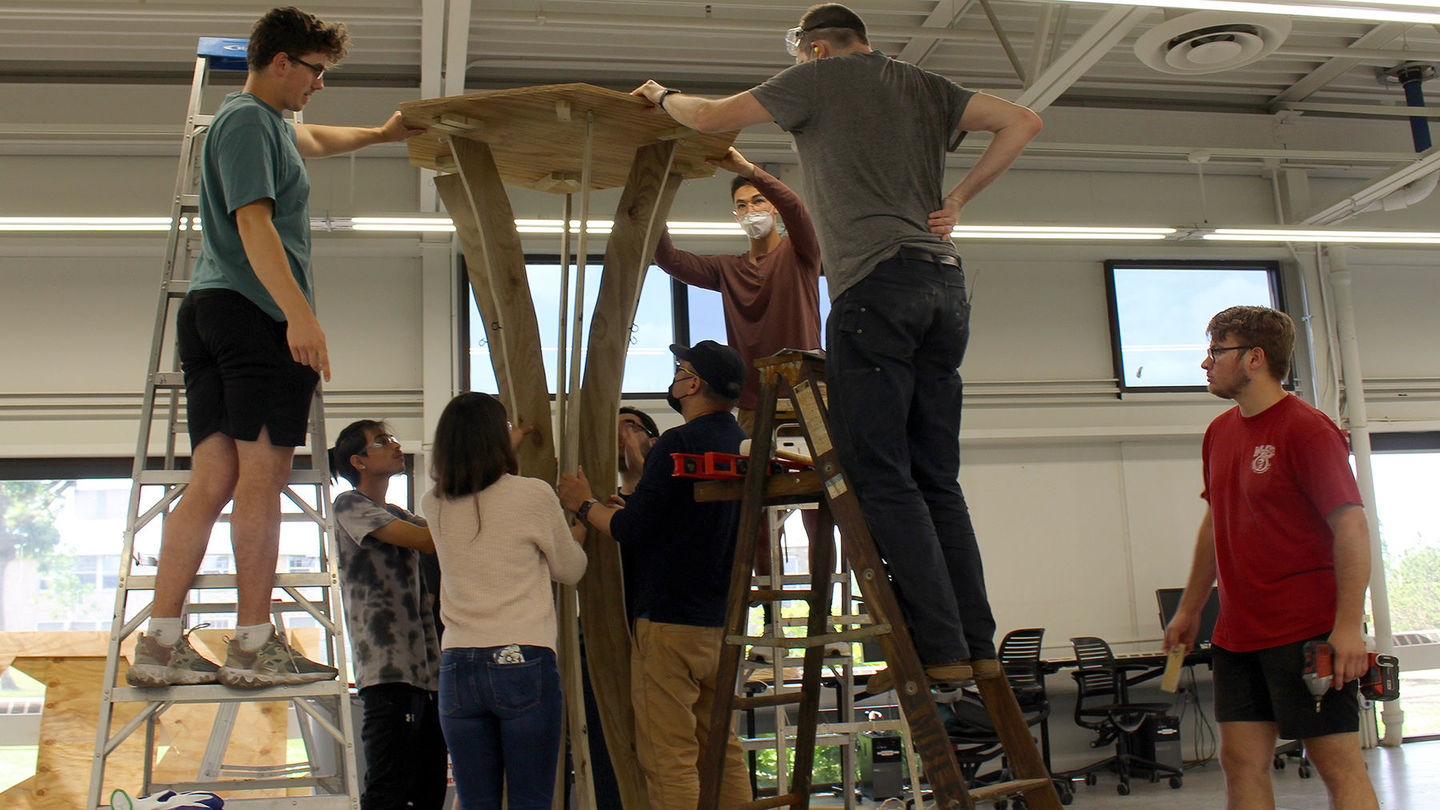 James F. Duffy
Tyler School of Art and Architecture student Emely Fernandez has always been a do-it-yourselfer.
"My journey to Architecture has been a long one. When I was younger, my parents had just immigrated to the U.S. from the Dominican Republic; we didn't have the money to buy things like Barbie dream houses at the time," said Fernandez. "So, I made my own out of cardboard boxes and I just kept doing that. During my teenage years and once I was in high school, I created my own wire sculptures that were exhibited and auctioned. Now I'm here at Temple and I'm seeing how all of these skills that I've developed and used throughout my life have manifested into what I'm doing now."
This summer, Fernandez is one of 19 Master of Architecture graduate students taking Special Topics in Site and Context, an inaugural course in the Tyler Summer Design-Build Institute. She and her fellow students are designing and constructing three sculptures that will become permanent installations at Temple University Ambler, the Ambler Arboretum and the Temple Ambler Field Station.
Their clientele for this project just happens to be a little on the wild side.
"This class has been really focused on wildlife and habitats for wildlife. It started with an Architecture senior design studio in the spring where the students, through a design competition, proposed several possible installations for the Ambler Campus," said Eric Oskey, RA, Associate Professor of Practice in Architecture in the Tyler School of Art and Architecture. "The Design-Build Institute is designed as a partnership between the Tyler School of Art and Architecture and Temple Ambler. The focus of the summer institute is designed to take advantage of the facilities that are available at the Ambler Campus and provides students with a hands-on experience they might not otherwise have — it leverages some of the design classes from the Architecture program to actually build small installations."
With the focus of the projects being wildlife, Oskey said, "it was important to collaborate with Dr. Amy Freestone and Dr. Mariana Bonfim of the Temple Ambler Field Station and Kathy Salisbury, Director of the Ambler Arboretum."
"The students were informed of aspects in biology, plant life and wildlife from experts in their respective fields," he said. "This continuous dialogue allowed for the students' proposals to be critiqued and ultimately supported by the Ambler Campus community."
Designing with wildlife in mind was initially, "something that the students found strange, but through talking about it and through research they began to understand that in many ways it really wasn't that much different than designing for the necessities of humans," Oskey said.
You have to understand the environments that the wildlife flourishes in, the physical space that is required, the materials that are appropriate. Initially they were a bit surprised by topic and focus of the studio but once they engaged in it, they realized how specific they could get about something that they couldn't have even imagined designing before outside of this class," he said. "Ultimately, I think they've come to understand that designing for wildlife is something we're able to constantly tie back to the realities of designing for humans. From a sculptural standpoint, these are art installations as much as they are habitats and environments for wildlife. That mix is something I think that the students have really embraced."
According to Temple Architecture graduate student Mazin Mohammed, who is assisting Oskey with the summer institute, the benefits of the design-build process "is really to help the students realize how their design can affect the construction process."
"They need to understand how their designs will be put together. Sometimes in a design class you can have a bit of tunnel vision — your impulse might be to go wild with a design," he said. "But that design might not work at all in a practical sense. Students have to be mindful about how their design is going to work in a physical space — they learn how to adapt and innovate."
As part of the institute, students are both the designer and contractor, Mazin said.
"The whole process, I think, will help them when they begin practicing architecture — they will have a better understanding of how their designs will translate to reality," he said. "Having this facility at Temple Ambler really gives the students an opportunity to put their designs together and work collaboratively. It gives them an opportunity to try different iterations and different ideas — the design process doesn't end on paper. I think this experience would be beneficial for any student."
Oskey said while the student teams move toward completion of their installations, "they have to understand how to practically put these things together."
"They have to understand the realities of physics, materials, mechanical connection — all of those things are necessary to realize their visions. The goal is for these students to really get a handle on the construction process and how that will inform their approach as architects and designers," he said. "This project is beyond just the conceptual and the abstract. The realities of building these structures comes home quickly."
According to Oskey, the three installation pieces, which are being built in the Innovation Studio of the Ambler Research and Collaboration Building prior to being permanently placed at three locations on campus, are The Waggle Run, Melody and The Tree House. The final projects will be unveiled during a special program held at Temple Ambler on Thursday, June 16, the final day of the course.
"The students are working in teams to complete the three installations. Each project is focused on different types of wildlife," he said. "One focuses on bumblebees while another is designed for wood thrushes. The third is more heterogeneous but is focused on smaller animals."
The Waggle Run
The waggle run, or "dance," is the term used to describe the way bees fly in order to tell other bees the distance and the direction to flower patches near the hive.
In the case of Architectureal Design graduate student Keida Pashaj's design, The Waggle Run will be a habitat for endangered bumblebees, "which are incredibly important to the environment."
"The design has two different layers. The first part if the actual hive while the top layer is comprised of a series of rib-like structures — these ribs would allow flowers and other types of plants to grow over it and attract the bees to their new home," she said. "When I first started this project, I knew I wanted to create a habitat for bumblebees that they would use and also provide them some level of privacy and protection. These types of bees like to be in dark spaces."
Pashaj said the project gave her practical experience in problem-solving — not every design translates exactly from paper to construction.
"I created a series of triangles with perfect angles for the hive, but once we started making it, we realized as a team that these perfect angles weren't going to be so perfect," she said. "Initially it was impossible to put them together. We also had to do some experimenting with the ribs to make them functional and sturdy. You can't just put them in the ground and hope they'll stay there. We've brainstormed ideas and solutions to make it all work. I'm excited to see how it finally turns out and having bumblebees hopefully use these pieces."
Melody
According to Fernandez, Melody is a wildlife installation for the wood thrush. The architectural form of the piece "amplifies the wood thrush's beautiful song," she said. Wood thrush are in fact capable of singing more than 50 different types of songs using a combination of sounds they create using their vocal cords.   
"At the end of the spring semester we came up with the final funnel form for the sculpture. After that we experimented with different basket weaving techniques and that really allowed us to get a more hands-on experience with how material and form come together," she said. "Now we're actually building all of this. Getting hands-on, using these materials really helps — you wouldn't know how this would all join together in the digital world."
Fernandez said she decided to enter the Master of Architecture program and the design-build institute "because I know what I'm learning is something that will be important for my professional career."
"You need to learn how to put different materials together, learn joinery, craftsmanship, beyond digital skills and technical drawings. The technical drawings will only take you so far," she said. "I feel like this course has allowed me to really grow as a professional and learn how to actually build things after I design them. To see our work finally being realized on the Ambler Campus grounds, that it will be a part of the campus experience, it means everything."
The Tree House
The Tree House "is a response to the tornado that struck the Ambler Campus," said Architectural Design graduate student Michael Molique.
"It utilizes wood reclaimed from several downed trees. We made a lot of alterations from the original design as it was initially very difficult to move or place.," he said. "We have now taken slices of wood and placed them in a circular design that animals will be able to use for shelter and habitat. Originally, we were designing the sculpture for the American Toad but during the process we began to realize that the design could be used by a variety of small animals."
Designing for wildlife, Molique said, gave him the opportunity to design on a smaller scale — though parts of the new design are 12-feet high.
"I think it gave us an opportunity be more adventurous and creative. We don't know specifically what types of animals will use the structure, so we wanted to ensure it would be beneficial for a wide variety of species," he said. "This is the first opportunity I've had to build something that I designed; it's a unique experience. If you look at the design I had at the very beginning and compare it to the project that our team is building now, they are completely different — the basic concept is still there but the elements have changed a lot. When you get into the details of how to construct something, things are going to change."
Students participating in the summer design-build institute are part of the Tyler School of Art and Architecture's "4+1" Architecture program, said Oskey.
"The 4+1 program in Architecture provides students the opportunity to receive their Architecture bachelor's degree in four years. Then they go through a one-year master's program comprised of three semesters — for our graduate students in the institute, this is their first semester in the master's program," he said. "In just five years, the students in this program will leave Temple with both a bachelor's and master's degree in Architecture.
Having the resources that are available at Temple Ambler "is a great benefit for this program and to our students," Oskey said.
"The amount of space and resources that are required for a design-build type of class are all right here and available to us. It's been great to see the space put to such an innovative use when you consider what happened in the fall with the tornado and the damage the building suffered," he said. "The transformation of the facility to an open, collaborative studio — having the space and equipment is all of the infrastructure that you need in one place."
Ultimately, Oskey said, he hopes that the summer design-build program "is only the beginning of creating an institute that will bring together architecture, landscape architecture, biology, horticulture, engineering and other disciplines that are engaged in projects at Temple Ambler."
"In the future, the summer program could be one of multiple classes — potentially a design-build certificate — that are involved in hands-on, design-build projects. My hope is that it's a mix of different disciplines and professions that will benefit all of our students," he said. "I think the results of this are something that can be built around the campus that are visible to the public and also beneficial to Temple Ambler and the students themselves…and wildlife too."  
For more information on the Tyler School of Art and Architecture Horticulture and Landscape Architecture programs, visit tyler.temple.edu/programs/landscape-architecture-horticulture.
For more information about the Ambler Arboretum, visit arboretum.temple.edu.
For more information about the Temple Ambler Field Station, visit ambler.temple.edu/fieldstation.