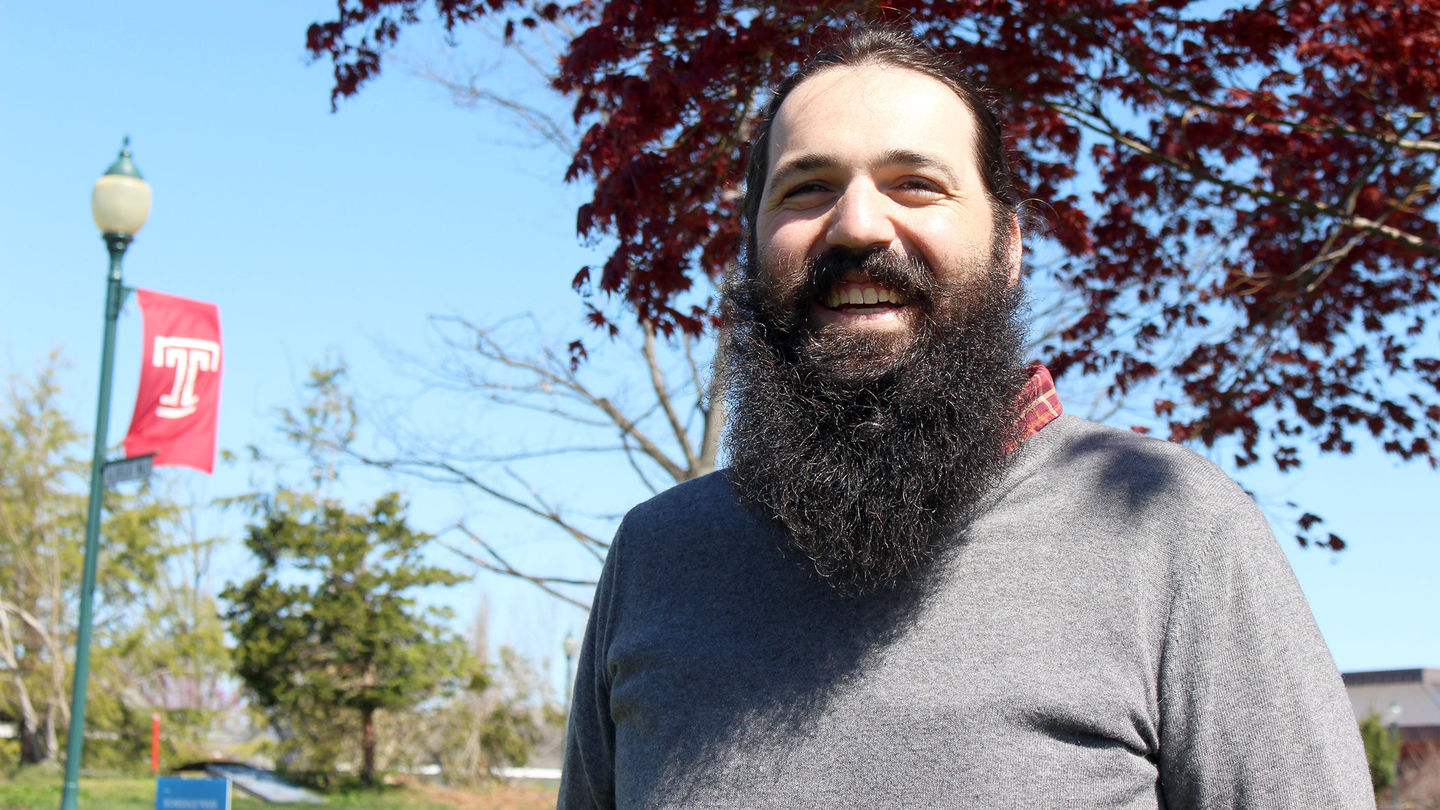 James F. Duffy
It wouldn't be hyperbole to say that Dr. Steve Sassaman, Assistant Director of Recreation Services and Outdoor Experiential Education at Temple University Ambler, is a veritable Swiss Army Knife when it comes to outdoor skills.
Camping, backpacking, hiking, canoeing, whitewater rafting, adventure climbing, high and low ropes challenge courses. He has done it all and taught it all. Sassaman is now bringing those skills to Temple University Ambler with the goal of sharing them with others in outdoor experiences that promote leadership skills, teamwork, mental and physical health and connecting people to the wonders of nature.
"I've facilitated outdoor programs for nearly 20 years now; the outdoors breaks down barriers. When you're in the outdoors focused on an activity, really everyone is on an equal playing field — you can develop real connections with those individuals because you don't have a lot of other distractions going on," he said. "Even with the same activity with every group, there are different outcomes every time. I've had students talk about body image and consent. I've had them talk about social justice. Almost everyone talks about communication and trust. While they are teambuilding, they are developing skills that can be practically applied to their lives, from work projects to classroom assignments."
Sassaman's connections to the outdoors run deep.
"The foundational experiences that drew me to the outdoors were that I grew up in central Pennsylvania on a farm. I got to work on my grandmother's farm, I got to plant things and have that connectiveness to the earth through that," he said. "It was when I joined Boy Scouts in my early teens that I really developed my love of the outdoors, particularly the leadership aspects of it and the adventure-type experiences. That's where I got into hiking, camping and climbing."
Sassaman also took on leadership roles working for several years at a residential summer camp — Camp Karoondinha in Millmont, PA —honing skills in canoeing, kayaking, rowing, life-saving skills, fire building, survival skills, and outdoor cooking.
"I also had the opportunity to start their extreme outdoor adventure program. We took the older campers out backpacking, outdoor rock climbing and whitewater kayaking," he said. "We also had a challenge course there and that's where I was introduced to the value of challenge courses. We had about 30 elements in total, both high and low, and I was able to work with our campers and a number of corporate groups."
Fast forward to today and the opportunity to join the Temple Ambler team as the new Assistant Director of Recreation Services and Outdoor Experiential Education.
"I was very excited about this opportunity at Temple. I had talked to Beth (Shepard-Rabadam, Deputy Director of Temple University Ambler) a little while back about the plan to build a low ropes challenge course on campus and get programming up and running surrounding it — I thought the potential for that really had no limits," said Sassaman, who has been teaching as an adjunct instructor with Temple's Kinesiology Department for two years. "Teaching in KPAP (Kinesiology Physical Activity Program) — seeing that higher vision at Temple toward expanding opportunities for outdoor education, not only the technical skills and leadership components but the broader connectiveness to nature, really spoke to me. KPAP allows participants to explore human movement and its impact on personal health, society and lifelong physical activity."
As an adjunct instructor in Kinesiology, Sassaman has designed and taught hybrid coursework in backpacking and camping, wilderness first aid and ethics, and adventure climbing consisting of remote asynchronous learning in conjunction with in-person field-based experiences.
"My first experience at Temple Ambler was teaching a Wilderness, First Aid and Ethics course, which was a hybrid class during the spring semester. It was half online and half on campus, where we were able to do some first aid scenarios," said Sassaman, who arrived at the Ambler Campus from West Chester University, where he spent more than five years continuously expanding the university's Outdoor Adventure Pursuits program. "When this new role at Temple Ambler popped up, I felt it was a great opportunity. I like designing programs from the ground up and have a lot of experience in it. There is great support here on campus that share my vision — we can definitely create something special here."
At Temple Ambler, Sassaman will be overseeing programming surrounding Temple Ambler's new low ropes challenge course. He also works closely with Recreation Services Coordinator Paul Myers related to the facilities available on campus for internal and external use.
"There are 10 constructed elements in the low ropes course in addition to some portable elements. That way we can bring different activities to the classroom and encourage more people to come out to the course," Sassaman said. "The design of the course includes a broad set of elements, or activities. Most of them focus on working with others to be successful, which is really the overarching goal."
Often when people think about challenge courses and ropes courses, "they think about the physical aspects, which certainly some of them do have," Sassaman said.
"I think the way our course has been designed so far, it is an inclusive design. We're going to be one of the few courses that has an ADA compliant trail so everyone can have access to it, which isn't common — we want to ensure that our challenge course and our programs are welcoming to everyone," he said. "I always want to make it fun, but the outcomes are often much deeper than that. Someone might realize 'As soon as I trusted myself to hang onto this rope and swing across knowing that my team would catch me, I was really able to do it.' It breaks down mental barriers."
The goal for Temple Ambler's outdoor experiential learning programs "is definitely bringing out that connectedness to nature."
"That's what I see as a unique modality for bringing holistic health and wellness to not only individuals but communities. By creating different types of programs in addition to building off of what we have already, I think there are a lot of good opportunities to bring our community together and help people feel more connected to each other and the world around them," he said. "The ropes course provides a great opportunity to bring in stakeholders from throughout Temple and beyond. There's certainly interest in also having it be open to the public down the road. Starting off, we're focusing on our Temple community."
According to Sassaman, the first "semi-official teambuilding program" was held on campus on July 13 for the student managers of the Faculty Student Center. Temple Ambler facilitated a range of problem-solving and communication exercises in the gardens. The participants also engaged in nature-connectedness activities to talk through stress management techniques as a student leader. The full staff, Sassaman said, will be returning to use the low ropes course in August. Temple's Cecil B. Moore Scholars will also help usher in the opening of the low ropes course during special team-building experiences on Friday, July 29.
"The low ropes course and the other teambuilding activities that we will have available are for everyone. There's been a lot of interest from student leadership and different student organizations," he said. "What I'd like to see is different departments across Temple that utilize it. There's truly benefits for any type of group. There's a lot of problem-solving that goes into it. Even if someone is not on the element itself, they can still contribute to the group's success — sometimes that person contributes the most to their success."   
Outdoor experiential education "is the center of the Venn diagram that brings all disciplines together," said Sassaman who was recently featured in Campus Rec Magazine in an article entitled "Outdoor Adventure for Beginners."
"Kinesiology may focus on the physical activity aspects. Environmental Science is out studying nature. There are opportunities to talk about engineering and physics. You can integrate art. One of my big passions, especially with my research, is the therapeutic side of things — using nature-based and counseling-based modalities," said Sassaman, who recently completed his PhD in Sustainability Education. His dissertation may be found here — Anchoring Masculinity in Interdependence through Outdoor Experiential Education. "One of my goals is to have a formal course where students get to learn how to facilitate programs on the challenge course. Going through that debriefing process has applications not only in mental health counseling but also human resources, organizational behavior and organizational leadership. It gives them a lot of tangible skills that they get to apply with real people."
Sassaman's hope is that the low ropes challenge course and the other team building programs "are just one of the ways that we really make Temple Ambler an experiential learning hub."
"It's something that a lot of people are excited about so it's an opportunity to bring people out for the course experience itself. They'll be out in the woods and, hopefully, really feel like they are a part of nature as they are going through the elements — they'll start to see the Arboretum and all of the different things that they could be doing here," he said. "I think it's a good entry point and a good way to get people thinking differently about leadership and engaged citizenship through the connections they make going through the different programs we offer."