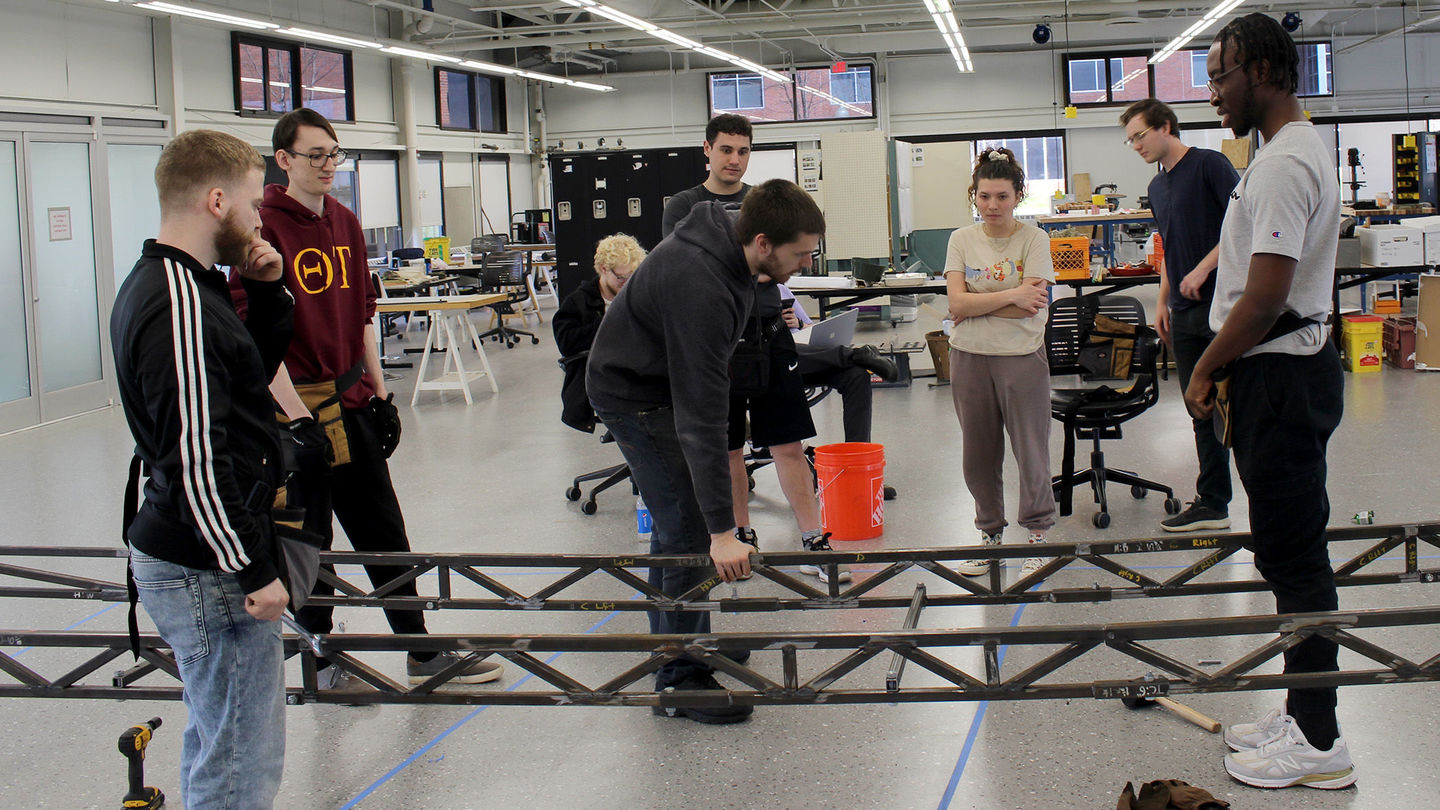 James F. Duffy
At Temple University Ambler, there is a location where ideas are transformed into action.
In the past year, Temple Engineering, Landscape Architecture, and Architecture students in addition to Temple Ambler Field Station Research Interns have made the Temple Ambler Research and Collaboration Building (AR+C) a central hub for developing, designing and building projects that practically apply what they are learning in the classroom.
On any given day, in the Innovation Studio — the 8,000-square-foot collaborative space within the AR+C Building — Engineering senior design students may be found working on their design for a robotic lawn mower (Mowbot) or testing the design of a steel bridge for a national competition. Elsewhere on campus, Engineering students are perfecting their Light Aircraft Dynamic Flight Control Simulator or exploring "lunabotics" for the annual NASA Lunabotics Artemis Student Challenge.
In the studio, Landscape Architecture students have begun collaborating on their design for the 2023 Philadelphia Flower Show, which will be developed and built within the Innovation Studio, taken apart and then rebuilt at the Pennsylvania Convention Center. Ambler Arboretum student gardeners used the space to great effect when creating their exhibit for the 2022 Flower Show.
During Summer 2022, Tyler School of Art and Architecture Master of Architecture graduate students conceived of and built three sculptures designed for wildlife that are now permanent installations in the Ambler Arboretum and the Temple Ambler Field Station.
Having the resources that are available at Temple Ambler "is a great benefit for this program and to our students," said Eric Oskey, RA, Associate Professor of Practice in Architecture in the Tyler School of Art and Architecture.
"The amount of space and resources that are required for a design-build type of class are all right here and available to us. It's been great to see the space put to such an innovative use when you consider what happened in the fall (2021) with the tornado and the damage the building suffered," he said. "The transformation of the facility to an open, collaborative studio — having the space and equipment is all of the infrastructure that you need in one place."
The goal of spaces like the AR+C Building and the Innovation Studio — reimagined from the former library building that was severely damaged when a tornado struck campus in September 2021 — is to provide key resources for a broad diversity of Temple programs and "draw even more campus partners to Ambler," according to Dr. Vicki Lewis McGarvey, Vice Provost for University College and Executive Director of Temple University Ambler.
"There are so many opportunities to collaborate and Ambler is such a unique place. We are already seeing so many multi-disciplinary research opportunities taking place, but we think this is just the beginning," she said. "I hope we continue to see more of that in the years to come, and the Ambler Research and Collaboration Building is vital to ensuring that's the case."
A Place to Prototype, Test and Build
Several of the Temple Engineering programs have made excellent use of the Innovation Studio, the AR+C Building and the resources available at Temple Ambler in general.
Most of the Engineering capstones taking place at Temple Ambler will call the AR+C Building home during the spring semester as dedicated space is created in collaboration with the Engineering department to meet the needs of the students, according to Beth Shepard-Rabadam, Deputy Director of Temple University Ambler. The Field Station will also enjoy new dedicated lab space in the AR+C Building, which is currently being completed.
"I think the benefit for the students is that Temple Ambler offers large format spaces suitable for prototyping, testing and building their concepts. It affords students a six-day use of our facilities — students can utilize this space on weekends and in the evenings," she said. "The Field Station and the Engineering capstones have been such a great compliment to the other academic courses and programs offered here at Temple Ambler. They are a wonderful addition to the rich history of hands-on learning that programs like Landscape and Horticulture pioneered on campus decades ago, building on the legacy of the Pennsylvania School of Horticulture for Women that came before it."
Temple Ambler is expanding the building facilities for Engineering modelled after the IDEAS (Innovation, Design, Engineering and Applied Science) Hub in the Engineering Building at Main Campus, McGarvey said.
"We are working with Engineering and other schools and colleges to envision what the Innovation Studio could look like as a shared maker space, which would allow us to have more hands-on classes on campus," she said. "Engineering really envisions this as a location for pre-college classes — more pipeline programs for local high school students to experience engineering classes firsthand. Large numbers of students from our pre-college programs apply and matriculate at Temple."
For the Engineering senior design students, "it's wonderful to be able to have another location to tap into and expand," said Sherwood "Woody" Polter, an Adjunct Assistant Professor in the Department of Engineering, Technology and Management in the College of Engineering.
"Many of our students live in Montgomery County and they really enjoy coming to a campus that allows them to take advantage of having the facilities nearby. The people that support the Ambler Campus are outstanding — it's a great community of workmanship and organization," he said. "The operation is well planned to the students' needs, and it is rewarding to be here; just being able to focus on the technical work is very accommodating. We often see the parents of the students who also enjoy coming and visiting at Ambler with their sons and daughters to see the work they are learning to do — it's a great feeling to witness."
Hands-on, real-world projects like the capstones are "a game changer" for students, said Polter. 
"There is nothing like in-person learning especially in group dynamics and learning hands-on with tools and equipment — this is so important to the learning and the talent growth of our students. We form teams with our engineering students to solve problems that go beyond the book, paper, pencil and calculator," he said. "It's the communication and the understanding of identifying skills, knowledge and abilities of the students working together to dive into something that provides a benefit to everyone that has an interest in the design or research of a project. We also like to involve both engineering technology and engineering students in the team environment on projects because, after all, it is common to find both disciplines working together in industry, government and academia."
Multi-disciplinary collaborations within the Engineering programs and with other programs, such as Landscape Architecture, Architecture and the Field Station "is exactly what we are hoping to achieve" with a dedicated space like the AR+C Building, Polter said.
"Collaboration across departments equals innovation and ideas regardless of the major or discipline. Co-located spaces and buildings involving workshops, labs and office spaces often lead to people interested in various disciplines across fields to pursue career aspirations or general studies," he said. "For example, start-ups in small businesses often spin off from students in various disciplines just getting together and collaborating on ideas. At Temple, we want that to happen more and more and to create industry and business areas for our students — we want to put products out there that our Temple students work on. I think a multi-disciplinary approach is the right idea to be thinking about to create an environment that thrives on collaborations among students and faculty at large."
New uses for the AR+C Building, particularly the Innovation Studio, will benefit the campus specifically because it will bring these disciplines together — "the ecology researchers with horticulture and landscape architecture and architecture students and faculty in addition to engineering — into one building where they are going to have regular contact and conversations with one another," McGarvey said.
"Those types of interactions often lead to truly unique and interesting collaborations and projects," she said. "We have all of these disciplines on Main Campus, but they are often all in separate buildings. This really brings them together and creates that opportunity to interact."