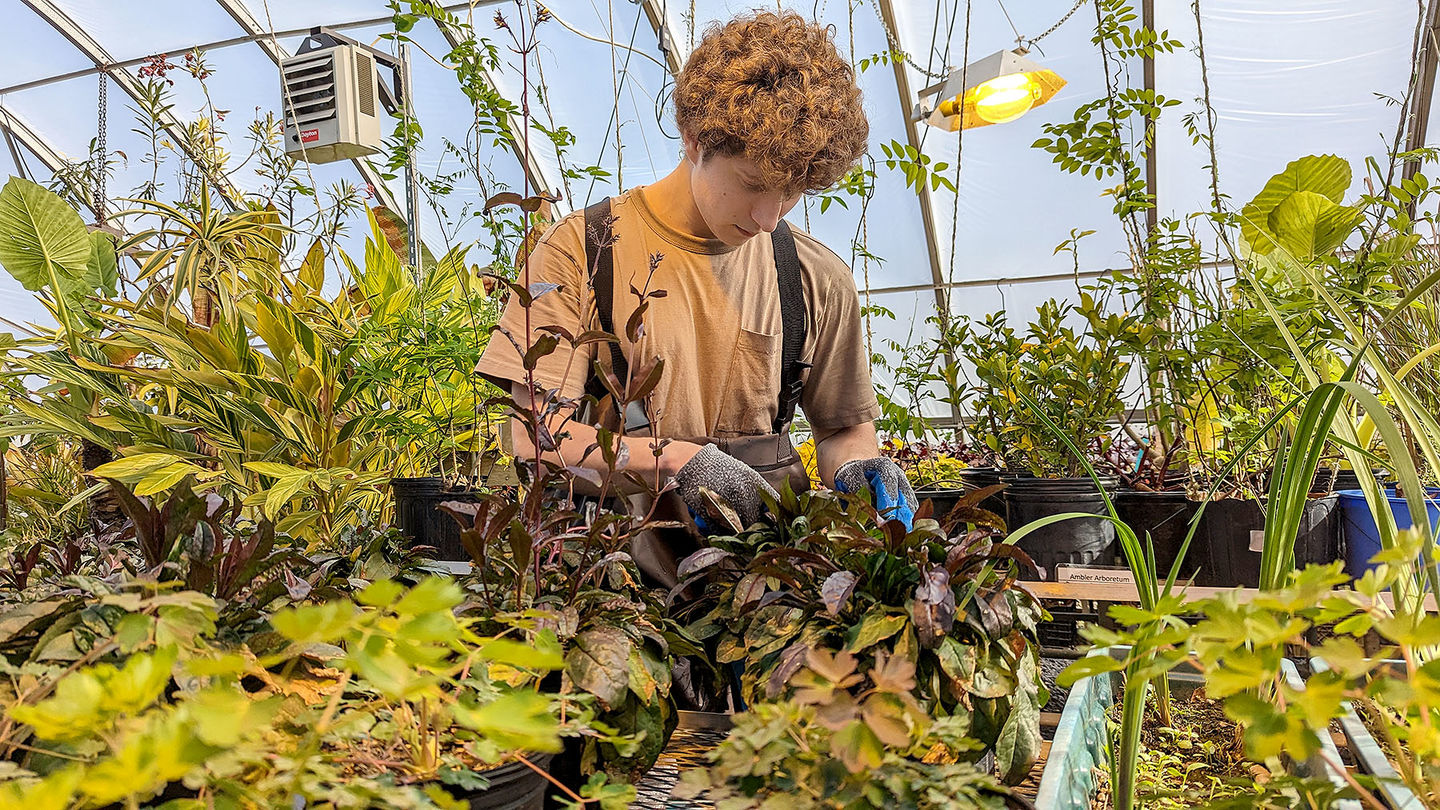 James F. Duffy
In the Tyler School of Art and Architecture Greenhouse Education and Research Complex at Temple Ambler, a bit of horticultural magic is taking place.
Benjamin Snyder, Manager of the Tyler School of Art and Architecture Greenhouse Education and Research Complex at Temple Ambler, Temple Horticulture senior Ethan Smith, and  Landscape Architecture sophomore Owen Lambert are working to convince 852 plants from 65 different species that a few days from now would be the perfect time to bloom.
This bit of foliage chicanery is all for a good cause as the plants will provide the distinctive settings that comprise Temple's 2023 Pennsylvania Horticultural Society's Philadelphia Flower Show exhibit, The Power of Nature — Plug Into It. While students in the Landscape Architecture Design-Build Studio are working hard to take their design to built completion, Snyder, Smith and Lambert have spent months caring for the myriad plants and trees that are essential to the educational themes presented in The Power of Nature.
"Since our students have the opportunity to either do directed studies or explore volunteer opportunities to assist on the plant side of the Flower Show, they get practical experience working in the Greenhouse, problem-solving, working on a tight schedule and figuring out how to make the best of certain situations," Snyder said. "Obviously when working with plants, things don't always go as planned and you have to be able to adapt to and figure out solutions."
Meeting with exhibit designers early on in the process "when we are starting to find plant themes and plant palettes, one of the things we have to look at is what is realistic for us to grow and force in our greenhouse," Snyder said.
"Are we looking for foliage? Are we looking for flowers? That would entail spring-blooming plants, things that would bloom or leaf out early in the spring," he said. 
For the 2023 exhibit, Snyder said, "from a plant perspective, there were really two concepts that are being explored."
"One is the color theme, which focuses on the color yellow. We're also looking at early succession — the process by which the mix of species and habitat in an area changes over time. In this exhibit, we are representing a power plant that is being reclaimed by nature — we're using plants that you would find in early successional forests," he said. "Since our concept has yellow incorporated into its theme, when we went to pick plants, we were looking for things that both had yellow flowers as well as yellow foliage. That includes things like daffodils and well as heucheras and other yellow foliage plants."
Temple continues to be one of only a handful of exhibitors that forces its own plants for their exhibits.
"Being one the few exhibitors that force our own plants for the exhibit gives us a lot more flexibility when approaching what plants we can grow. A good example is the skunk cabbage," he said. "There are very few wholesale growers that will force skunk cabbage for you. It also gives our students the opportunity for hands-on experience in the Greenhouse."
According to Snyder, the four main aspects that go into forcing a plant to bloom out of season are length of cold treatment, heat, light and humidity.
"We need to trick plants into thinking that winter is over and spring is here. To do that, they need to have an early winter," said Snyder, a Tyler Horticulture program alumnus. "We accomplish this through vernalization, which takes place in our on-campus coolers. Each plant is then brought out of the coolers and into our growing zones according to the schedule. For certain plants, extra heat, light, and/or humidity is needed — this is facilitated by heat mats, grow lights and forcing tents."
According to Ethan Smith, vernalization requires "and a lot of moving."
"When it comes to preparing plants for the Flower Show, a big factor is temperature. We have to do a lot of moving between the freezer outside, the Greenhouse, and the Hoop House — it takes a great deal of careful attention to the needs of the plants," he said. "I've learned a lot about what it takes to force a plant. Before this, I had learned about various biological processes, but I had never really learned about the processes of how to get a plant to leaf out and flower so quickly. You are essentially planning their growth cycle around a specific date and time."
When Owen Lambert discovered the Greenhouse on campus — "I knew it was something I wanted to be a part of," he said.
"I think the Temple Landscape Architecture program's focus on horticulture is amazing. You are gaining hands-on experience in the field learning about the plants, trees and soils, not just sitting and working at a desk — I think it's a much more unique experience," he said. "Working in the Greenhouse has given me a better understanding of how the Landscape Architecture program and the Greenhouse work together. Every day there is something new; it's different from any kind of work I've ever done before."
Newcomers and Returning Favorites
Each year, there are always "a few returning favorite plants that visitors like to see in our exhibits in terms of plant selection," said Snyder.
"Every year one of the things we try to do is grow really tall plants so we can stand out on the show floor; that typically involved trees. This year, that includes returning favorites white oak and red oak," he said. "Both are now within six inches of the Greenhouse roof so that is about the tallest tree we are able to force. We also have some river birches, which are tented as part of the forcing process and we'll have skunk cabbage again for our third year."
Lambert went hands-on, and hip deep to bring the skunk cabbage that will adorn areas of the exhibit out of a suitably swampy area of the Ambler Arboretum.   
"Getting a chance to be directly involved in Temple's Flower Show exhibit, it's an amazing experience," he said. "Getting hands-on experience with how the design process works and what goes in to preparing the plants in time for the show is very beneficial for me as student and will continue to be a benefit to me as I enter the field."
When visitors are exploring Temple's exhibit, Snyder said, "some of the things we hope they take away with them are unique plant combinations."
"We're doing a lot of contrasting colors this year," he said. "They'll also see examples of how to use combinations of native and non-native, non-invasive species in their landscape to provide heightened color and interest for both sunny and shady locations."
With the goal of presenting unique plant combinations and making colors stand out, "one of the plants we're growing this year is a ninebark (Physocarpus opulifolius)," said Snyder.
"This is a cultivar that has dark, chocolatey foliage when it matures. This will be contrasting with some of the yellow daffodils and other yellow foliage in the exhibit to give heightened contrast and heightened interest to that area," he said. "In the part of the exhibit that's an early successional forest, we're highlighting some things like sumacs, such as a winged sumac (Rhus copallinum), which we haven't had in one of our exhibits before. One example is 'Lanham's Purple,' which plays off of the yellows in the exhibits.
Some of the other sumacs include Tiger's Eye® and 'Laciniata,' or cutleaf sumac, another early successional native species, Snyder said.
"Often times you might see these growing as weeds along roadways, but they serve an important purpose in nature as early successional species," he said.
In one corner of the exhibit, which is more of a dark woodland habitat, according to Snyder, "we will have ferns such as male fern (Dryopteris filix-mas) — that's another plant we haven't tried before."
"The exhibit also includes a small wetland section with a small ephemeral stream. It's an area where we will display various wetland and marsh-type plants such as scouring rush (Equisetum hyemale) and soft rush (Juncus effusus) and some wetland carexes, such as the fox sedge," he said. "These are things that you'd see in wetland seeps or areas that stay perpetually moist, particularly during the summer."
Being part of the Flower Show team, "it's great to be part of a collaboration like this," Smith said.
"You are working with other students to achieve something," he said. "I hope that visitors enjoy their time in the exhibit and appreciate the time that went into creating it from the design side and the plant side."
The Power of Nature — Plug Into It may be seen at the Philadelphia Flower Show at the Pennsylvania Convention Center from March 4 to 12. Learn more about the exhibit here.
For more information about the Tyler School of Art and Architecture Landscape Architecture and Horticulture programs, visit https://tyler.temple.edu/programs/landscape-architecture-horticulture.
For more information about Temple University Ambler, visit https://ambler.temple.edu.