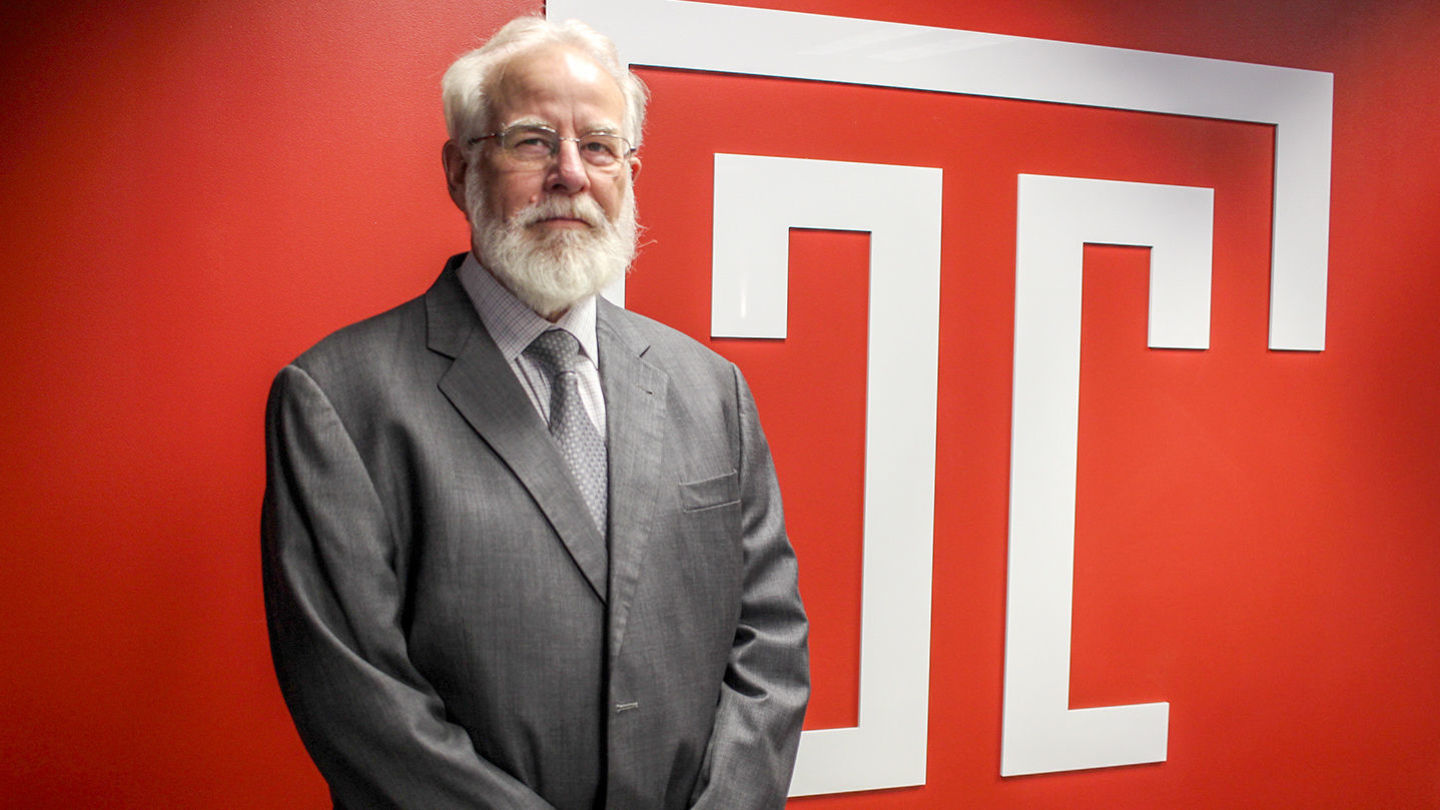 For Link Martin, Director of Temple University Harrisburg (TUH), the needs of individuals and communities have always been front and center for him, both professionally and personally. Martin is set to retire on August 31 after 27 years of service to Temple.
Supporting people and community is what initially drew him the field of social work, which in turn led him to Temple University.
"My interest in social work goes back to my undergraduate studies. I went to college, majored in math and was committed to becoming a math teacher," Martin said. "I was in my advanced calculus and analytical geometry classes and one day and realized that was not how I wanted to spend my life. I got up, walked out the class and told the professor I'm sorry I can't do this anymore."
Social Work, Martin said, "seemed to be a major that was very involved with the political and social issues of the day."
"This was the early to mid-1970s and I was interested in those issues. I was very involved in some anti-Vietnam War activism, social justice and racial integration issues," he said. "Social work offered the opportunity to integrate education into what I wanted to do in terms of my personal, political and social activities."
Martin began his time at Temple University Harrisburg, part of Temple University's University College, in 1996 as the director of Temple's Social Work program on campus after eight years as an assistant professor of social work and director of field education for Elizabethtown College.
"In social work you're taught to be inclusive, to be open, to look at what the issues are that people identify for themselves rather than imposing on them what you think the important issues are," he said. "That has allowed me to be open to new program ideas — staff over the years have brought a variety of programs that they've wanted to explore because they've identified a community issue or need. I think social work training allows you to be open to that and not have a preconceived notion of what we should do or how to do it."
Martin has spent the last 27 years working with the staff at Temple Harrisburg to create a broad diversity of programs designed to help individuals achieve their career goals and help communities thrive.
The Temple community is invited to celebrate Martin's many contributions to Temple Harrisburg, University College and Temple as a whole during a special celebration that will be held at Temple University Main Campus in the former PHA Community Center, 11th and Berks street, on Tuesday, August 29, from 2 to 4 p.m. If you plan to attend, please register online by Thursday, August 24. If you'd like to contribute towards a gift, you may Venmo a contribution to Rhonda Geyer at Rhonda-Geyer-2 or contact her at rgeyer@temple.edu to make other arrangements.
"I am most proud of the staff we have put together. They are hardworking, dedicated and connected to the mission. They see the larger approach to working in communities as important," Martin said. "I am definitely most proud of the amazing group of people that I've gotten to work with over the last 27 years at Temple Harrisburg, at Main Campus, at Ambler and Center City. We've even done some projects with Temple Japan."
When Martin was hired in July 1996 by then Dean of the School of Social Administration (now School of Social Work in the College of Public Health), Dr. Curtis Leonard "he said my mission was to build the Harrisburg MSW program," with limited resources.
"The Harrisburg MSW program had about 30 students when I was hired," he said. "We built that to 240 MSW students with classes being offered at seven sites across the state by the time the program ended."
Appointed Director of TUH in 2003, "I saw a lot of potential for Temple Harrisburg," Martin said.
"The campus itself had about five staff members and primarily functioned as an academic classroom setting. To me there seemed to be a lot of potential to do more," he said. "Now we have 40 staff members and we offer a wide variety of programs. It seemed like an opportunity to go beyond social work while still keeping the needs of the students and the community at the forefront. The campus has changed pretty dramatically in 27 years in terms of growth of staff and externally funded programs."
While at TUH, Martin was given the task to build and manage an ongoing collaboration with a social work program at FHE University of Applied Sciences Erfurt in Germany. For 12 years, he took Temple Bachelor of Social Work and Master of Social Work students to visit FHE University and human service agencies in Germany in addition to hosting visits by students and faculty from FHE University to Philadelphia. He also arranged and led six continuing education and professional development trips to Cuba for social work, health and education professionals.
For a recent project "I am very proud of the joint effort between myself, TUH and Temple folks at the Temple Lenfest Center and the Temple Medical School's Center for Urban Bioethcs for our 2021-2022 federally funded COVID project to reduce vaccine hesitancy in underserved communities," Martin said.
"We pushed most of the $5.5 million grant out to community groups statewide to address on a street/neighborhood level the hesitancy some people have about the vaccine. It's the human skills, the human connection that makes it so special to work here," he said. "My goal has always been to look for opportunities to bring the university connection into communities to develop professional skills, to address community issues and bring the unique kind of resources that a university can provide."
Temple Harrisburg, Martin said, has had a strong focus on human services, "and we've been able to build over the years close connections with state departments and funders that share the same mission that we have."
"For Temple, we provide these important connections in the central part of the state, giving the university the opportunity to be involved in these important initiatives. I think we continue to see a lot of opportunities for external funding to build current programs and to move into other areas that are relevant for the university to be involved with that help improve the quality of life of our communities," he said. "That includes workforce development, the transition from high school to college — dual enrollment for high school students, for example, and anti-violence work. Some of what has been done at Main Campus we've been working on with groups here to ensure they have access to those resources."
For Martin, retirement means "I'll be involved with some ongoing volunteer activities and may also do some work with some other Temple units helping with grant writing."
"I help local organizations in terms of grant writing and resource development. Years ago, I created an agency when I was a social worker in 1981 — Maui Youth and Family Services — and it is still in existence today. It's nice to look back and see that something you helped start is still serving youth and families," he said. "With Temple Harrisburg it will also be fun to look back and then see how it evolves in the coming years to meet the needs of the community."