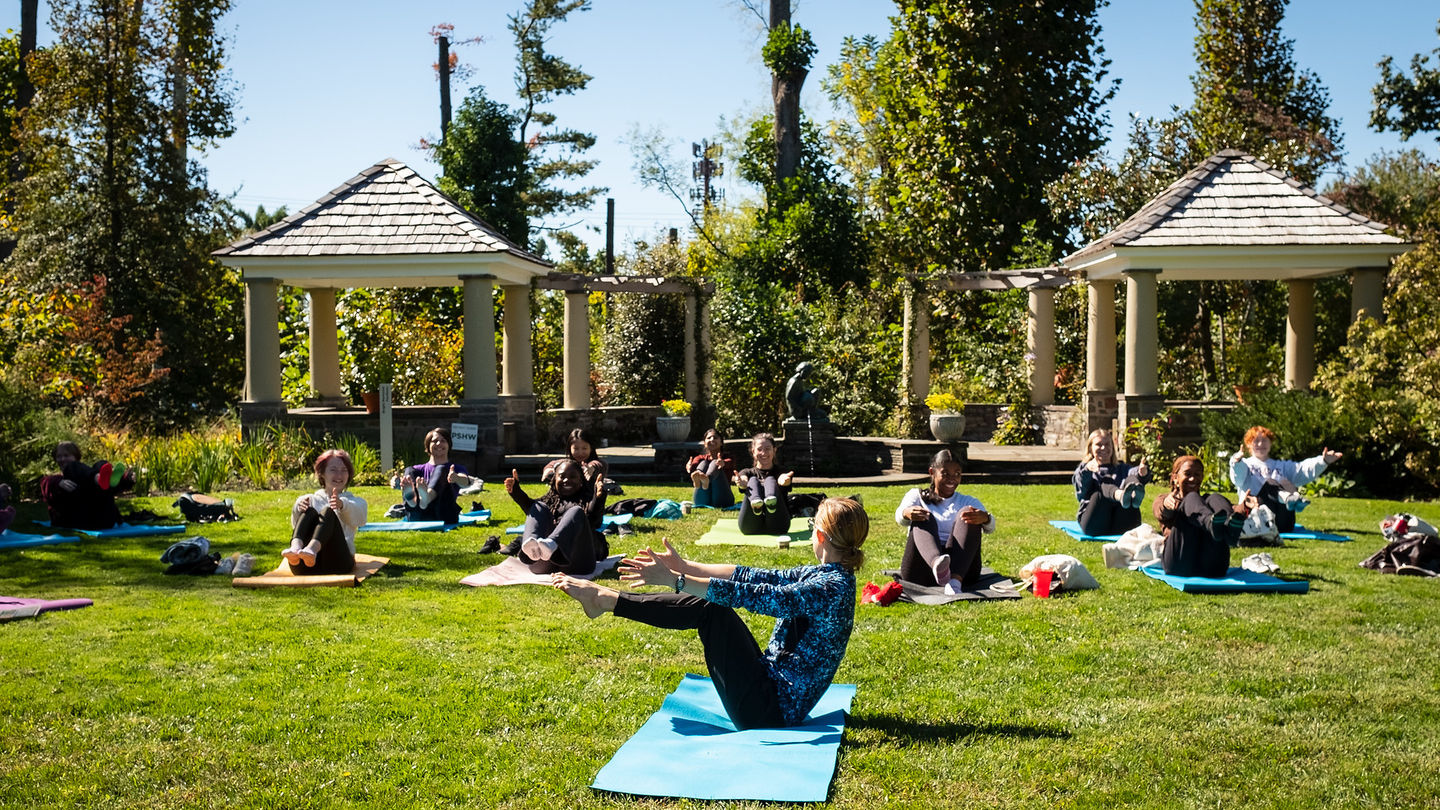 More than 100 Temple students from the Main and Ambler campuses spent their 2nd Annual Wellness Day in October taking a deep breath and de-stressing. View the event gallery on the Ambler Campus Facebook page!
Whether it was painting, coloring or taking part in yoga in the Formal Gardens, taking a tour with Ambler Arboretum Director Kathy Salisbury, or taking a nutrition and cooking class, there was a something for everyone.
Planting succulents? Head to the Conifer Garden. Engage in mindfulness? You're looking for the Healing Garden. Team Building? The Low Ropes Challenge Course awaits! Silent Disco Dancing? Right over in the Hilda Justice Building. A little snooze? Hammocks straight ahead. And of course, there is nothing better than releasing all of your stress spending time with a therapy dog. All of the programs were designed for a stress-free outdoor day of relaxation held in association with the Wellness Resource Center.
"The Ambler Campus is a 187-acre Arboretum that serves as an outdoor classroom and much more," said Krista DeLone, Assistant Director for Student and Campus Life at Temple Ambler. "With its collection of gardens, woodlands, and meadows, it is the perfect setting for meditation, stress reduction and enjoying the outdoors!" 
Temple University's 2nd Annual Wellness Day on Friday, October 13, provided students at Temple a chance to stop and take a breath during a busy fall semester.
At Temple Ambler, it was an opportunity to spend the day enjoying a cooking class, yoga in the Ambler Arboretum, team building on the Low Ropes Challenge Course, or even a little silent disco dancing.
At Temple Ambler, Dr. Steve Sassaman, Assistant Director of Recreation, Outdoor Education & Wellness at Temple Ambler, oversees programming surrounding Temple Ambler's new low ropes challenge course. He also works closely with Recreation Services Coordinator Paul Myers related to the facilities available on campus for internal and external use.
"There are 10 constructed elements in the low ropes course in addition to some portable elements. That way we can bring different activities to the classroom and encourage more people to come out to the course," Sassaman said. "The design of the course includes a broad set of elements, or activities. Most of them focus on working with others to be successful, which is really the overarching goal."
Often when people think about challenge courses and ropes courses, "they think about the physical aspects, which certainly some of them do have," Sassaman said.
"I think the way our course has been designed so far, it is an inclusive design. We're one of the few courses that has an ADA compliant trail so everyone can have access to it, which isn't common — we want to ensure that our challenge course and our programs are welcoming to everyone," he said. "I always want to make it fun, but the outcomes are often much deeper than that. Someone might realize 'As soon as I trusted myself to hang onto this rope and swing across knowing that my team would catch me, I was really able to do it.' It breaks down mental barriers."
The goal for Temple Ambler's outdoor experiential learning programs "is definitely bringing out that connectedness to nature."
"That's what I see as a unique modality for bringing holistic health and wellness to not only individuals but communities. By creating different types of programs in addition to building off of what we have already, I think there are a lot of good opportunities to bring our community together and help people feel more connected to each other and the world around them," he said. "The ropes course provides a great opportunity to bring in stakeholders from throughout Temple and beyond."