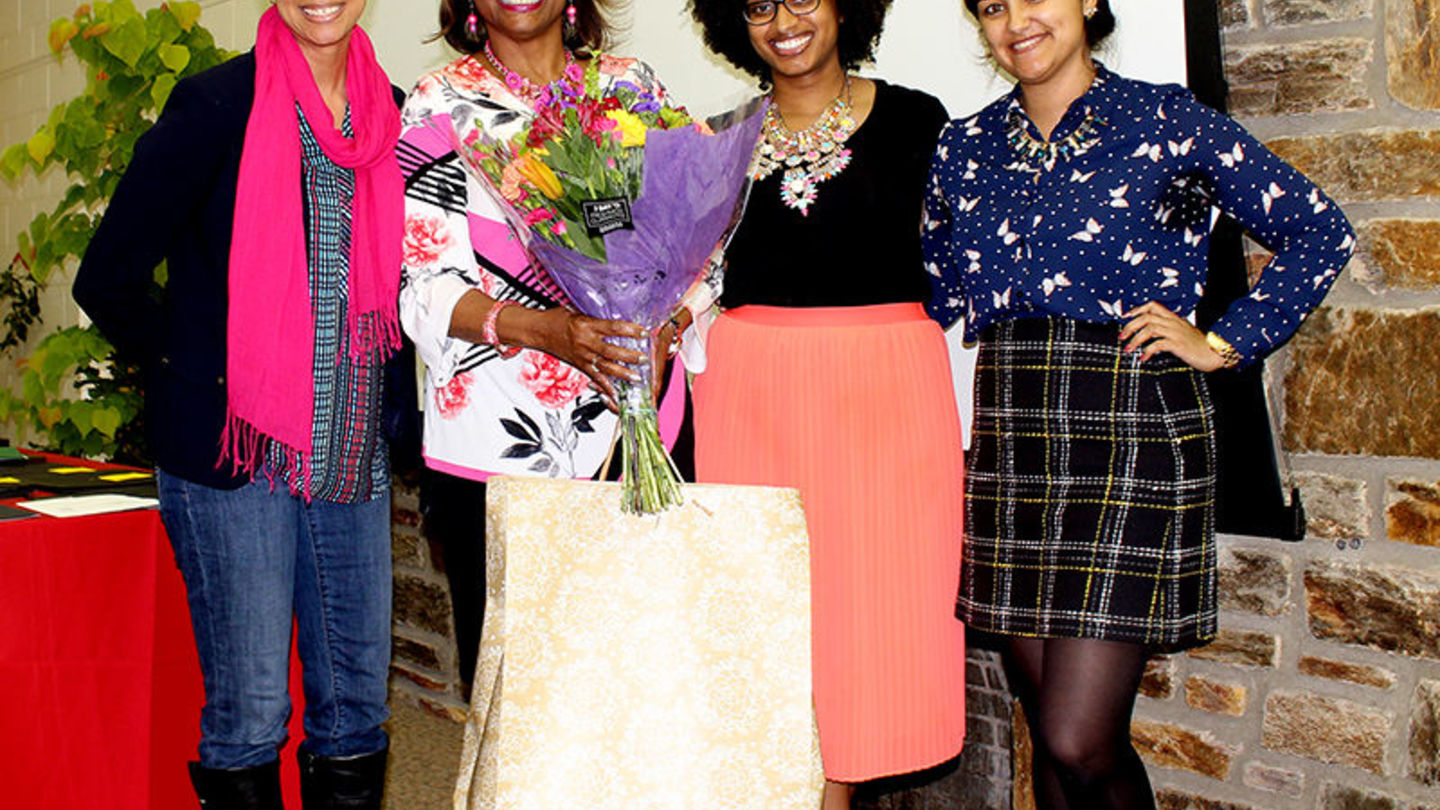 Dr. Wanda Lewis-Campbell has a saying that every student leader at Temple University Ambler has heard for the past 22 years.
"There are students who make things happen. There are students who watch things happen. And there are students who wonder what happened," she tells them.
The point she wants to ensure students understand is that "they are in control of their lives and their college experience — they are going to get out of it what they put into it," said Lewis-Campbell, Assistant Dean for Student Life at Temple Ambler.
"We try to provide a wide variety of opportunities and experiences for our students, but it is up to them to take advantage of those opportunities. They will make the decision to get involved or participate in the activities, organizations and causes that are right for them," she said. "Every student has the chance to make things happen, to positively impact their college of choice and beyond. We are here to encourage all of our students to take ownership of their college experience and shine."
Never one to sit idly on the sidelines, Lewis-Campbell has always heeded her own advice. For more than two decades, from planning Broadway trips, cruises and spring festivals to advising student groups, teaching emerging leaders and providing a safe haven for students to share their grievances and concerns, she has made things happen at Temple University Ambler.
"I am very proud of the impact that my office has had and continues to have on students' lives and how we enhance the growth of all of our students. From the first day a student sets foot on campus, my goal has always been to help them progress and grow," said Lewis-Campbell, who, after joining the Temple Ambler family in 1996, will retire this month. "We've had the good fortune of having not just freshman but transfer students and graduate students really dive in and become essential parts of the campus community. These are students who don't simply want to go from the parking lot to the classroom to the parking lot, which I refer to as PCP students — a lot of their education and growth takes place outside of the classroom."
Lewis-Campbell said one of the things she is most proud of is the lasting connections she's made with students over the years, students who remain in contact to share important life events or seek advice about career goals or letters of recommendation to continue on their professional paths.
"For some students, it feels like they just left yesterday, but they graduated five, 10, 15 years ago. That they want to reach back and share these life moments, it makes you realize you've made an impact in their lives," said Lewis-Campbell who, in addition to overseeing student life in general, has personally advised dozens of student groups over the years. "Working with Student Life and other departments on campus, our students have accomplished so much. It's wonderful to watch them succeed and thrive."
While at Temple, Lewis-Campbell achieved several accomplishments all her own. In 2003, she received her Doctor of Educational Administration from Temple's Department of Educational Leadership and Policy Studies in the College of Education — students began affectionately calling her "Dr. Wanda" not long after.
"I started working toward my doctorate in 1998 at the urging of Corrinne Caldwell, who was Dean of Temple Ambler at the time. I wasn't a researcher and didn't think I wanted to do it, but Corrinne said we needed more women, and African American women in particular, with their doctorates — I couldn't say no," she said. "I'll admit I was nervous, it had been 20 years since I had completed my master's. So, all of the advice I had been giving to students on how to be successful in the classroom — meet with and get to know your professors, make eye contact, reach out to your fellow students — I had to follow myself!"
Lewis-Campbell's doctoral thesis was entitled "Determining Connectedness of Resident Students from the Satellite Campus to the Main Campus."
"The research pertained directly to what I do as a student affairs administrator here. I'm always looking for ways to build a sense of community and connectedness to this campus," Lewis-Campbell said. "Students here at Ambler, want to take advantage of all that Temple has to offer; they want to feel like they are full participants in the University as a whole. I've always felt that the staff at Temple Ambler goes well above and beyond to ensure all of our students feel they are part of this vast Temple community — they can make a difference and achieve their dreams at Temple Ambler and be part of something truly special."
During her time at Temple, Lewis-Campbell helped to establish a free hour on campus on Mondays, Wednesdays and Fridays to provide student organizations opportunities to meet and offer daytime activities — the free hour has since been instituted by many Temple schools and colleges. She also developed Convocation and Week of Welcome at Temple Ambler, programs that have since become staples of welcoming new students to the University at Main Campus.
In 2013, Dr. Lewis-Campbell represented all 4,657 members of Temple University's staff and administration — from Main Campus to Japan, Ambler to Rome — during the investiture of then Temple President Dr. Neil Theobald, an invitation delivered by the president himself.
"I initially thought he was going to ask me to help get the word out for student volunteers to help at the Inauguration events," she said. "What a tremendous honor! I asked, 'Are you sure you want me?' and he said yes!" I wanted to make sure I represented the University staff and our campus to the best of my ability and wanted to get the essential point across that we are all an important part of Temple and we are tremendously honored to be a part of all of the great things happening at the University."
In addition to helping hundreds of student leaders discover their best selves during more than two decades at Temple Ambler, Lewis-Campbell worked to greatly expand students' horizons by exposing them to a globe of cultures and life experiences; speakers like Carl Brashear on whose life the movie Men of Honor is based, Arun Gandhi, the grandson of Mohandas K. Gandhi, and actor Edward James Olmos; and instill a dedication and love of community service.
"I've told the students in my Emerging Leaders class that if they are a leader and no one is following then you are just a leader out taking a walk. You have to model the right way to be a leader; you have to be someone with integrity," she said. "I've always felt that if you have the opportunity to help those who are in need, that's what you do. Our students have always embraced that ethic and truly loved doing it — they wanted to make a positive impact in the community. I am very proud to have been a part of their journey."
As Lewis-Campbell looks toward the next chapter of her own journey, she said she will remain active in her sorority, Alpha Kappa Alpha Sorority, Inc., Phi Beta Omega Chapter; her church, Bethlehem Baptist Church in Spring House; and at the University that has been her home for the past two decades.
"I am an assistant professor in Temple's College of Education. I'm going to continue teaching a master's level course each semester," she said. "I'm very much looking forward to spending time with my family — my two adult children, my grandson and, my father is 85 and I want to spend as much time with him as possible. And, I get to enjoy my retirement with my husband who is already retired — enjoying the home we've built together and continuing to travel and explore the world. But I'm not quite ready to completely leave behind what I love — guiding students toward their future."