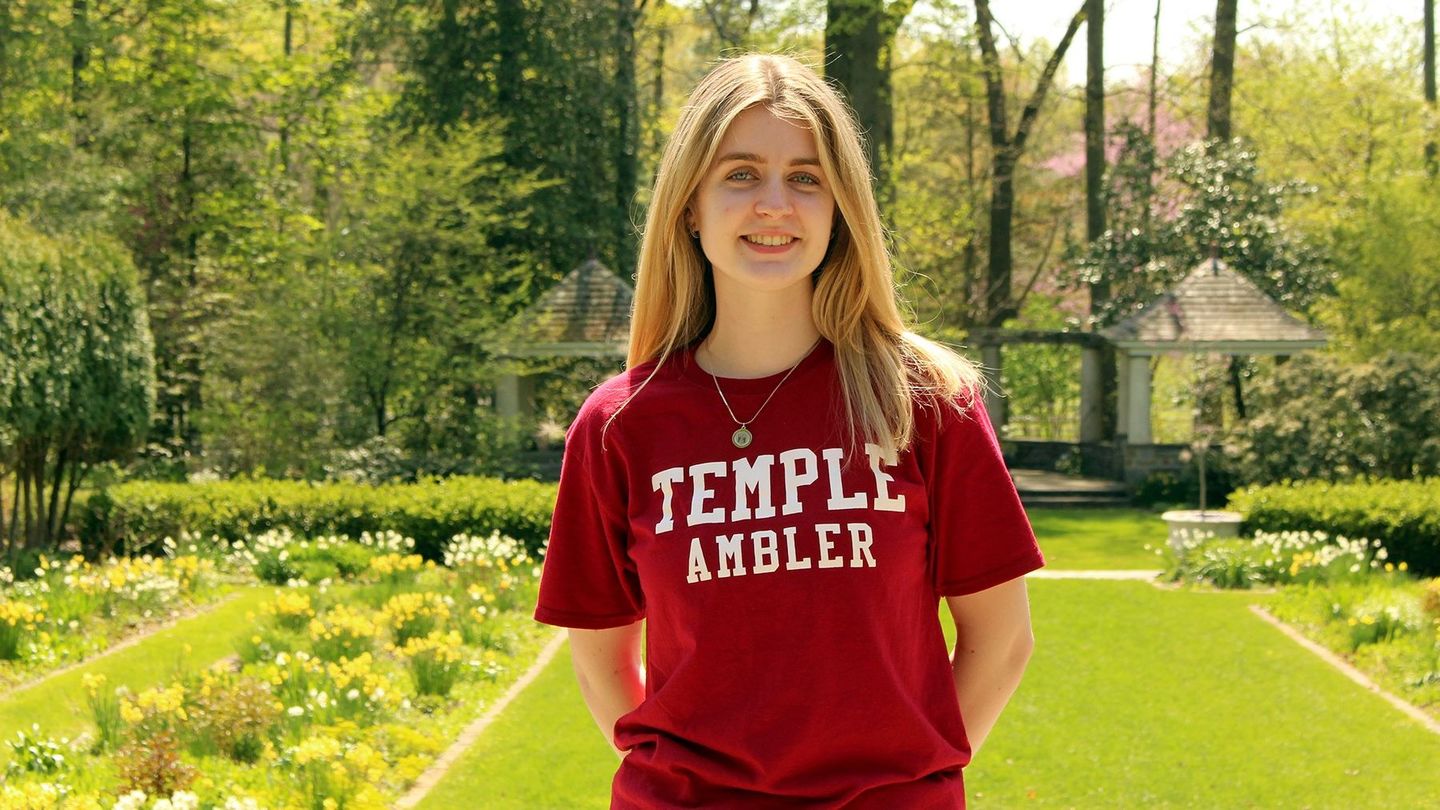 James Duffy
Don't be surprised if you recognize Kayla Kristine McKay. In her four years at Temple University, McKay has become an essential part of the University community and one of the strongest student advocates for Temple University Ambler.
"Temple's spirit is what drew me to the University in the first place — I knew I wanted to be a part of this community inside and outside the classroom. There were student organizations, club fairs, activities all over both campuses and that's what brought Temple to life for me," said McKay who is graduating from Temple's Tyler School of Art and Architecture with a degree in Landscape Architecture. "Becoming an Owl Ambassador at Temple Ambler and introducing potential new students and their families to what Temple has to offer was a terrific opportunity to be part of this unique, diverse University community."
Becoming an active part of campus life at both Temple Ambler and Main Campus proved to be "a really great way to meet other people in other majors, who may have different interests but still have the same passion that you do."
"Not only did it help me get outside the classroom and get my hands dirty in the gardens, or with public and volunteer work, I've also gotten to meet a lot of really great students and lifelong friends," McKay said. "I couldn't have made a better decision than deciding to come to Temple. It's funny to say that before I came to college, I never thought I was a city girl and I said I couldn't draw. I am a 360-degrees different person now than who I was then. I love to draw; I love to be outside and I absolutely have so much pride and spirit for my school."
McKay said there was a time when "Temple was the city school that I thought I didn't want to go to."
"I saw myself in a more suburban area, which is where I came from. But when I visited the school, I was absolutely blown away and captivated by all the pride and spirit that surrounded the students and the University as a whole," she said. "My student life experience started at the Ambler Campus — I've been an Owl Ambassador at Temple Ambler since I was a freshman. I've also served as the president of the Ambler Student Life Board. It's a combination of student government and program board; we do a lot of on-campus activities as well as virtual events for students to really bring together our campus community."
McKay also works with the Temple Community Garden at Main Campus "to help create a bridge between the two campus communities," she said.
"Temple Ambler has been an important part of my journey as a college student because it's fostered that closer connection and support that I've needed throughout the years," she said. "When it comes down to understanding how to plan your class schedule and getting the extra support you need, Temple Ambler has always been there for me. The faculty and staff have been super supportive and they are more accessible than I ever would have expected."
For all that McKay feels she's gotten out of Temple Ambler, she has been giving back just as much — and more — since the day she became an Owl. Obviously not a "parking lot, class, home" sort of student, McKay, who was previously recognized as Student Leader of the Year at Temple Ambler, has fully embraced her leadership roles at the Ambler and Main campuses.
When social distancing became a necessity due to COVID-19, McKay worked with the Ambler Campus Office of Student Life and Ambler Student Life Board to create ways to keep students connected and engaged with one another and campus. She led a Zoom crafting session, and worked with her fellow Temple Community Garden members to offer a houseplant care and maintenance workshop.
"I feel it is important to find ways to stay involved in any way you can. Connecting with each other and the University through online workshops and hangouts, through social media — follow Temple Ambler and the University online and turn those notifications on — I felt they were essential," she said. "The best advice I can give anyone just starting off at Temple is commit to your schedule and commit to your priorities. Aside from planning out your course schedule each semester, if you want to have time for self-care or student activities, make sure you plan them into your schedule and stick to it!"
As a freshman, McKay said, she arrived at Temple and Tyler's Landscape Architecture program after "a lot of self-reflection prior to applying to college."
 "I thought a lot about what my skills sets were. I started in the Architecture program but stepping back and looking at the things that I felt most connected to and passionate about led me to change my major to Landscape Architecture so that I could experience the outdoor classroom," she said. "The most captivating thing about landscape architecture for me is the ability to blend both the natural environment and the human environment, strengthening this idea that the ecosystem is one whole and that we are — and we should be — one with nature."
With the landscape architecture major, McKay said, she's been fortunate to be able to experience the Tyler School of Art and Architecture's facilities at Main Campus "as well as the beautiful Ambler Arboretum."
"Through my coursework, I am able to have the outdoor classroom experience, the greenhouse experience, and my own personal studio space at the Ambler Campus as well as experiencing the urban environment at Main Campus. What we are learning extends well beyond the walls of the classroom," she said. "Our real-world experience starts with the relationships we have with our professors. Often, they are still practicing professionals who either own their own firms or work with numerous other design-build companies. Our studios also get to work with a lot of community organizations and public groups, which allows us to be more involved with real-world clients and gain a better understanding of the space and the communities that we're designing for." 
The Landscape Architecture program provides "a strong foundation in horticultural practice and knowledge aside from the design and materials information that comes from your studio classes."
"The program really embraces the opportunity to have the in-classroom experience as well as the outdoor classroom experience. Temple has truly prepared me for my career after graduation by fostering good relationships both with my professors as well as my peers," she said. "I've had opportunities to engage in numerous new experiences and have gotten to meet people from a wide variety of backgrounds. Networking has been really key for me. I've been able to land internships as well as other opportunities all through the resources I have at Temple."
The design-build studio experience, an essential part of Temple's landscape architecture program "is really about taking those hand-drawn, flat images, creating a 3-D model and then, eventually, bringing your design to life," McKay said.
McKay was an integral part of bringing Temple's 2020 Philadelphia Flower Show Exhibit — Course of Action: A Radical Tack for Suburban Tracts — to life. The exhibit won multiple top honors, including a PHS Gold Medal, awarded to a major exhibit that receives 95 or more points out of 100 in the criteria of design, horticulture, plantsmanship and educational value; and the Alfred M. Campbell Memorial Trophy, given to the "educational major exhibit that demonstrates the most successful use of a variety of plants in a unique fashion."
"The Flower Show experience definitely started with a lot of creativity-building and a lot of drawing, developing your ideas over and over again. We moved from hand drawing to digital work to best comprehend how things were going to get built and how they were going to be durable when hundreds of thousands of people start walking through the exhibit at the Flower Show," she said. "You're creating a space where you can activate all of the senses — seeing and hearing your surroundings, smelling the plants that are in your exhibit as well as getting that tactile feeling of the materials. Design-build not only allows you to work with and learn about construction materials; it gives you the opportunity to experience that complete process, from paper in the studio to the structure that's on the show floor."
The benefit of working with real-world clients and working on projects that result in tangible, built structures, McKay said, is that "it has helped me expand not only my confidence as a student but also strengthened my networking abilities and the network I've been able to create — Temple alumni really are everywhere."
"I'm very fortunate to be working a two-month internship at a firm — Stuart and Associates — that is full of Temple graduates. I'm currently working among my Temple peers and hope to continue there during the summer and into the future," she said. "I know what I want to do and with what I have learned and the experiences that I've had at Temple, I have the skills to do it. I'm ready to get to work!"