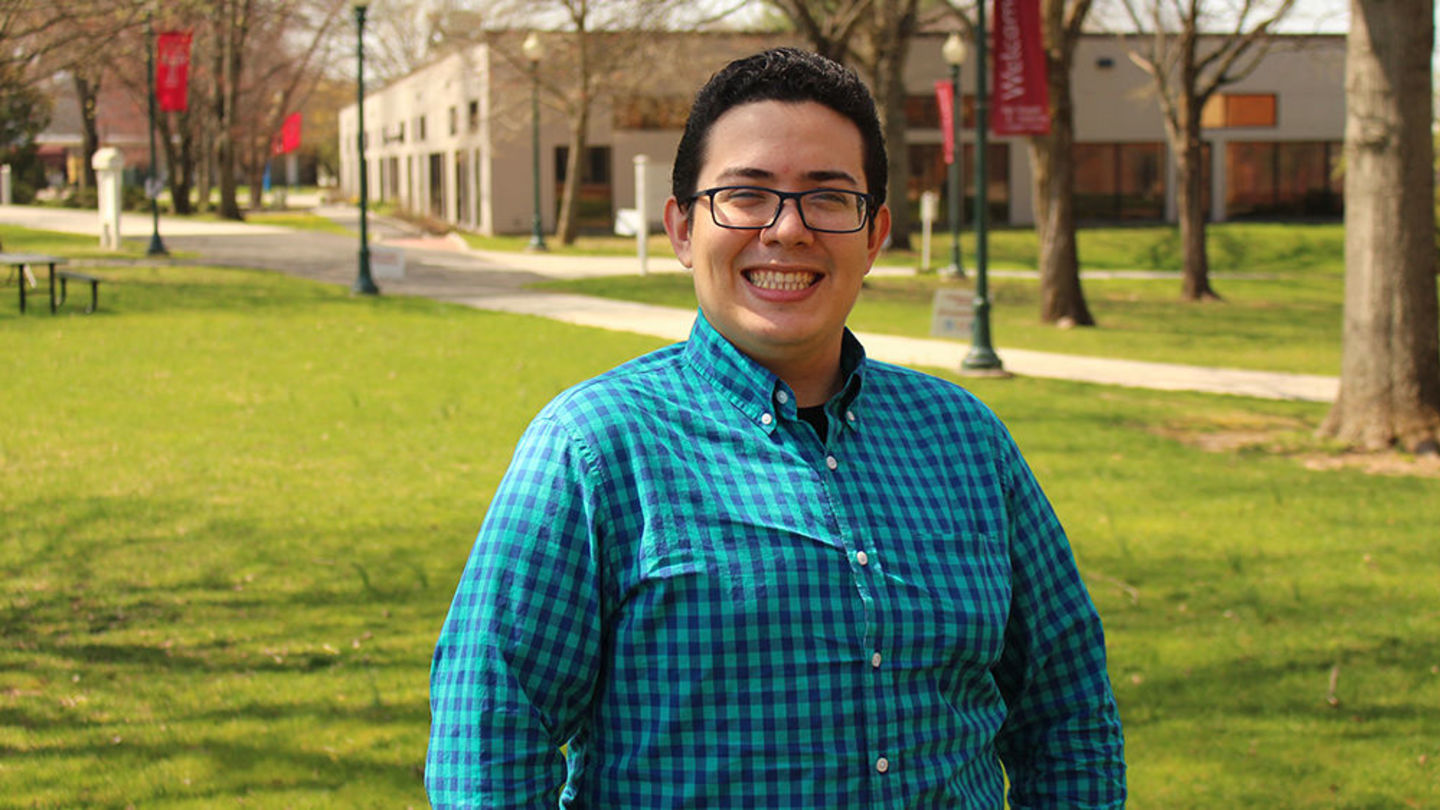 James F. Duffy
You may not know his face (yet), but if you've visited Temple University Ambler's YouTube channel or social media pages in recent years, you know his work.
Samuel Vargas, who recently completed his degree in Film from Temple's Klein College of Media and Communication, has been capturing Temple University Ambler — the people, the places, the research, the creativity, the unique experiences — for more than two years, becoming an integral part of the campus community while doing so.
"Once I started at Temple, the first thing that I wanted to do was get an internship that was related to my major. I began looking for any positions that had to do with videography or photography," said Vargas, who transferred to Temple from Rider University. "That's when I saw a job opening for videography at Temple Ambler. I visited the campus and immediately fell in love with it — this campus felt like home to me. I talked to the content manager overseeing the position and it sounded great. I felt it would be a great opportunity to expand my skills and knowledge."
Vargas decided on career in film after a short detour onto the stage. 
"Early on when I started out in college, I was a theater major. I was looking for something that had to do with performing, something in the entertainment industry. I slowly saw that there was another side to the entertainment industry; that's when I began to focus on film," he said. "I took a class on working behind the camera. I realized I truly wanted to be a part of that as a career — that's my dream job."
When deciding to transfer, "I sat down with my family and we really looked at the choices," Vargas said.
"My grandfather said he was a Temple alumnus. He said 'I want to tell you how great Temple is.' Temple gave him all the resources that he needed to become the man that he is today," he said. "I thought that was incredible and wanted to follow in his footsteps. I wanted to go to Temple and see if I could have that same level for myself."
Vargas' 4.0 grade point average speaks for itself.
"Temple has prepared me so much for my chosen field. The best thing about the teachers is that they want you to have that hands-on experience," he said. "They'll place you in a studio and give you the opportunity to learn about every position that makes that studio work — behind the camera, audio, production. Temple gives you all of the resources that you need to build up the skills you will be using as a professional."
In his role as student videographer and photographer, "what initially started as content for events and programs like EarthFest has expanded substantially," Vargas said.
"In addition to the various EarthFest programs, I work on Arboretum videos, student profiles, Temple's exhibits in the Philadelphia Flower Show, student life events, research, special events — really almost anything that happens on campus. From there's I've been doing work for various professors and instructors and some work for Temple Ambler's Marketing department; it's really just branched out since I began," he said. "Once I started building a catalogue of video content for Temple Ambler, professors began coming to me about doing some projects for them. Sometimes professors just want to film their classes and other times they may just need some editing help."
As far a favorite projects, Vargas narrowed it down to two —  "Our Philadelphia Flower Show entries (videos here, here and here) and Science of Scary."
"With the Flower Show, I was able to see that exhibit being created from start to finish and follow the students involved in that journey. It was a great to be able to tell their story," he said. "Science of Scary personally gave me a way to become closer to, connect and learn about animals up close. The hands-on experience that I've had is essential for building your skills. It's also good for your résumé — you have something tangible that you can show a potential employer."
In addition to Vargas' videography work, he was also part of the Ambler Campus Technology Center team for two years.
"With the Tech Center, I was a student consultant," he said. "If anyone had problems with technology, we tried to help them in any way we could."
Vargas was also integrally involved in getting the Temple Ambler Esports Center off the ground.
"When Temple Ambler was working on developing their Esports Center, they sought out students who were familiar with that kind of technology and asked them to join in the conversations. We talked about the types of computers that would be needed, the keyboards, the chairs, the games — everything that would go into making a successful esports arena," he said. "I think that was a great way to get students involved right from the start. I think it was important for students to see a project being built from the ground up and know that they were a part of that successfully coming to fruition." 
His time at Temple, Vargas said, has given him "a greater understanding of where I want to go from here."
"It's important to take your time to determine where your future is going to take you. The experiences and opportunities that I've had have given me the time to really reflect on what I want to do as a career," he said. "Temple Ambler has been the slice of home that I needed to successfully get through college — not only was it a place where I felt comfortable it was a place where I could learn and hone new skills. I think Temple Ambler showed me where I want to go after college. Just being here on this campus and doing all of this work made me realize what I'm good at and what I love."
Paper in hand, Vargas said he'd like to work in Los Angeles as a photographer for major studio. After working at Temple Ambler, however, he is leaning toward a somewhat different calling.
"I'm also looking to work closer to nature and the wild — I want to become a wildlife photographer and wildlife videographer. I'd like to work in the National Park System and be their photographer because I really want to work close to nature," he said. "Temple Ambler and my experiences here were a huge influence on the direction I'd like take with my career and where I'd like to focus my talents. I thought I wanted to be a director shooting movies but Ambler taught me about connecting with nature and wildlife and I fell in love with that; I want to keep doing that. There is nothing more fascinating than traveling the world, seeing nature firsthand and telling its story."
For any students who are looking to become a photographer or videographer, "or honestly, if you simply don't know where you want to go yet, reach out to people," Vargas said.
"You'll be surprised at how much they can help you — I certainly was. My first year at Temple, I reached out to so many different people — my employers, my fraternity, my professors, my advisors, my friends. I reached out to them because I wasn't quite sure which path was the right one for me," he said. "Everyone was willing to help me to explore my options thoroughly and determine what felt right. Make connections, that's the best advice I can give."    
Temple, Vargas said, "will always be close to my heart."
"I've met so many great people. I think I've become a better person because of my experiences at Temple — I've learned how to be an adult through Temple!" he said. "I've been able to build connections with people who will continue to be my friends and potentially my colleagues in the future. I don't think any other school could have taught me better to take on any of the challenges that are ahead."