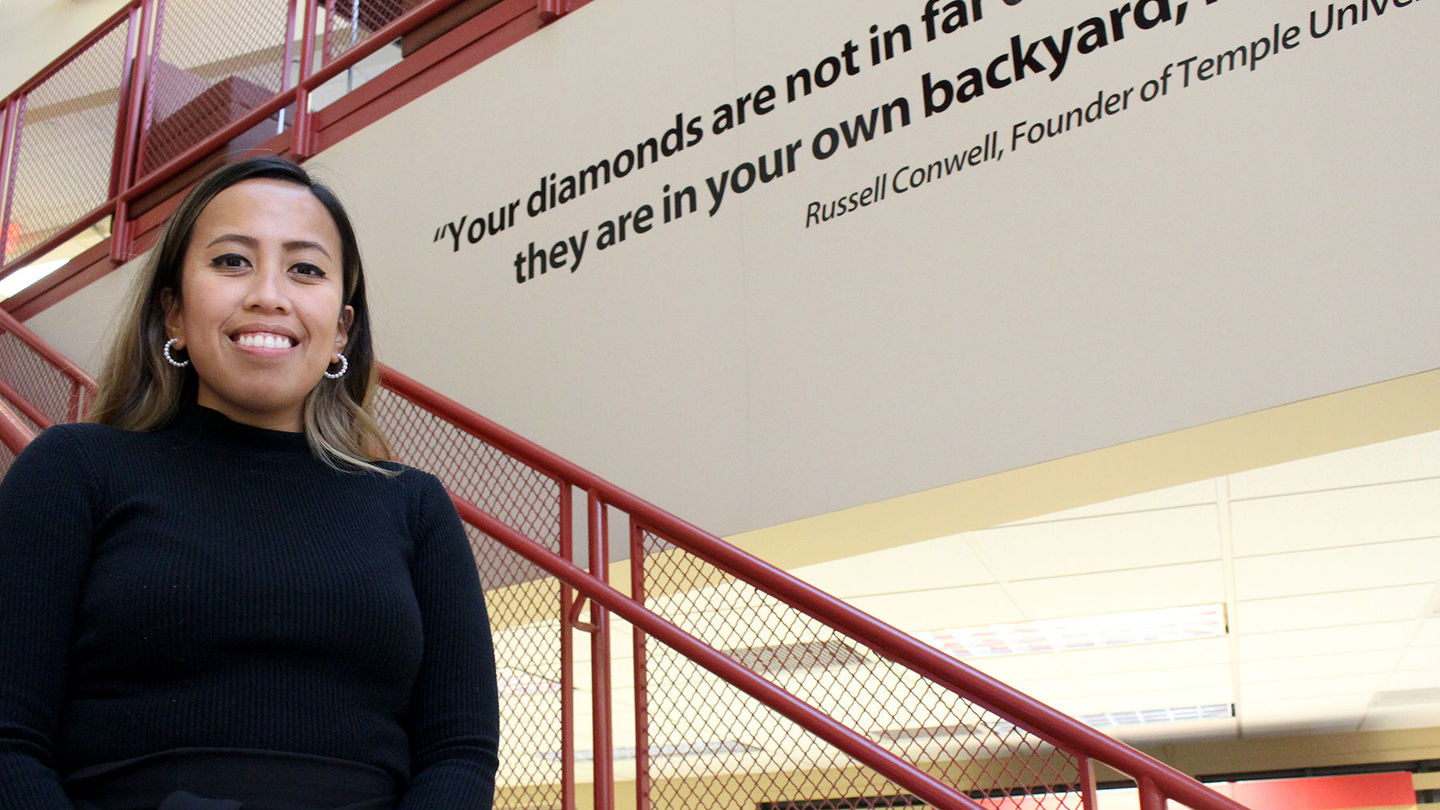 James Duffy
Envisioning the future. Planning a career. Achieving personal goals.
These are heavy topics for any student just starting out or making a return to the classroom.
As the newly appointed Assistant Director of Advising and Student Success at Temple University Ambler, Maria Sarmiento wants to help students navigate these important questions while making their decision to come to the Ambler Campus to pursue their dreams. 
"I think I embody a lot of the different types of students at Temple. I'm an immigrant; I'm a first-generation student; a person of color," said Sarmiento, who emigrated to the United States from the Philippines when she was about 10. "I've been working in higher education for more than six years and have experienced the different student populations — their different needs and priorities — firsthand."
According to Sarmiento, who started her new role at Temple Ambler on November 29, "My first job was at an urban community college with a broad diversity of student backgrounds and experiences — that was my first introduction to higher education."
"I also worked at a small private college and I have the experience of the large universities like Temple and Montclair. I feel the range of my experiences and the type of student that I embodied allows me to be flexible and reflective on what I've experienced when I talk with students," she said. "It's about building relationships rather than a prescriptive approach where you're just telling them what to do. Temple Ambler is like a second home to the community of students, faculty and staff that are here on campus; it's somewhere that people make lasting connections. Being a part of Temple as a whole you also have access to a broad range of opportunities and resources."
Reporting to the Director of Academic and Student Services, as Assistant Director of Advising and Student Success Sarmiento will provide direct student services to all University College students from acceptance through graduation. The position assists a diverse population of students with all aspects of advising, academic planning and achieving professional goals including course selection, registration activities, ensuring students are meeting academic program requirements and clearing students for graduation.
In this role, Sarmiento will also develop, coordinate, and implement advising programs/services that help support the academic achievement, development and retention of students. In addition, she'll responsible for collecting and analyzing registration/retention data and providing outreach/tips for success to students on a regular basis as a retention and student engagement strategy.
"We are thrilled to have Maria join our University College team. In addition to Temple advising knowledge and experience, Maria brings impressive administrative experience in areas such as orientation, retention, data collection and analysis and the graduation review process," said Tara Stasik, Director of Academic and Student Services at Temple Ambler. "She enjoys working with a diverse population of learners and is excited to work with our new population of General Studies students. There is no doubt that she will fit right into our team and I look forward to the contributions she will bring to our students."
The Bachelor of General Studies, offered through Temple's University College, is designed specifically for adult learners with prior college and at least 60 transferable credits who are ready to complete their undergraduate degree. This 120-credit bachelor's program focuses on creating a solid foundation for a wide variety of careers and it allows students the opportunity to customize their degree path. 
"I think my first 30 days will likely be getting to know Temple University Ambler and everyone who is a part of making it a special place. My goal is to help support every aspect of the Advising Department and help all of our students and programs succeed in whatever way I can," she said. "Working at a close-knit campus, you get to learn a lot of things from all of the different departments and your colleagues — I find that a real benefit to being at a place like Temple Ambler."
Prior to coming to Temple Ambler, Sarmiento was an academic advisor for the Speech, Language and Hearing Sciences major in Temple's College of Public Health (CPH) for four years.
"With CPH, you advise a specific cohort, it's not just general advising. I specifically advised students who were in the speech major and American Sign Language and linguistics," she said. "I was also involved in several CPH committees, including the Study Abroad Committee and the Warning and Probation Committee and I was one of the leads for new student orientation. I'm additionally a faculty advisor for Temple's Philippine American Council."
During her time at CPH, Sarmiento said, "I grew very close with the students and faculty."
"I was also able to meet with other advisors and learn different strategies that you can use when it comes to meeting with students," she said. "Last year's graduation included my first cohort of students who I had seen throughout their four years at Temple. It was wonderful to see them progress and grow — half of them are continuing at Temple for their master's program."
Sarmiento said when she first started applying for full-time positions, "Temple was the only one I applied for in Philadelphia."
"In coming to Temple Ambler, I obviously want growth in my development and to build on the experience I've already developed. During my four years at CPH, I had a lot of opportunities to take the lead on several initiatives and I think those experiences have prepared me for this new role at the Ambler Campus," she said.  "I want to help students to grow, to find themselves and their passions in the experiences that they have here. I want to help them prepare for their career, but I also hope I can help them focus on personal development as well. This will be one of the most important times of their lives — hopefully I can help them make the most of their time here."