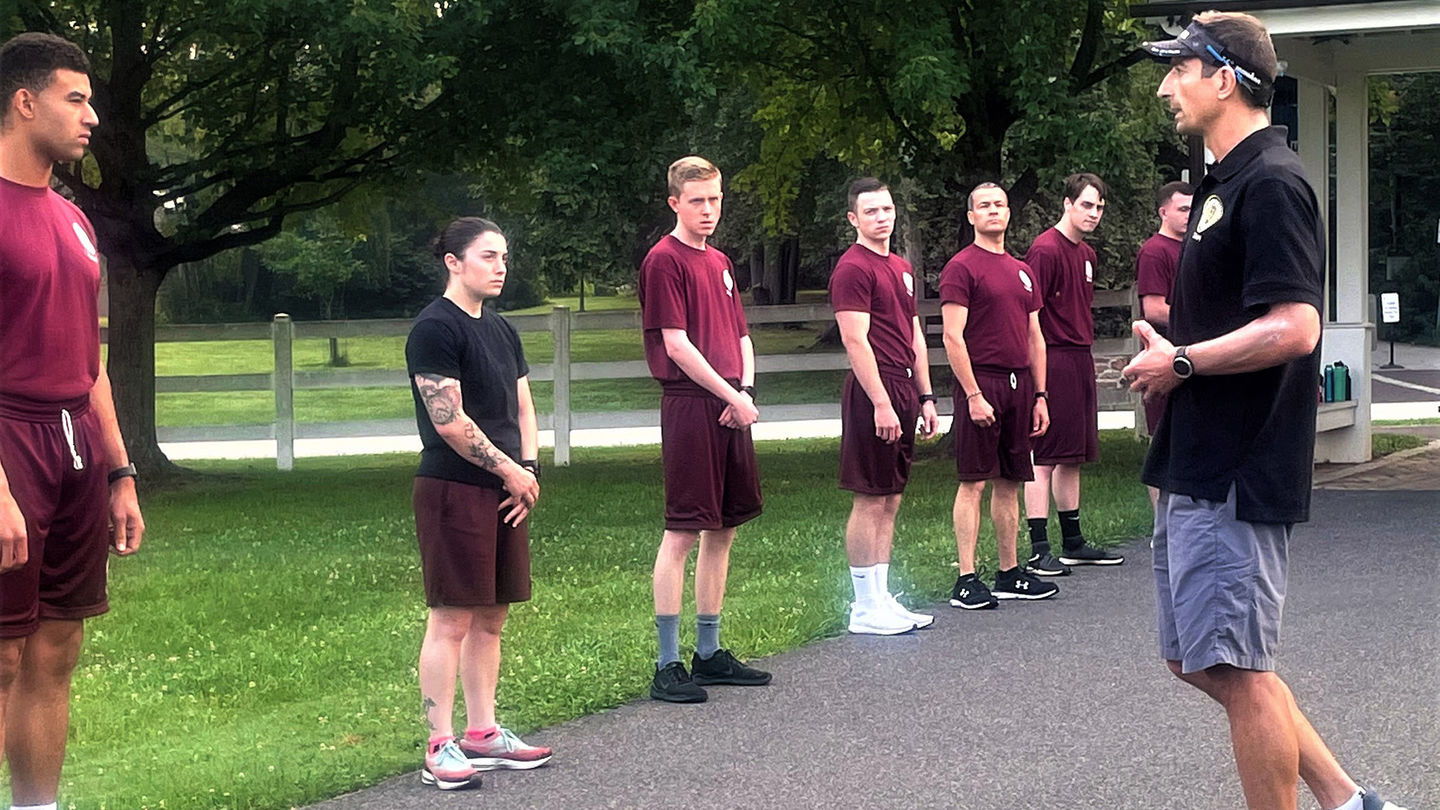 James F. Duffy
Brian Kozera never set out to be a role model.
But that is exactly what the Norristown Police Corporal and long-time instructor with the Temple University Municipal Police Academy at Temple Ambler became.
"If my story can help others, then I'm more than happy to share it," said Kozera in an interview in July 2021 after having beaten Stage 4 lymphocyte-depleted Hodgkin's lymphoma five years prior. "The most important thing to me is to help others not just become cancer survivors but cancer thrivers. That's what I feel I am — I am thriving because I survived cancer."
Kozera wasn't just thriving. He was living life to the fullest with his wife Kristen and three daughters, Paige, Josephine and Avery. He was also about to achieve a lifelong dream, having qualified to compete in the Ironman World Championship in Kona, Hawaii. He had continued to train on a stationary bike while in the hospital during chemotherapy and even had a treadmill donated to the Fox Chase Cancer Center, where he was receiving treatment.
By 2021, Kozera had already completed six iron man competitions — one pre-cancer and an astounding five post-cancer. His excitement for Kona was infectious, but his goal as part of the Leukemia and Lymphoma Society's Team in Training wasn't focused on himself.
"Kona is one of the hardest endurance event competitions on the planet — it is without a doubt one of the most difficult competitions to earn a way into. It was the dream I never dared to dream," he said in 2021. "Now I have the opportunity to race on the big island and raise money to give back to the community that really saved my life. It's not about me. It's part of my passion for helping others and it's absolutely beyond belief how excited I am for this opportunity."
While COVID postponed the Kona competition for another year, Kozera remained on track and excited for October 2022; excited to compete for a community who he felt had given him so much. In August, Kozera's life was tragically cut short at the age of 44 when he was killed in a biking accident while training for the Ironman World Championship. In addition to his wife and daughters, he is survived by his sister, Leslie Kozera, and his brother Matthew Kozera.
His loss is keenly felt by Temple's Law Enforcement Training Center at Temple Ambler, where he was an instructor since 2017.
"Brian taught physical fitness and defensive tactics, but he was not the typical fitness instructor. He taught the trainees the entire picture of fitness and how to embrace it," said Chris Willard, Director of the Temple University Municipal Police Academy, Assistant Director of the Temple Law Enforcement Training Center, and Assistant Director of the Park Ranger Law Enforcement Academy. "Brian often said, 'Go big or go home,' and tailored that to each situation — coaching, teaching, decision making."
What Kozera meant by "Go big or go home," however, was that it encouraged every individual to discover what "go big" was for them," Willard said.
"He was not out there yelling during PT about pushing beyond limits and running until you got hurt. He meant do your best, push, and allow yourself to see what your 'go big' is," she said. "He made everyone feel like they went 'big' regardless of the accomplishment. He made you feel good about what you personally accomplished — the students loved that about him."
Because of the students' respect for Kozera, "they would do their best to make him proud," Willard said.
"He could get students and athletes to push and improve like no coach or instructor I have ever met. His workouts were tough, and cadets might complain a little because they knew what was coming, but when they finished, they were thankful, happy, proud, and had such a sense of accomplishment," she said. "He did the same for me when I was struggling with my running and was ready to quit. I took his suggestion to 'reset' and figure out what I wanted and to go for it. I remember being proud to tell him when I hit certain benchmarks, just like one of the kids." 
In early August, Willard said, Kozera stopped her office to talk.
"Again, he provided me with words of wisdom and encouragement. That 10-minute chat with him resulted in me setting several personal records," she said. "He was a head coach for the MultiSport Gators, a team of triathletes and an Angel Runner for Ainsley's Angels, an inclusive group that ensures everyone can experience endurance sports — as an Angel Runner he would push participants in a wheelchair, so they could share in the experience of running. He gave so much to so many in the service of others just by being himself."
Kozera had said he was drawn to law enforcement because of his passion for helping others.
"I wanted to do something that gave me the ability to help people but also involved criminology and the work I had been doing up to that point as a first responder and member of the National Ski Patrol," he said in 2021. "Being a police officer, it was everything I was looking for in a career. I applied to the police academy and a couple of years later I got hired in Norristown."
He was part of the Norristown Police Department for 16 years.
"The most important value for me is to instill a lifetime of learning; that the cadets' attendance here at Temple's Police Academy is the beginning of the learning process. In law enforcement we need to continue to do that," he said. "There are certain fundamentals that they should learn here to keep themselves physically safe, in shape and mentally strong and they should carry that throughout their careers."
In 2021, Kozera had the following advice for individuals facing cancer — "commit to beating it, commit to winning."
"You have to have the will to fight no matter how sick you are feeling, and you have to learn how to accept help, like I did. As a police officer, I'm the one that goes and helps people, and I'm proud of that, so it was very difficult for me to accept help," he said. "When I started to accept help, whether it was just help getting back on the treadmill or someone bringing my family dinner, I got better faster. It's one of the greatest lessons I learned. Together we truly can be stronger."