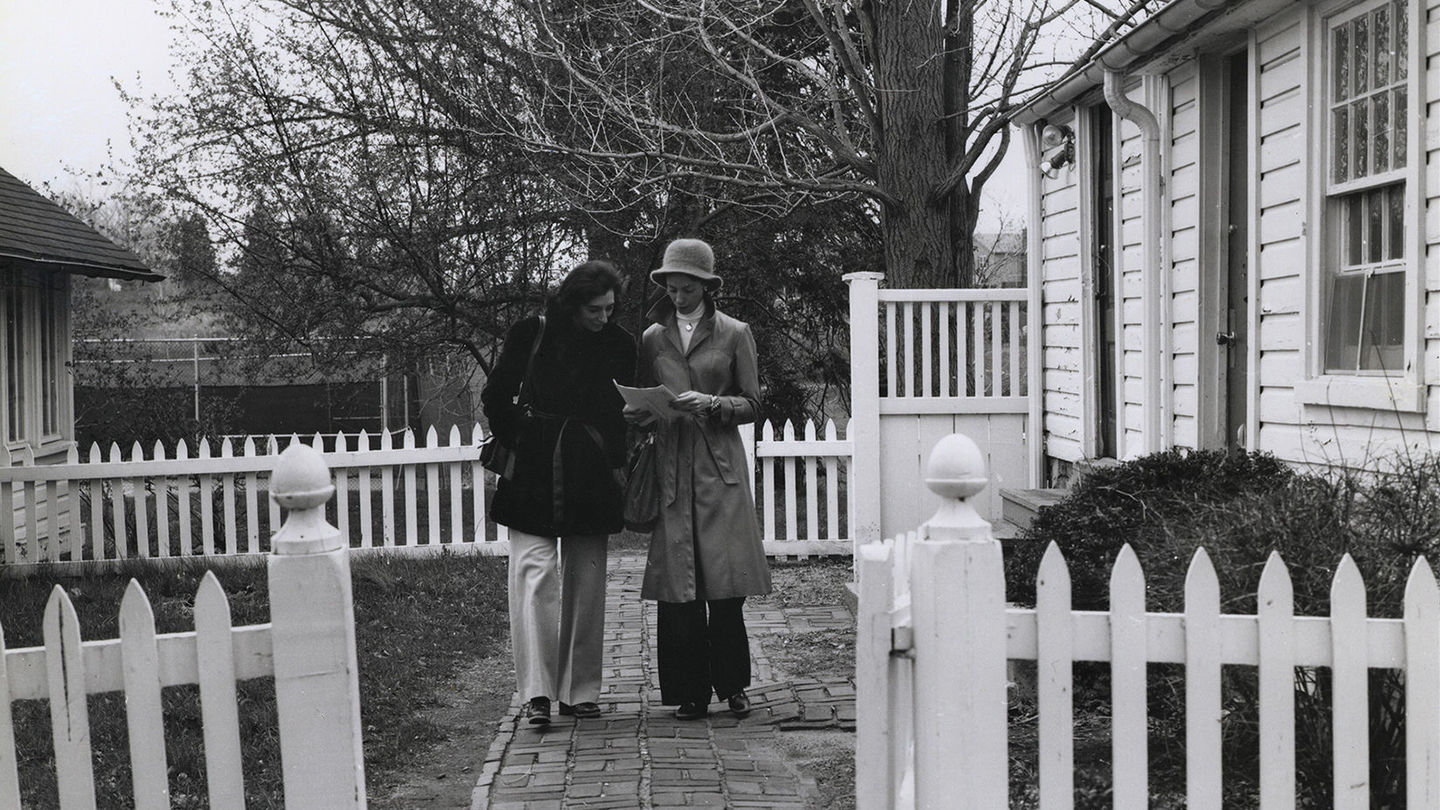 Special Collections Research Center, Temple University Libraries, Philadelphia, PA
It was never meant to last.
Cottage Hall, built as a series of literal cottages in 1963, was never supposed to last beyond the creation of new dormitories at Temple University Ambler. Of course, as John Lennon said, life is what happens to you while you're busy making other plans.
"It may have started as temporary housing for students displaced by fire, but it became an essential building for the Landscape Architecture and Horticulture programs, biology classes, construction of Temple's Philadelphia Flower Show exhibits, engineering projects, summer education camps and, most recently, the Temple Ambler Field Station," said Dr. Vicki Lewis McGarvey, Vice Provost for University College and Executive Director of Temple University Ambler. "The building has been part of the tapestry of campus for nearly 60 years. Students, faculty and staff truly connected with it and its history — decades of hands-on, experiential learning and research. Cottage Hall has been part of the character of the campus, which has always been about working closely and collaboratively to achieve remarkable outcomes."
That's not how Cottage Hall started on campus, however.  
"Within my first week, the dormitory (located where Dixon Hall currently stands) burned to the ground," said Dr. Eugene Udell, who became the first official dean of Temple University Ambler back in 1963. "We built small buildings to house the residence students at the time. Those buildings eventually became Cottage Hall."
Some students at the time had difficulty adjusting to the new "cottage" dormitories.
"The new dormitories, which we call cottages, have separated us not only from the beauty of the campus but from each other. Girls in one cottage are apart from a group of girls in another cottage. Our uniting factor seems to have been lost," wrote Toni Tosco, a Class of 1964 alumnus in an article for the Pen and Trowel published in the spring of 1964. "The lost dormitory provided more convenience, allowed more freedom than the small cottages. A formal atmosphere existed in the dining room of the old building. It gave a relaxed effect that we do not have in the dining section of Bright Hall Lounge. However, despite the lack of space, and a loss of character that the lost dormitory had, the new cottages provide for comfortable living."
Tosco wrote that students who lost personal belongings in the fire "realized for the first time that one never knows when disaster might strike." Words that certainly resonate with the campus community today.
"Suddenly, we had lost all clothing, books, notes, and a few items of sentimental value. The loss of our books and notes was a great inconvenience, since we had to continue with the summer session," she said. "Materialistically we were left with hardly anything except what we had with us. We were left with just memories and probably more important, we realized that sometimes all we really have is within ourselves. With courage and tremendous effort, we began anew."
The passing of the "old" dorm, Tosco wrote, "will bring many changes to the campus, but the purpose will still be the same: to educate and graduate better practitioners of horticulture and landscape design."
That is a purpose that Cottage Hall readily took on. When the cottages were no longer needed as residences, the "temporary" buildings were connected and repurposed into classrooms, laboratory space and offices.
Cottage Hall was the location for all of the administrative offices for Temple's Landscape Architecture and Horticulture programs for many years before moving to Dixon Hall. When the new Temple Ambler Field Station needed a home base for faculty, researchers and interns, Cottage provided the perfect location.
"Cottage Hall, I think, is the definition of small but mighty," said Beth Shepard-Rabadam, Associate Director of Temple University Ambler. "It provided an excellent space for collaborative learning; a space for students with shared interests and goals to achieve success. So many creative ideas came into being inside those walls over the decades."
Despite thriving for more than half a century past it's "sell by" date, Cottage Hall couldn't escape the wrath of the EF2 tornado that severely damaged campus on September 1, 2021.
"Initially, it appeared that the building had come out of it relatively unharmed. Comprehensive inspection of the building, however, found that wasn't the case — Cottage Hall suffered extensive roof damage and other structural issues," Shepard-Rabadam said. "Demolition will soon begin on Cottage Hall and while we truly appreciate everything that building has given campus, we know that the memories of our alumni, students, faculty and staff will keep the spirit of the building alive. As recovery on campus continues, we'll explore ways to once again repurpose that area of campus to create something that ably promotes student creativity and success."