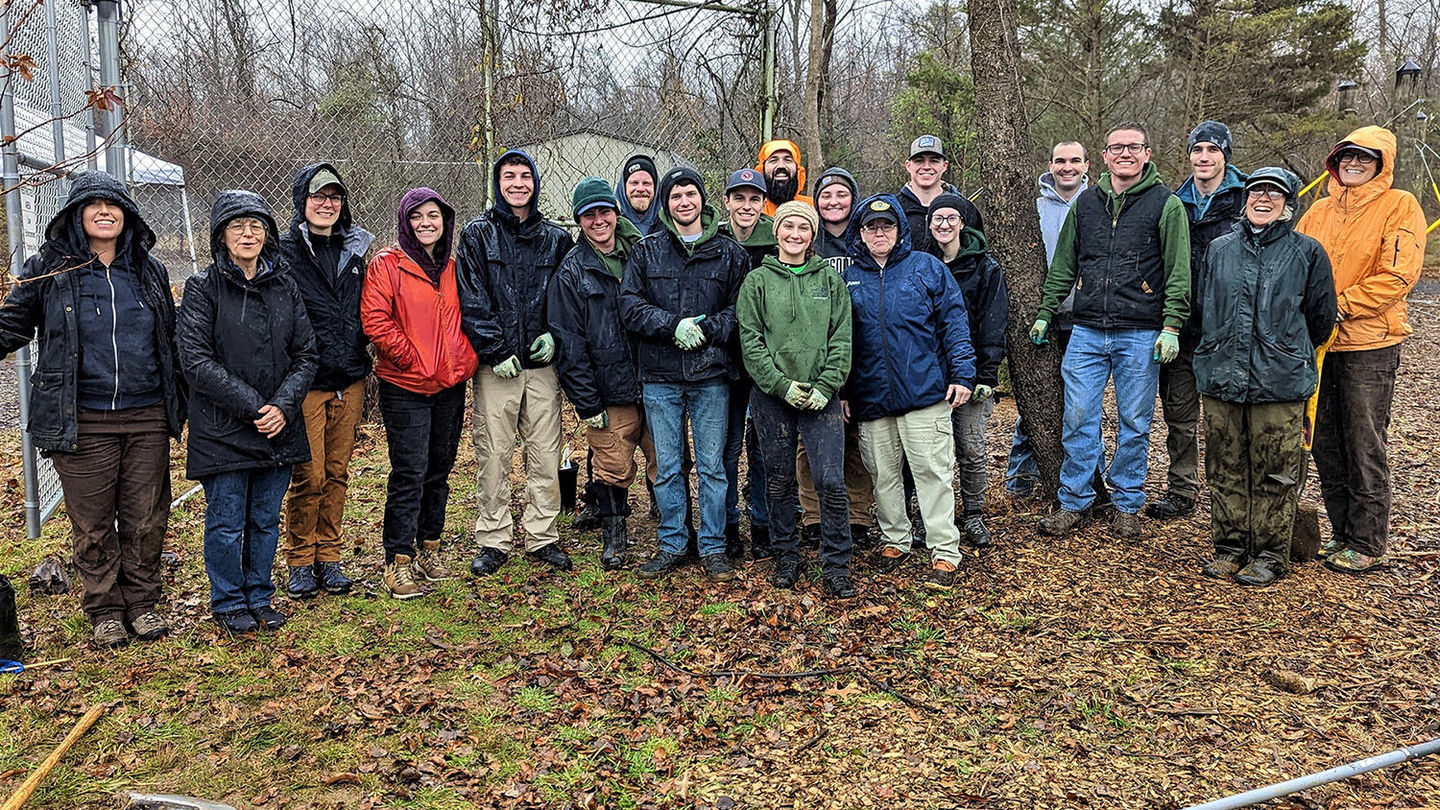 James F. Duffy
A dedicated group of Tyler School of Art and Architecture Master of Landscape Architecture students and faculty, Park Ranger Law Enforcement Academy cadets, Ambler Arboretum horticulture staff, and Recreation, Outdoor Education and Wellness staff recently came together for the culmination of an extraordinary collaboration to bring a student-created landscape design from the classroom to reality on campus.
"I contacted Ambler Arboretum Director Kathy Salisbury with an interest in engaging my Native Woody Plant Identification students in a project in the Arboretum. I particularly wanted them to be involved in something related to restoration as first-year Master of Landscape Architecture (MLArch) students — the students were also quite interested in undertaking a real-world project," said Pauline Hurley-Kurtz, MLA, RLA, ASLA, Associate Professor of Landscape Architecture in the Tyler School of Art and Architecture. "An opportunity that (Salisbury) suggested was a hedgerow habitat project. From the outset, we knew it would be a good project for the students because it had an actual stakeholder group, and their design would be created on campus. It gave the students an opportunity to be involved in a real design-build project almost right out of the gate."
The fully collaborative effort brought together a diversity of the Temple Ambler campus community for a real-world problem-solving effort designed to provide a buffer for a Criminal Justice Training Programs' training area and the nearby Low Ropes Challenge Course; restore some of the plants and habitat lost in the September 1, 2021 tornado; and add native plants to an area with a large amount of invasive plants with the goal of eventually removing the invasive plants and allowing the natives to thrive.
"This project is solving a real-world problem presented to me as Arboretum director regarding the usefulness and practicality of a learning facility on campus," said Kathy Salisbury, Director of the Ambler Arboretum and an Adjunct Professor in the Landscape Architecture and Horticulture programs. "The MLArch students worked with a real budget and truly had an opportunity for the real-world hands-on experiential learning our campus is known for."
The students, Salisbury said, will be able to "come back and see their work as it grows and thrives and as students continue to use the space while cadets will fulfill service-learning goals and learn more about the environment of the area by helping to plant the plants."
"It is always great to have examples of work students and classes do on campus that remain for future students and potential students to see," she said. "Collaboration and problem solving using the various entities on campus is a great model for approaching a lot of other types of projects as well."
According to Chris Willard, M.S, CI-CPT, Director of the Temple University Municipal Police Academy, Assistant Director the Park Ranger Law Enforcement Academy and Assistant Director of the Law Enforcement Training Center at Temple Ambler, when the training campground was originally established "it was a great 'natural' place for the rangers to train." 
"It created a reality-based training place, with the trees, trails and seclusion. It also was a natural separation from the law enforcement training and the rest of the campus," she said. "After the tornado and the installation of the low ropes course, it felt less woodsy and a little more exposed. I asked if there was any way we could re-create some of that more natural feel." 
Willard said any time she can help facilitate her cadets "contributing to the campus and being part of the campus community, I see it as a win." 
"Academy students feel like they are part of the campus, that they are Temple students. With a collaboration like this, the academic students get to learn about the program, the commitment, and the hard work of the academy students," she said. "Seeing them working together and engaging was very gratifying. I think a project like this shows how all different members of the Ambler Campus community can learn in harmony and support while respecting the goals and needs of each other's programs."
Real-World Learning 
Hurley-Kurtz and the MLArch students met with stakeholders at the site of the new hedgerow during one of their classes — then Ambler Campus Deputy Director Beth Shepard-Rabadam, Kathy Salisbury, Chris Willard and Dr. Steve Sassaman, Assistant Director of Recreation, Outdoor Education and Wellness at Temple Ambler.
"We were able to get a good understanding of the planting design and what the goals and objectives were for the project and to understand the juxtaposition of the training site for the park ranger and police cadets and the nearby ropes challenge course," she said. "Our focus was to develop a buffer between the cadet training area and groups using the ropes course."
It is important for participants on the low ropes challenge course "to have a sense that they are being immersed in nature," said Sassaman.
"This habitat hedge provides a bonus learning opportunity for challenge course participants as they can learn more about the local ecosystem in between challenges," he said.
According to Hurley-Kurtz, with the MLArch course being based on native plants and ecology, "the students learned how to use planting design to restore the woodlands in that area."
"Their design included a woodland edge on one side and then a hedgerow on the other side," she said. "We're using an ecological basis to understand the soils, the plant ecology, and the various plant communities that would be appropriate for that area based on what we would normally find in the Piedmont, which is the physiographic region that we are in."
During the design process, the students learned about succession in ecology — the process by which the mix of species and habitat in an area changes over time — the importance of native plants, understanding how to come up with a planting design, sourcing the plants "and then the details about how the plants would be installed so we could share that with the Park Ranger Law Enforcement cadets who would be directly involved in the planting," Hurley-Kurtz said.
"The students in turn looked at the successional sequence of this space, going from an old field pattern to a more developed woodland pattern — canopy, understory, shrub and herbaceous layers," she said.
Students also visited native plant nurseries, learning about the availability of native plants and how you assess particular trees. Julie Snell, Landscape Architect, principal of TEND and co-owner of Redbud Native Plant Nursery, and Hasan Malik of Plant Authority Nursery assisted students with sourcing plants for the project, according to Hurley-Kurtz.
"I think what I got most out of this project was learning what an iterative process design is. At first everyone in the class came up with their own designs and their own plant palettes," said Master of Landscape Architecture student Galen Newsum, a Temple alumnus who graduated with a degree in Marketing in 2015. "We received feedback and then narrowed our focus. It was helpful to see how we think about the spaces in design and being very intentional about where they are and what we want those spaces to be."
Privacy for the cadets and individuals using the challenge course was a priority of the design, Newsum said. 
"We were really thinking about how to approach privacy initially, how do we think about those early successional trees that will not only start to grow a little bit faster and create a little bit more of that screening but then what that will look like 50, even 100, years down the line — what will the climax canopy look like," she said. "We also wanted to ensure that we had multiple layers of growth, the future canopy and the understory as well as eventual plans for a shrub and herbaceous layer. We saw that there are sweetgums, redbuds and birches growing in the area, so we additionally took inspiration from what was already there."
Fellow Master of Landscape Architecture student Isabelle Rocca said the students additionally focused on restoration, bringing in some species of trees that have historically not been on campus or bringing back native tree species that were damaged by the tornado.
"We were able to include in the planting plan a shagbark hickory, which is a species that had been affected by the tornado. We've also brought in a new species of canopy trees — a chinkapin oak  — that hasn't been on the campus before," she said. "To underline the educational aspect of the project, we essentially decided to break the project up into three different sites so that it would have examples of different stages of succession for a forest — all three sections have some different plant communities in them. I think we were very fortunate in that while all of the stakeholders had specific goals, those goals aligned with each other and, I think, with what our vision for the project was as well. We were able to build from goal to goal."
From Design to Reality
For many of the first-year Master of Landscape Architecture students, the hedgerow project "was the first time that we were working on anything like this," said Master of Landscape Architecture student Will Northington.
"It fundamentally came down to the selection of plants, picking things that were eye-level and thick in terms of their foliage to create that layer of privacy for the cadets while not interfering with the offerings at the ropes course. There were specific specimens of trees and plants that the campus had lost during the tornado that we knew should be replaced and this provided an opportunity to do that," he said. "For me, what I got out of this project was that it was great to have an experience like this — a real-world project — so early in the program. It was a lot to take in and learn a first-year student, but it was great to be able to collaborate with my classmates and the cadets. To share a campus with so many students who are likeminded — getting into the field of environmental conservancy — I think this is a very important collaboration."
Newsum said working with the park ranger cadets was a natural collaboration.
"You have these groups that have so many similar interests; so much knowledge can be shared back and forth. The cadets have a lot of experience — maybe it's environmental science, or soil science of horticulture. There are only benefits to bringing the cadets and academic students together to work on projects," she said. "We all worked together to complete a real-world project — we had a deadline that we had to meet, we had to put in the hours, we had to project manage."
It's one thing, Newsum said, to create a design that is hypothetical.
"It takes on whole new meaning when you know that in a month, plants will be ordered and going into the ground. We had to think about protecting plants from deer. We had think about maintenance going forward," she said. "It brings a whole new scope to a project that maybe we wouldn't have gotten otherwise. Considering this was our first semester in the program, to have this opportunity to jump into design with both feet, it was a fantastic learning experience and I think it only enhanced the teambuilding in the class."
According to Hurley-Kurtz, this project has given the Master of Landscape Architecture students "the opportunity to learn the process or ecological restoration — the students went through the same sequence that they would for any site, small or large."
"They developed their design skills to create a beautiful space on campus. I also think it was a good opportunity for them to think about not just the discreet site, but the larger context of the site, and how some of these restoration issues can be solved in different ways," she said. "Given the emphasis of our MLArch program at Temple Ambler on ecological restoration, projects like this are a golden opportunity to be involved in learning about restoration and practically applying some of those principles. With the collaborative nature of projects like this, they can be a showcase for the MLArch program, the Arboretum and the campus." 
For Rocca, the project helped her develop "solid, practical skills" as she dives deeper into the program.
"There were tangible stakes because this was a design that was actually being built. I am so thankful that this project has happened. I'll be coming back the second year, the third year and beyond and this is something that I will be able to visit and see the first stages of its growth, this habitat that my cohort and I, working with the cadets, were able to create together," she said. "That's something very special that I think has bound us all together. I hope that this project will serve as a continuing educational opportunity. It's a great feeling to be a part of the campus' ongoing recovery efforts."
Northington said he is looking forward to returning to campus 30 years from now to see how the area they helped create has grown.
"My dream for this project is watching the three distinct layers that we designed come to life and for this space to really feel like a woodland again," he said. "I think this is a project future classes could build upon — there was a lot of disturbance from the tornado. I think there are more opportunities for students to implement their concepts on campus in addition to working with students in other disciplines, which was a great part of this experience."