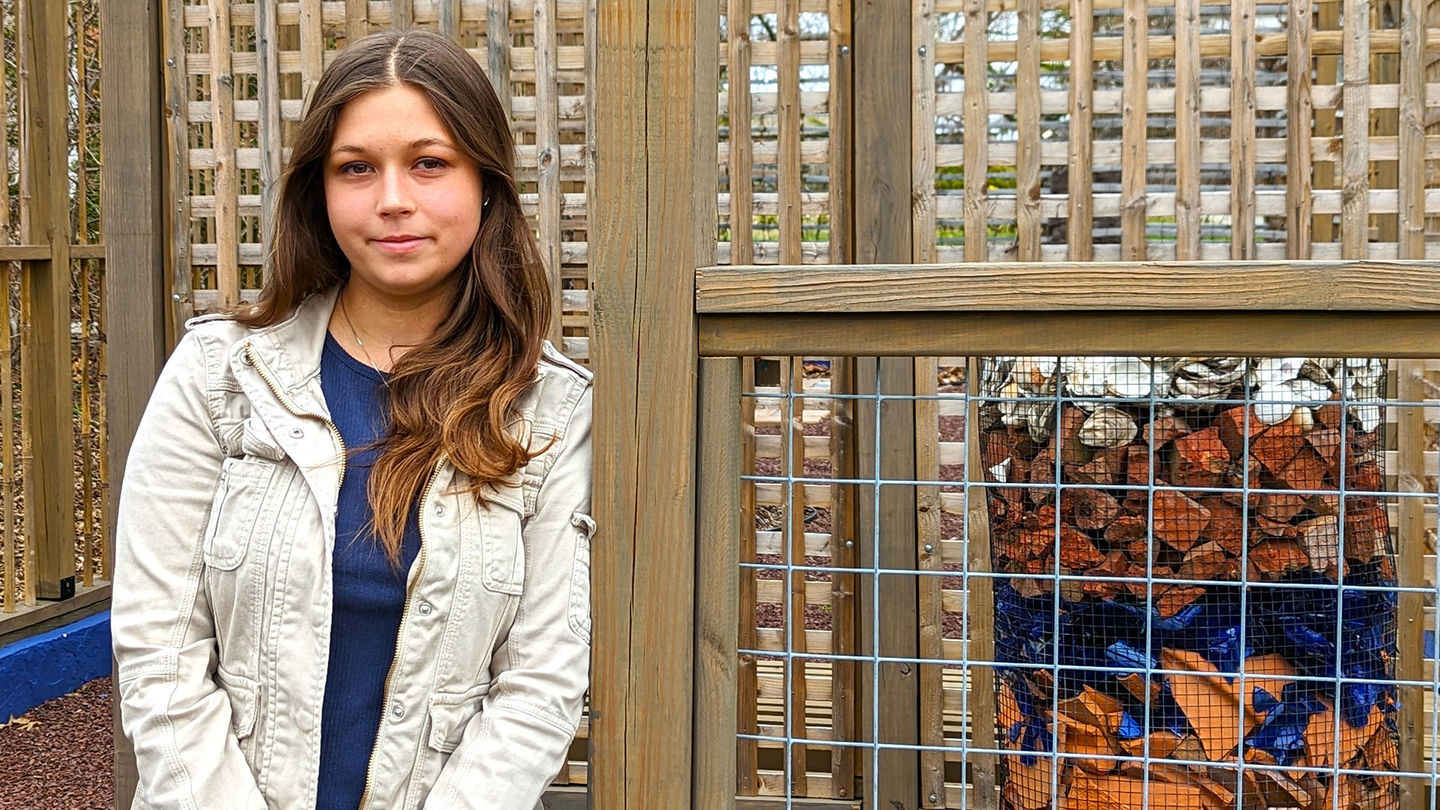 Landscape Architecture graduating senior Jasmine Henne arrived at her chosen profession in what could be considered a roundabout way.
"I discovered landscape architecture in high school through a project in English class. There was an essay that we had to write about careers that we were interested in, and I discovered landscape architecture for the first time," said Henne who will don cap and gown this week when she completes the Temple Landscape Architecture program, offered by the Tyler School of Art and Architecture. "From then on, I was sold because it was the perfect balance in a career between thinking creatively and practically. It was also focused on what I was passionate about — design, the environment and climate change; it was very scientific and math-based."
When seeking out a university program, Henne said, "I was specifically looking for landscape architecture schools."
"I toured Temple Ambler and was told all about the unique program elements — the design-build class, the hands-on experiences that we would be engaged in. What really swayed me was my interactions with people," she said. "When I first came here on tours, I met an Owl Ambassador who was very friendly to me and met Tara (Stasik, Director of Academic and Student Services at Temple Ambler). She told my mom and I all about the campus and the school."
Henne said she also had the opportunity to sit down with Dr. Sasha Eisenman, Associate Professor and Chair of Architecture and Environmental Design in the Tyler School of Art and Architecture and Rob Kuper, Associate Professor of Landscape Architecture.
"I was coming in as a first-generation student and I always felt there were a lot of people at Temple supporting me. We were asking the right questions and getting really great answers without making me feel different for asking all of these things that maybe not everyone asks," she said. "I've definitely had a great experience and learned a lot at Temple in a time of tremendous change. I've learned how to act in challenging times and how to better my responses in times of stress — having a positive attitude through these sometimes-challenging times has improved me as a person."
Henne said the focus on horticulture, the hands-on design-build projects and the deep well of knowledge of the professors make Temple's experience unique among landscape architecture programs. 
"We have a different teacher each semester for our studio and that was very important to me. Everyone has a different way of teaching, and I learned something different and unique from every single professor," she said. "That ranged from how to use a drill in the design-build studio to how to create really gorgeous design drawings using colored pencils or markers. I like the variety of projects that we were doing and how hands-on it was."
Henne said she felt the focus on horticulture concepts and practices "would additionally help lead me to where I wanted to be professionally in the long run."  
"Being able to use the Ambler Arboretum and learning about the different plants and trees — every garden has its own name and every plant has its own label — has been an amazing experience," she said. "I could repeatedly go back and study all of these resources because I was there every day."
Henne was also able to gain an entirely new perspective on landscape architecture by studying for a semester at Temple Rome in fall 2022.
"I decided to go Temple Rome for a semester even before I first came to Temple — it was actually one of the factors in choosing Temple. Growing up, I had never been out of the country," she said. "This seemed like the perfect opportunity though I was nervous — I had never done anything like this before — but it was truly worth it. I learned a lot about how different America is to the rest of the world in some ways in addition to experiencing the uniqueness of Italy itself. You learn how to do things differently that you may not have learned here."
While traveling to Florence, Naples and Venice were incredible experiences, Henne said, "probably one of my highlights was a small moment."
"There is a sandwich shop not far from Temple Rome; they are pretty familiar with our students. At the beginning of the semester, all I could do in Italian was order what I wanted for my sandwich and leave," she said. "By the end of the semester, I had been studying Italian and I was able to have a small conversation with the person I had talked to every single day; I told him about my family and about heading back home. The pride that I found seeing my growth by the end of the semester — this person had been helping me every day and I was able to work up to having a conversation with him by the end."
Back at Temple Ambler, both inside and outside the classroom, Henne's impact on campus has been substantial. Henne was part of the junior design-build that built the new Vine Display Garden on campus.
"Besides the obvious benefits of learning how to use the tools and stain wood, even a little masonry, I felt like we were making a difference on campus. We were leaving a lasting impact on a campus that I love and helping with the recovery after the 2021 tornado," she said. "I have a deep connection to the Ambler Campus; building something on campus felt very meaningful to me and my classmates especially after the tornado. Being able to leave that impact, being able to go back and say not only did we build something, but we built something that will last long term and will likely evolve over time, has meant so much to me."
The design-build aspect of the program has proven invaluable, Henne said.
"You learn so much from a hands-on experience like that. Just being able to go out and touch something, smell something. One of the ways we identify plants is through smell. Some of the ways that we learned things in our design-build studio was by texture," said Henne, who was presented with an American Society of Landscape Architects Student Award during the week of May 9. "That's something you don't get in a lecture. I've always been a more hands-on learner. I think you hold onto memories easier when multiple senses are involved."
Not content to make an impact just in class, Henne also stepped outside of her comfort zone to take on leadership roles at Temple Ambler. She was Ambler Student Life Board President for two years and secretary for the Temple chapter of the American Society of Landscape Architects.
"I wasn't very involved in high school. When I came to Temple Ambler, for the first time I felt pride for where I was — it was somewhere I chose to be. I received a lot of support from Tara (Stasik) and (former Assistant Director for Student and Campus Life) Meg Cranney. They kept inviting me to campus programs and I made a lot of friends," she said. "Through these networks, I felt inspired to try to make a difference and help the people around me. I love being a role model and a leader on campus because I think that's the best way to inspire other people to get involved. I want people to support the campus and I really want people to make a difference; you can't always do that on your own." 
Her efforts have certainly not gone unnoticed. During the recent Temple Ambler Student Achievement Banquet, Henne was honored as the Outstanding Undergraduate Student Leader of the Year in addition to receiving a Golden Owl Award. The Ambler Student Life Board was also named Student Organization of the Year.
"I've certainly experienced a lot of self-growth. I've found so many ways here to grow and improve upon myself and learn new things, which is what you're supposed to do in college. I feel that because I'm here during this time of change, I've been able to leave a lasting impact which, hopefully, will benefit future classes," she said. "Because we're a more close-knit community I've always felt that I had a better opportunity to grow individually — at Temple Ambler, you have a lot of opportunities to better yourself even as an introvert. I was so quiet when I came here and now, I feel confident to talk to anyone. I don't know that I would have experienced that somewhere else — I've always felt like I've had room to be my own person."
Henne said the reason she entered the landscape architecture field "was to make a difference." Degree in hand, she said, "I just want to get my foot out the door and get some experience in the field."
"I want to get into an office, learn the basics, understand the daily 'to dos' and then, hopefully, get into a firm that is truly passionate about rain gardens, green roofs, sustainable design and other effective methods to combat climate change and positively impact the environment," she said. "Ultimately down the road, I think I'd like to become a teacher; it's something I've always wanted to do. I would love to teach something that I'm passionate about. I've always respected our professors and what they've been able to teach us — I'd like my chance to do the same."
College is all about "attitude and determination," Henne said.   
"As you're becoming an adult, you really start to learn that, okay, things are going to happen," she said. "It's really about how you react and how you come back from it and move forward that will determine how strong you really are."