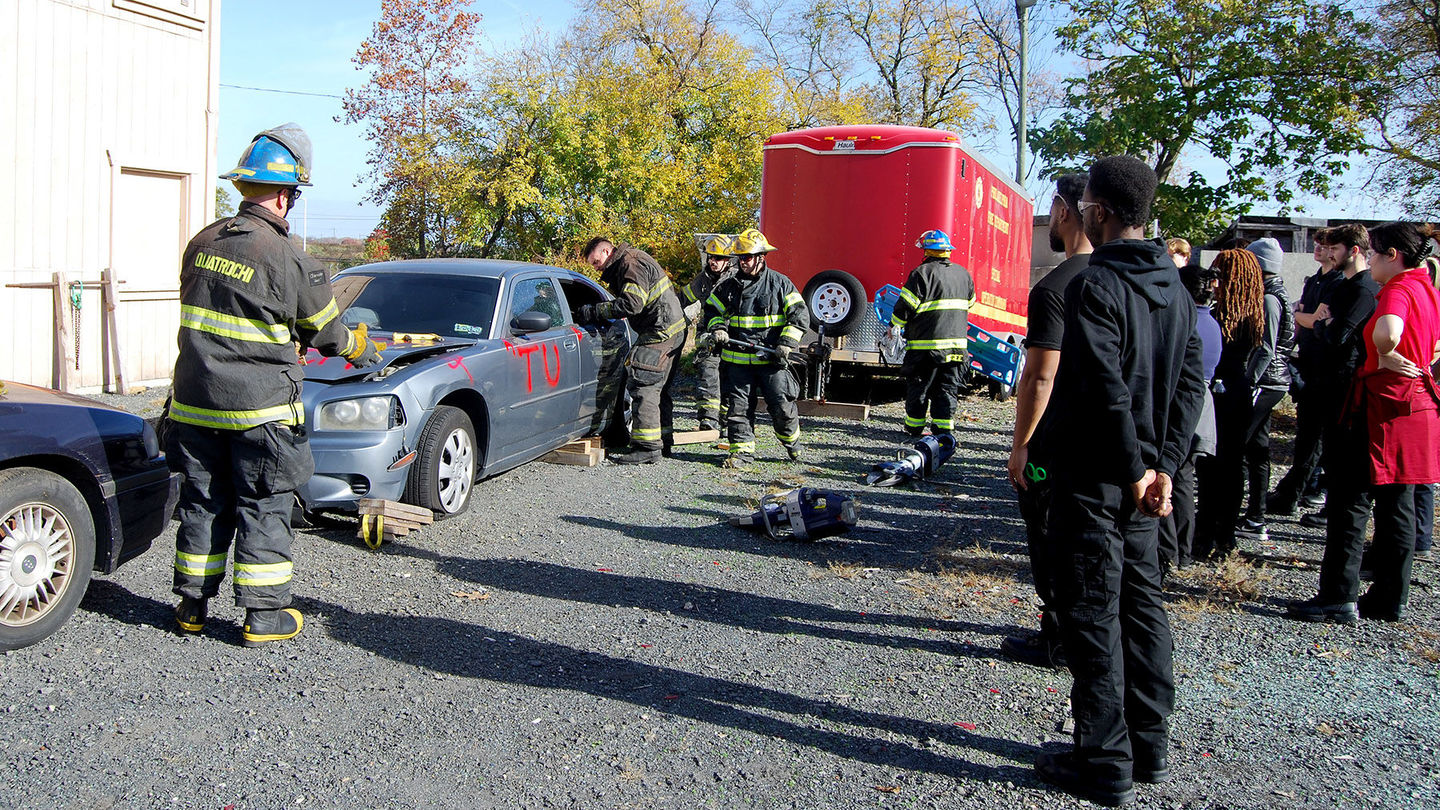 There is an old saying. While most people run away from danger, first responders run toward it, selflessly providing help to others when it is needed most.
In the case of medical emergencies, there are those who call for help and there are Emergency Medical Technicians (EMTs) who provide that help, using their expertise and training to keep people safe and alive.
"Emergency medical services (EMS) are an essential community resource. EMS professionals, such as EMTs, respond without hesitation, be it day or night, rain or shine, to render aid to the sick and injured," said Catherine Gibbs, Emergency Medical Technician Course and Clinical Coordinator in Temple's Department of Health and Rehabilitation Sciences in the College of Public Health. "Emergencies are inherently frightening situations; it is imperative to have highly trained individuals that act without fear impeding their actions. The more we plan and prepare, the easier we make a challenging situation."
With that goal in mind, the College of Public Health is bringing its popular Emergency Medical Technician (EMT) training program to Temple University Ambler as a comprehensive non-credit course open to the public for the first time this fall. Learn more about tuition and register for the program online. Registration closes on Monday, September 11.
The EMT training course will take place on Mondays and Wednesdays, from 6 to 10 p.m., and select Saturdays from September 11 through December 20. According to Gibbs, the new Ambler EMT course is open to the community and is held in a traditional setting, where the material is taught in a dynamic classroom environment and hands-on skills are heavily integrated.
"The cornerstone of this project is to enhance access to affordable, quality EMS education. EMS is not immune to the healthcare provider shortage," Gibbs said. "One of the primary goals of this course is to increase accessibility to an education course that is a direct pipeline to a career in healthcare."
Many Temple EMT graduates earned their EMT certification and started a job within one month of course completion, said Gibbs, a Pre-Hospital Registered Nurse who received her degree in neuroscience from Temple and has worked in emergency medical services for over ten years.
"Unfortunately, accessibility to emergency medical services is something that is not prevalent in every community," she said. "Montgomery County is fortunate to have access to ample emergency services. We see students that go on to serve rural communities and organizations nationwide — that is something that we're really trying to expand upon."
According to Gibbs, Temple University's Main Campus (Philadelphia) EMT course, which is reserved for Temple students, is entering its second academic year.
"We have received significant interest from the public which drove us to develop a non-credit, community EMT course at the Ambler Campus," she said.
The EMT training program at Temple Ambler is designed to help students earn their EMT certification in as little as four months, pending successful completion of the EMT course and all certification exams, Gibbs said. The program is open to students ages 16 and older. 
"The course is optimal for individuals looking to volunteer, change careers, or for any high school student interested in a career in healthcare," she said. "An EMT certification provides ample opportunity to gain patient contact hours and unparalleled healthcare experience."
Throughout the course, and through the application of skills in the classroom and clinical setting, students will become competent in performing the tasks of an emergency medical technician providing Basic Life Support (BLS) care, Gibbs said.
There are several clinical partners involved in providing the student training, including Ambler Community Ambulance, Burholme Ambulance, the Philadelphia Fire Department, Radnor Fire Company, the Temple Health System, and the Tri-Hampton Rescue Squad. Gibbs said she plans to partner with local emergency service organizations to provide unique training opportunities for students.
According to Gibbs, this comprehensive course covers numerous topics including medical and trauma assessments, vital sign assessment, physical examination, airway management, immobilization techniques, EMS operations, lifting and moving techniques, and legal documentation. The course is designed to be engaging — all topics are taught in a hands-on environment where students work with their peers to manage simulated patients.
"Students will learn to expect the unexpected in our classroom — we try to limit the amount of time students sit in a traditional lecture setting. Temple Ambler offers beautiful open spaces. We plan to utilize the grounds to host various activities outside; this includes collaborative drills with emergency service partners or other disciplines," she said. "In addition to classroom time, students are expected to complete clinical hours on the ambulance as well as in an emergency department setting. We are fortunate to have numerous clinical partners in place for the students to complete their field placements. These fantastic collaborations allow our students to connect classroom knowledge with real practice."
In the clinical setting, Gibbs said, students are integrated into medical practice. The students work with certified EMTs, Paramedics, and other licensed professionals such as nurses and physicians. The students are able to apply knowledge of assessments and care, performing head-to-toe assessments, vital sign assessments, lifting and moving techniques, airway management, splinting and more, she said.  
"All care is performed while packaging and transporting real patients to the emergency department for definitive care," she said. "Our goal with the program is to prepare students to take the National Registry of Emergency Medical Technicians (NREMT) certification exams. This exam has two components; a cognitive component where the students have to complete an adaptive computer-based assessment of their knowledge, and a psychomotor exam, which is a hands-on skills exam where they demonstrate competence in psychomotor skills."      
Successful completion of the course qualifies students to sit for the NREMT exams. Once the student successfully completes the NREMT exam, they will earn their NREMT and Pennsylvania state EMT certifications. Please note: Students are eligible for Pennsylvania state EMT certifications at the age of 16, while the NREMT only provides certifications to students 18 years of age or older.   
"We love to welcome individuals who are interested in building up the field of emergency medical services and spread their passion for this essential work," she said. "It is a unique field and it doesn't always get the same attention that other medical programs receive (nursing, physician, etc.) but it is something absolutely essential. If you called 911 one day and there wasn't an EMS crew or an ambulance available, what would you do?
EMT programs often bring together "a wonderfully diverse student population," Gibbs said.
"An EMT course is an excellent hands-on way to gauge whether someone is interested in pursuing a career in medicine. We often see teenagers who are interested in pursuing a career in medicine, but we also see middle-aged students who have a strong desire to give back to the community and volunteer or, alternatively, individuals who enroll to change careers," she said. "While we are always interested in welcoming younger individuals with a passion for the field, we truly design the course to engage students of all ages and interest levels. There is always a need for healthcare professionals and the field of emergency medical services is no different. If you have compassion, drive, and motivation, this course is for you."
Temple Ambler, Gibbs said, "presents a unique opportunity for us" to offer the EMT training course to a wider region."
"Montgomery County is a great location to reach individuals in the greater Philadelphia area," she said. "In life, emergencies are a constant; we want to ensure the field of EMS is prepared to meet the growing demand while exceeding expectations. Ensuring that we have quality EMS education programs is essential to growing strong, confident providers that provide exceptional care to every patient."   
For additional information about the EMT training course, contact Catherine Gibbs at catherine.gibbs@temple.edu or 215-204-6731 or visit here.