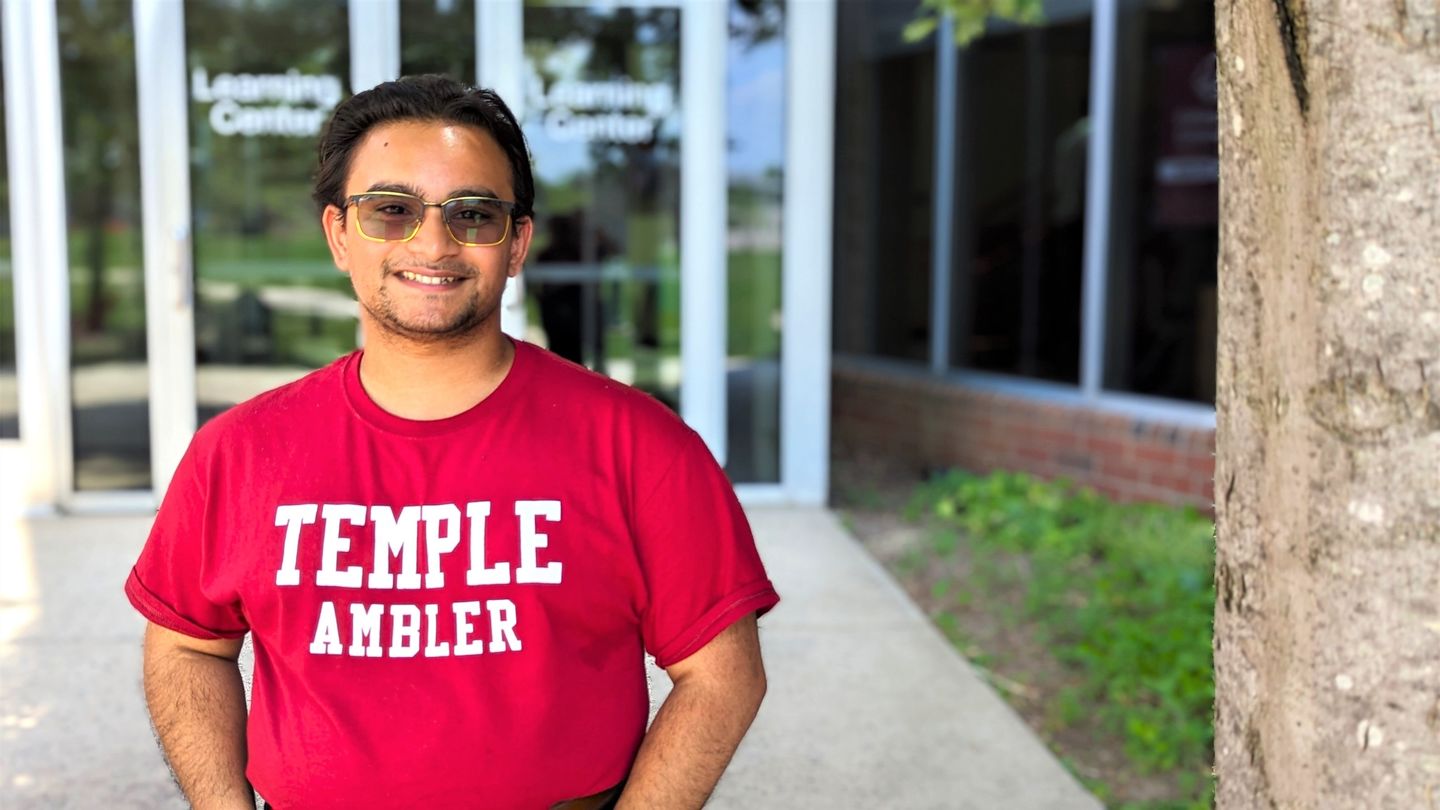 James F. Duffy
Psychology major Josh Palackal feels like he's been a Temple Owl since day one and that could be taken literally.
"I was born at Temple University Hospital. My mom is a nurse there," said Palackal, who will be the Ambler Student Life Board President during the 2023-24 school year. "Temple is in my blood. I feel I've always had a spiritual connection to Temple as an institution."
Palackal said he was initially drawn to the field of Psychology in high school, "where I was involved in a lot of mental health advocacy with a student organization called Be a Part of the Conversation."
"I took AP Psychology and fell in love with the content. The main thing that drew me to psychology is the fact that it is so different from any other social sciences major," he said. "Majors like sociology and political science focus on larger institutions — you learn how to look outward. Psychology is different because instead of looking out, we're looking in. You're studying the inner mechanisms that make us human. I always say that psychology is the science of the soul."
While Palackal expects to put the knowledge that he has learned to excellent use when he graduates from Temple in May 2024 with his degree in Psychology (College of Liberal Arts), after four years of deep involvement at the University as a student leader, Owl Ambassador and student worker, he has his eyes set on a different prize.
"I initially applied to college thinking that I wanted to be a psychologist and work in the health field. In 2020 with the pandemic, the election, and the surging racial justice moment, I discovered I had a passion for political work and legal advocacy," he said. "I realized to make the changes that I wanted to see in society, what I needed was a law degree. After I graduate Temple, I plan on getting a JD and pursuing a career in policy advocacy."
Palackal was right there in the thick of things back in April for Temple's annual Owls on the Hill Day at the Pennsylvania Capitol. Owls on the Hill is an annual tradition in which Temple students travel to Harrisburg and advocate for the Commonwealth's continued funding of the university.
"Programs like Owls on the Hill provide students with an amazing experience that allows them to step outside of their comfort zone while doing good work for the University and the tens of thousands of students enrolled here," said Palackal of the experience. "These programs help bring about tangible, material change to the lives of Temple students, which is why it is so important to participate in them."
Since arriving at Temple Ambler, Palackal has become an integral part of the Temple Ambler community right from the start as a new freshman. He has been on the front lines of making the Ambler Campus as welcoming as possible as an Owl Ambassador and helping create and support a variety of student life programs on campus with the Ambler Student Life Board.
"Temple Ambler has such a close, tight-knit community — It's very easy to make friends and connections here. I've always felt like I had a place here, which has helped me build so much more confidence in myself and my abilities," he said. "I think starting here made the transition to taking classes at Main Campus easier. It's definitely made it a lot easier to become a part of the Temple community."
Palackal said he became an Owl Ambassador "because I felt like this was the best avenue to really be able to call this place a second home — learn more about the campus and feel more connected to it."
"Not only have I learned so much about the campus, I've been able to meet so many people professionally and socially — visitors, coworkers, friends. I think it gave me the opportunity to build a ton of professional skills," he said. "I think being an Owl Ambassador has really improved my social confidence. Public speaking is an important part of the job, for example. It has definitely helped me become a better communicator and it's better prepared me for the job market."
Palackal said it's his mission to "show people just how magical Temple Ambler can be."
"What I focus on is creating as hospitable an atmosphere for our visitors as possible, making sure that once the student is here, they feel welcomed and informed," she said. "I try to emphasize that we are a small campus with big opportunities. There are so many ways to get involved on campus and enrich yourself — I'm an Owl Ambassador, I'm a student leader, I work here."
During the fall semester, Palackal will take on the mantle of President of the Ambler Student Life Board (ASLB), an organization he has been a part of since he was a freshman.
"Immediately when I joined, that became my first friend group in college. ASLB has always had a special place in my heart because of that," he said. "I love the kind of work I'm able to do in ASLB, creating and planning different types of programming that allows students to become more engaged with Temple Ambler."
As organization president, Palackal said, "I want to boost recruitment and student involvement on campus."
"I want to get as many people to our meetings and events as possible — we're a student-facing organization and our goal is to create a good environment here for said students. We have a lot of students here who are people of color, who are women, who are disabled, who are part of a broad diversity of gender identities," he said. "In this upcoming year, I want to emphasize diversity, equity and inclusion. I want to increase our DEI programming so that Temple Ambler can be a space where marginalized students can not only feel safe but know that they will be listened to; as a marginalized student myself, that is invaluable to find."
Palackal said to get the most of their university experience "students can't be afraid to put themselves out there."
"By being involved at Temple, I've been able to build connections here that have made my college experience so much better." he said. "Making those lifelong connections, I think, is what makes college worthwhile."