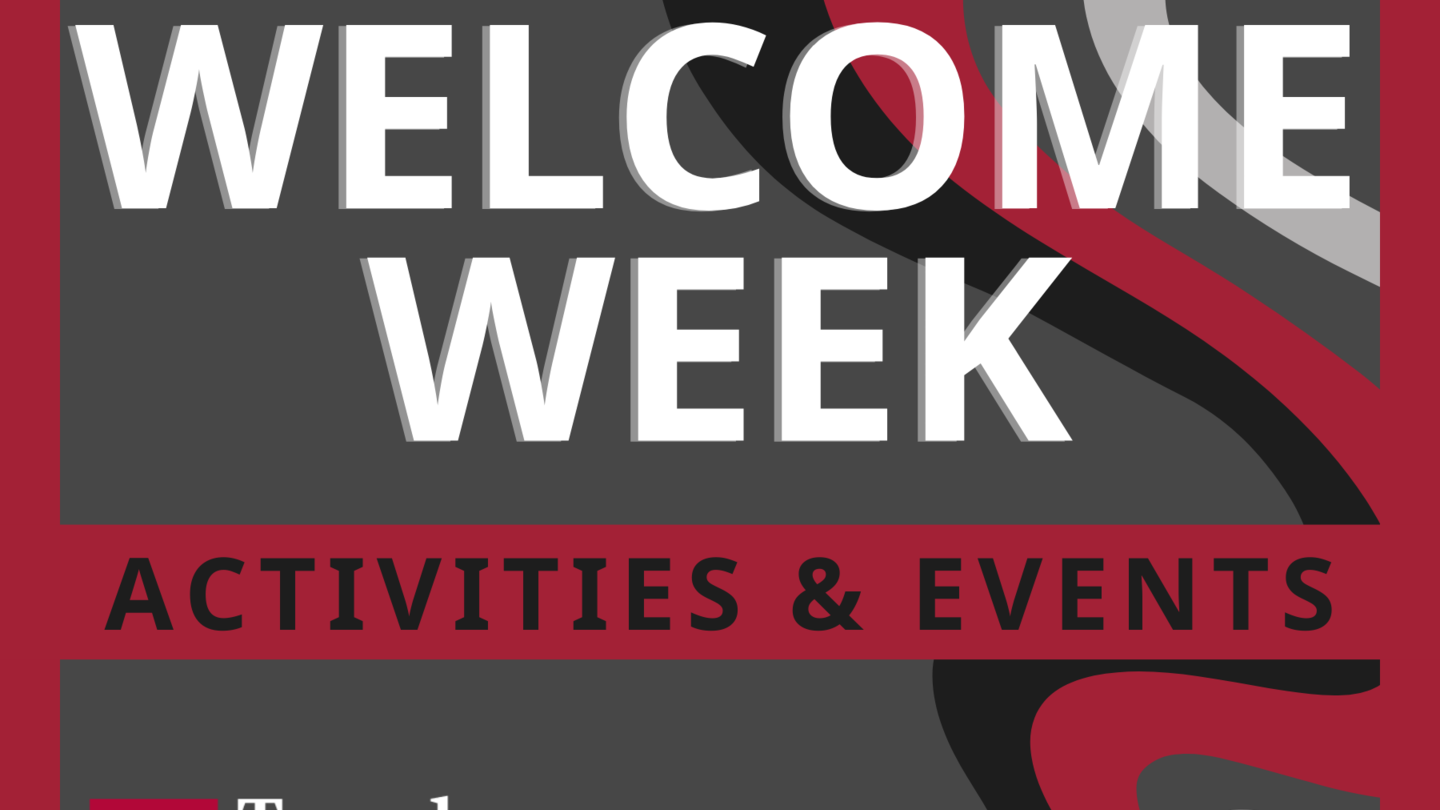 When students begin classes for the fall 2023 semester at Temple University Ambler, they will be met with a special week-long celebration!
Temple University Ambler has planned several activities for students to help them start the year off right by meeting new friends, having fun and acclimating to their new environment. Keep track of all of the week's events with this downloadable poster!
"Welcome Week activities allow new students to familiarize themselves with the campus and everything offered here. Returning students can reconnect and learn more about new programs for the upcoming year!" said Krista DeLone, Assistant Director of Student and Campus Life. "The goal of Welcome Week is to get students back in the Temple University spirit and engaging with the campus community!"
Temple Ambler students are encouraged to take part in TempleFest at Main Campus on Friday, August 25. Temple Ambler and University College will be represented at TempleFest, happening at Main Campus this Friday and next Thursday, August 31. Come visit our tables on 13th St. between Montgomery and Cecil B. Moore. There will be representatives from Student Life, Recreation, Outdoor Education and Wellness (ROW), the Ambler Arboretum, Temple Field Station, and Capital Semester at Temple University Harrisburg.
The celebration kicks off at Temple University Ambler on Monday, August 28, the first day of classes, with a Welcome Breakfast in the Ambler Learning Center Lobby from 8:30 to 9:30 a.m. Stop by the Learning Center lobby to grab some breakfast before heading to class!
Students are invited to enjoy smoothies and wraps while getting information about student resources and campus programs from 12 to 2 p.m. August 28 on the Learning Center Lawn. There will be information tables about campus programs and student resources on the Learning Center Lawn (12 to 2 p.m.) and the Learning Center Lobby (3 to 5:30 p.m.) through the week from August 28 through September 1!
Start Tuesday, August 29, off right with a Welcome Breakfast from 8:30 to 9:30 p.m. in the Learning Center Lobby then get ready for the Resource Fair from 10:30 a.m. to 2 p.m. on the Learning Center Lawn. Find Temple resources to help you in your college career! Everything from advising to library services will be represented. Pizza will be provided from 12 to 2 p.m. while supplies last!
"This year's highlights include the Resource Fair where students can learn about how Temple resources can help students in their academic and personal journeys, and an Involvement Fair on Wednesday where student organizations, community non-profits, and departments with student programs and student worker jobs will be seeking interested students," said DeLone.
On Wednesday, August 30, take part in the Involvement Fair from 10:30 a.m. to 2 p.m. on the Learning Center Lawn. Learn about all the ways to get involved on campus and in the community — student worker positions, volunteer opportunities, and clubs and organizations — all on the Learning Center Lawn! An iced coffee bar will be open from 10:30 to 11 a.m. and a food truck will be available from 12 to 2 p.m.
On Wednesday afternoon, August 30, it's time for a little Nature Rx with a Nature Printing Workshop, which will be held from 3:30 to 4:30 p.m. in Dixon Hall. De-stress from a busy first week with a nature-based wellness craft. Utilize natural items found around the Arboretum in an intentional and mindful activity.
So, What's Brewing for You? The answer to that question arrives on Thursday, August 31, during two mindfulness sessions beginning at 8:30 a.m. and 10:30 a.m. Participants should meet in the Learning Center Lobby. Practice mindfulness and meditation while enjoying your morning tea or coffee. Tea and coffee will be provided!
On Thursday afternoon, August 31, get ready for a Snack Attack! Come to the Learning Center Lawn from 12 to 2 p.m. for some free lunchtime snacks, appetizer, and finger foods while supplies last.
Capping off the first week of classes, the Office of Student and Campus Life invites you to Get to Know Your Student Orgs on Friday, September 1, from 1 to 2 p.m. Meet representatives from the American Society of Landscape Architects (ASLA), Society for Ecological Restoration (SER), and Ambler Student Life Board (ASLB) in Bright Hall Lounge for a mixer with water ice and pretzels!
With the first week done, that's not the end of the fun! Students are invited to a Float and Floats Pool Party on Wednesday, September 6, from 1 to 4 p.m., at the Ambler Campus Outdoor Pool!
Join Ambler Student Life Board (ASLB) and Recreation, Outdoor Education, and Wellness (ROW) and spend some time relaxing around the pool, taking a dip, floating (pool floats provided) or enjoying a root beer float!
If coming from Main Campus, we recommend taking the 1 p.m. intercampus bus from Main Campus to Ambler Campus with the return bus to Main Campus at 3:45 p.m.
Are you ready for some football? Free transportation will be provided to all Temple Ambler students to Lincoln Financial Field for all Temple University Owls home football games during the fall semester! The bus will leave the Learning Center Parking Lot (Lot 2) three hours prior to kickoff time. Be on the lookout for reminder emails from Student and Campus Life the week prior to home games.
For more information on Week of Welcome and other Office of Student Life activities and events at Temple University Ambler, contact 267-468-8423 or krista.delone@temple.edu.