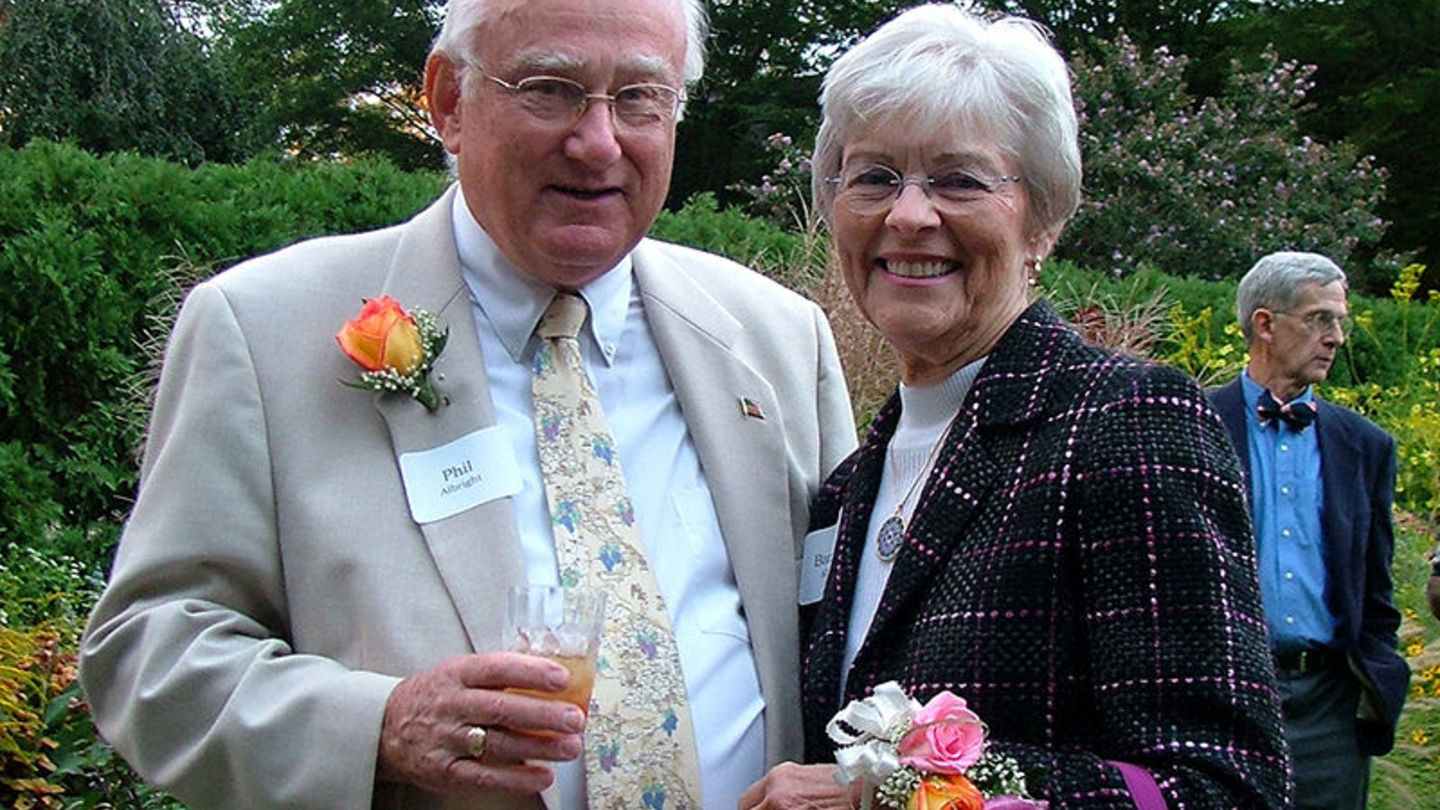 In early 2018, Temple University Ambler Alumnus and longtime campus and Ambler Arboretum supporter Philip Albright issued a challenge.
If faculty, students, staff and friends of the campus could raise $25,000 for the Ambler Arboretum by the end of the year, he'd match it dollar for dollar.
"My primary goal with the challenge was to bring greater attention to the Arboretum; to get people involved and invested in its future," said Albright, founding and current Chair of the Ambler Arboretum Advisory Committee and a former chair of the Ambler Campus Board of Visitors. "The Arboretum is very valuable teaching tool, a unique resource with so much to offer and so much potential."
Challenge met and surpassed by nearly $5,000!
Thanks to the response from donors invested in the future of the Ambler Arboretum, Temple Ambler reached Albright's goal in half the time. By the end of June, nearly $30,000 had been raised prompting Albright to donate a further $5,000. The challenge has now provided almost $60,000 to support Arboretum operations and programming.
"The response was immediate, enduring and well beyond our expectations! I think this challenge really got people excited about supporting the Arboretum — Phil's commitment to the campus inspired others to do the same," said Kathy Salisbury, Director of the Ambler Arboretum of Temple University. "We are very grateful for the decades of support Phil and his wife Barbara have given to the Ambler Arboretum of Temple University and the Ambler Campus. His remarkable generosity, and that of donors who helped us meet the challenge, will help support numerous improvement projects within the Arboretum."
First and foremost, Salisbury said, the funding will help support general operations and community programming around the Ambler Arboretum.
"With this funding, we hope to focus on further developing and implementing excellent programming in addition to supporting the upkeep of the gardens," she said. "We hope to expand our monthly programs, engaging with schools to visit the Arboretum for classes, educational lectures on sustainable gardening and horticulture and more. Our goal is to create a cohesive and meaningful educational experience for visitors."
Over the decades since Albright first set foot on Temple University Ambler in 1986 to study Landscape Design, he and his wife Barbara have involved themselves in countless community organizations and charities, selflessly giving their time to brighten the lives of others and enhance the community in general.
"There are individuals that have taken a great interest in the campus, who want it to succeed and thrive. There are a lot of people who put in a great deal of time and effort into Ambler and it's worth it," said Albright. "When other people see that there are individuals willing to do what they can to support the campus — and when they see the results of their efforts — hopefully it inspires them into action as well. I'm very pleased with how the challenge went and how mnay people we willing to lend their support."
Albright, who graduated from Temple with an Associate's degree in Landscape Design, said it was a love of learning that initially brought him to Temple and he and Barbara Albright's love of the campus and its gardens that kept them coming back.
"The campus has such tremendous potential. With 187 acres, the Landscape Architecture program, the Aquaponics Lab, the Center (for Sustainable Communities), and the multi-disciplinary research taking place on campus, it has everything in place to become a national center for environmental and sustainable education," he said. "I think the Arboretum is a real community resource in addition to being an educational tool for the University. Community assets such as this need volunteers — fundraising in particular isn't easy, but there are people who are willing and able to help; you just need to find them."
Albright made his first gift to Temple University Ambler in 1987. In 1998, he and Barbara Albright generously supported the maintenance and replanting of the Native Plant Garden, which continues to serve as a teaching tool for both Horticulture students and visitors. The Phil and Barbara Albright Winter Garden was also established in 2008 as the third parterre of the Formal Perennial Gardens. In 2011, Albright Walk, which wends its way through the center of campus, was named in their honor. The Albrights also helped fund the new accessible pathway in the Formal Perennial Garden in 2017.
"You have to find something that you believe in and be willing to put in the time," Albright said. "I think if you have the time, talent, and means, you can and should have a valuable and significant impact on your community."
The Albrights have generously contributed to the momentum that Temple Ambler has been experiencing throughout 2018, said Dr. Vicki Lewis McGarvery, Vice Provost for University College. It's up to the campus community to follow their lead, she said.
"Phil and Barbara have been champions of Temple Ambler for decades and we can't thank them enough for their support, generosity and Phil's leadership roles on our Board of Visitors and Ambler Arboretum Advisory Committee. Phil has always believed in the potential of the campus and the Arboretum," she said. "The hard work of the Ambler faculty and staff and the incredible talents of our students has been noticed, as has the increased level of giving to support the campus. We look forward to keeping that momentum going!"
Temple University Ambler and the Ambler Arboretum provide a firm foundation for student-centered learning at a location that is unlike any other at the University — there are programs and research that can take place on campus that would be impossible anywhere else at Temple. 
Giving to Temple Ambler and the Arboretum "shows that we believe in what we are doing here and the special opportunities we are able to provide our students," she said.
A gift, no matter what size, will help to show our ongoing commitment to the campus and the unique experiences we provide within the Temple community. To make your donation, visit giving.temple.edu/GiveToAmbler. 
To learn more about how you can support Temple Ambler, contact Eric Rivera at rivera.eric@temple.edu or 267-468-8011or Angela Davis at angela.davis@temple.edu or 267-530-2933.