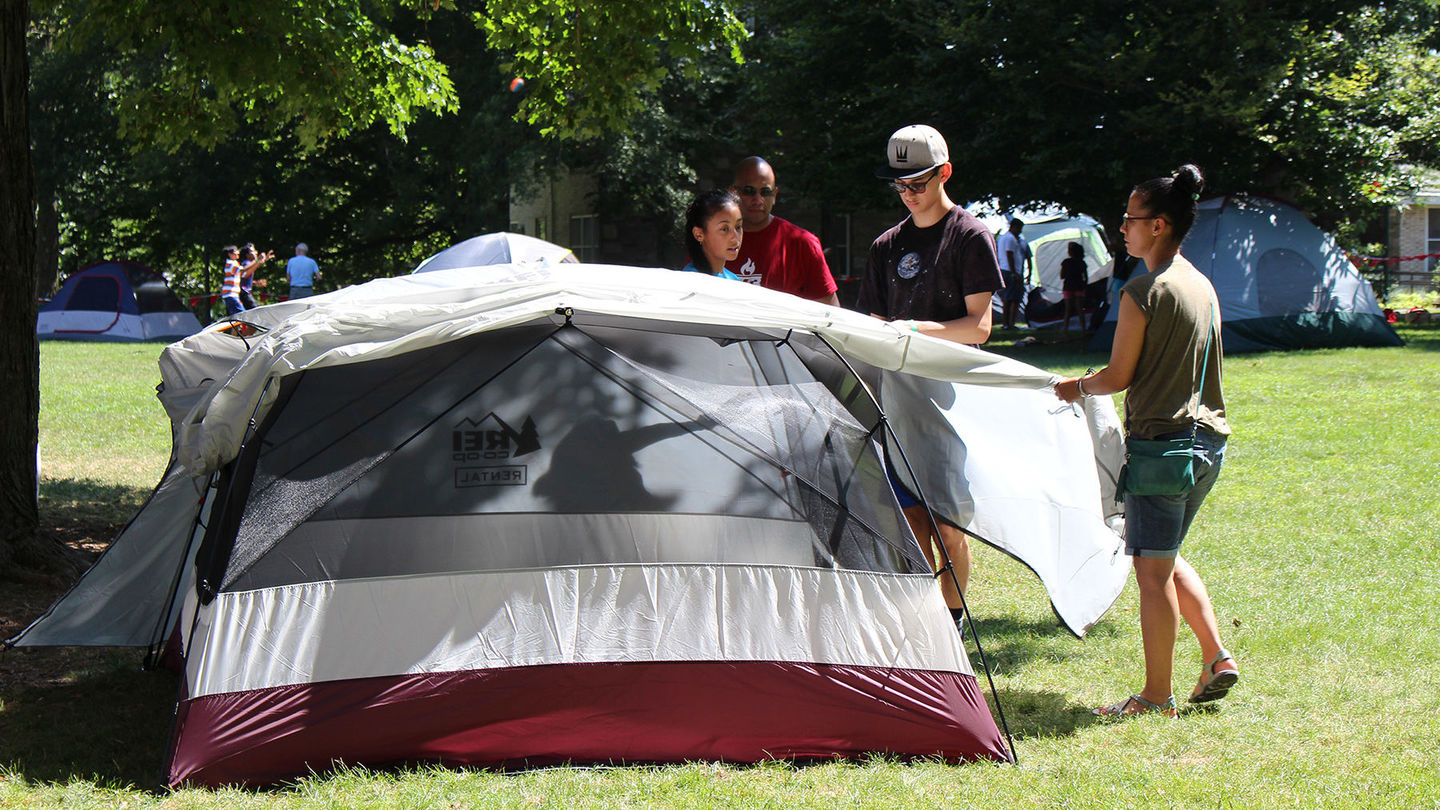 The benefits from outdoor play for mind, body and spirit are well-documented and create a lasting connection to nature and wildlife that help promote happiness and good health.
Unfortunately, as the hustle and bustle of everyday life seems to become more and more hectic, connecting with nature and the outdoors is often left out of the equation. The Ambler Arboretum, Temple Ambler EarthFest and Temple Ambler's Office of Recreation, Outdoor Education and Wellness are hoping to reverse that trend.
For the first time since 2019, The Great American Campout will return to campus in person! Join the Arboretum, EarthFest, Recreation, Outdoor education and Wellness, the Temple Ambler Field Station, Temple University Office of Sustainability, and Temple University Adventure Bound for a night of camping, tours, s'mores and more from 2 p.m. Saturday, October 21 through 10 a.m. Sunday, October 22. 
Register for this family-friendly event online. Please note: Individuals under the age of 18 must be accompanied by an adult. Space is limited! Temple Students should register for the event with Temple University Adventure Bound.
"The goal of the Great American Campout is to provide a welcoming camping experience for beginning and experienced campers alike. Our campout is designed with families in mind who may have never tried camping and want to get that experience without having to trek out into the wilderness," said Kathy Salisbury, Director of the Ambler Arboretum of Temple University. "For experienced campers, this is a way to explore a different type of camping — how often do you get to camp on a college campus — and, hopefully, share their knowledge with our more novice campers. They'll also have the opportunity to explore the Ambler Arboretum, stargaze, learn about hiking and fire safety, have a sing-along, listen to campfire stories from the Lenape Nation, and, of course, make s'mores!"
The National Wildlife Federation's Great American Campout is a celebration of camping as a way to connect with nature and wildlife. At Temple Ambler, while participants will be able to enjoy camping under the stars, they won't need to worry about "roughing it" too much, according to Salisbury.
"It might not be 'glamping,' but for those new to camping they can ease into the experience with mentors to help them with putting up their tents, and there be flushing toilets and a place to charge their devices nearby. We will also send detailed instructions about what to bring to the campout," she said. "I think this is part of what makes this event special. It takes some of the discomfort out of a new experience and allows people to focus on connecting with nature." 
The need to share ideas about sustainability and protecting and preserving the environment is critical, now more than ever. To meet that need, Temple University Ambler EarthFest, the Ambler Arboretum, the Temple Ambler Field Station and Outdoor education offer a variety of events, programs and workshops throughout the year, said EarthFest Coordinator Jim Duffy.
"The mission behind this event, and all of our EarthFest events, is to help people develop a greater respect for the world around them and an appreciation for all that nature has to offer," he said. "We hope that our programs start a conversation, that they spark curiosity about the environment, biodiversity and STEM education. The Great American Campout is a starting point for what will hopefully become a lifetime of environmental stewardship."
Camping, said Salisbury, "brings you closer to nature and helps you build connections with the world as a whole."
"One of the great things about holding this event on campus is that we have an opportunity to help people understand what plants are a little better, what plants do, and their role within the greater system," she said. "We can't exist without plants. Our future depends on how we interact with the world around us."
The Great American Campout is being held in tandem with Temple Ambler EarthFest: The Science of Scary this year, which will be held from 2 to 4 p.m. on October 22! Connect with the world around you by learning about animals and insects such as arachnids, snakes, carnivorous plants, skunks, lizards, and "monsters" of the deep! Learn more. 
For participants of the Great American Campout at Temple Ambler, registration includes a tent site — 15' x 15' (bring your own tent), the Science of Scary, guided walks, workshops, campfire, stargazing, s'mores and more. See the full list of activities here.
Guests are invited to bring their own food to the Great American Campout. It's the perfect evening for a picnic dinner! Purchasing food is also an option on the registration page. Please Note: Cooking at the event is prohibited. Refrigeration is also unavailable. Coffee, juice, and cereal bars will be provided the morning of October 22.
Want to explore more? Discover a treasure trove of Great American Campout content online!
For additional information, contact 267-468-8108 or duffyj@temple.edu.