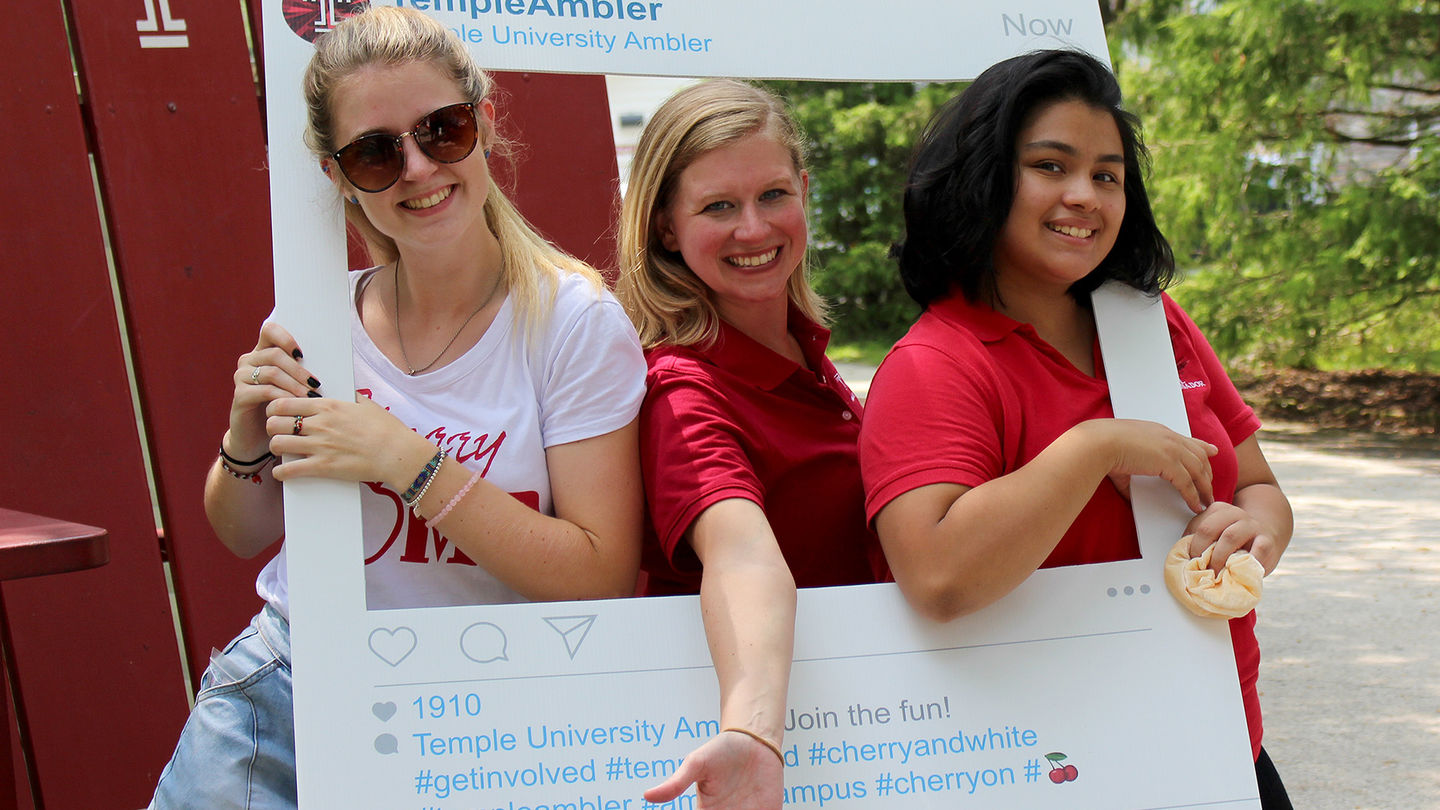 James F. Duffy
When students begin classes for the fall 2021 semester at Temple University Ambler, they will be met with a special week-long celebration.
Temple University has planned University-wide Temple Together Weeks of Welcome for students to help them start the year off right by meeting new friends, having fun safely, and acclimating to their campus environments.
"The Week of Welcome is a way for the campus to welcome all of the new and returning students. It gives them a period of spirit and fun as they begin their academic year," said Meg Cranney, Assistant Director of Student and Campus Life at Temple Ambler. "Needless to say, we're very excited to have our students back on campus and we look forward to a great fall semester!"
Join the Office of Student and Campus Life for a Temple Ambler Welcome Picnic on the first day of classes, Monday, August 23, from 12 to 2 p.m. in Bright Hall (please note location). Enjoy a variety of sandwiches/wraps, salads, and snacks while getting to know Temple Ambler staff and Student Organizations. Then top it off with a delicious blended smoothie from the tiki bar, courtesy of Maui Wowi! The second day of the Welcome Picnic will be held on Tuesday, August 24, from 12 to 2 p.m. on the Ambler Campus Library Lawn
Topping off the fun on Monday, August 23, join the Ice Cream Social, which will include a variety of ice cream treats. We can all scream for ice cream from 4 to 5:30 p.m. in the Learning Center Lobby.
Start your morning off right during the first week of classes with a Temple Ambler Welcome Breakfast on Tuesday, August, 24, from 8:30 to 10:30 a.m. in the Learning Center Lobby. Student Life will have a variety of food and beverages available! The Welcome Breakfast will also be held on Wednesday, August 25, from 8:30 to 10:30 a.m.
On Wednesday, August 25, and Thursday, August 26, Student Life will host a WOW Campus Lunch Party from 12 to 2 p.m. on the Library Lawn. Food will be provided at no cost to students. On August 25, embark on a Finger Food Frenzy featuring mozzarella sticks, wings, fries and more while meeting new students and staff on campus. Maui Wowi returns with blended smoothies in the tiki bar on August 26!
Still craving sweet frozen treats? Head back to the Learning Center Lobby on Thursday, August 26, from 4 to 4:30 p.m. for an encore of the Ice Cream Social!
Capping off the week on Friday, August 27, enjoy soft pretzels and water ice in The Perch, the student lounge located in Bright Hall, from 11 a.m. to 1 p.m. Two Philly favorites make for a perfect happy snack ending for the first week of classes!
Masks will be required at all Student and Campus Life programs. Temple University is currently hosting in-person events in compliance with regional and CDC guidelines. Visit the university's COVID-19 Resource Hub at https://www.temple.edu/coronavirus for additional information.