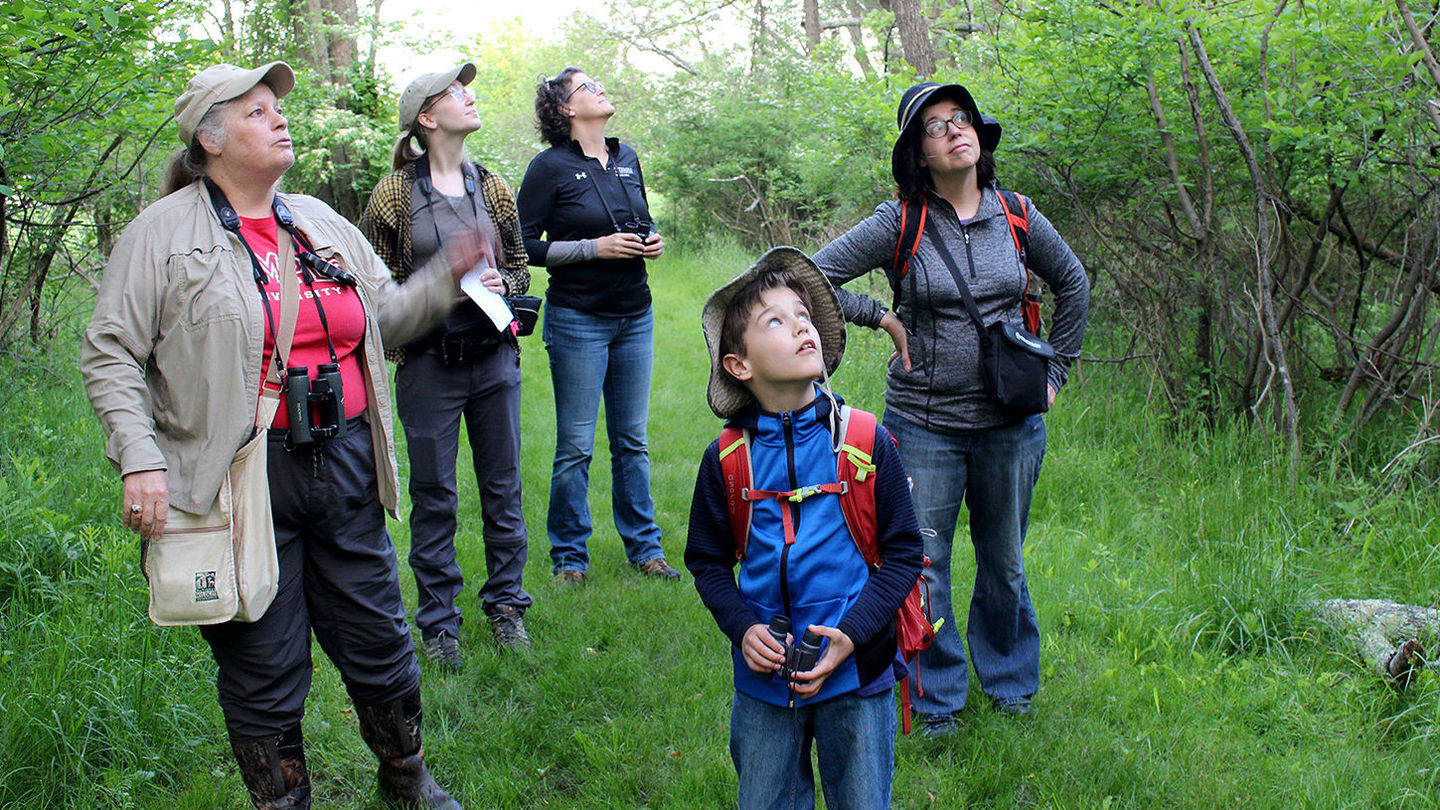 James Duffy
Biodiversity (noun): The variety of life in the world or in a particular habitat or ecosystem.
Biodiversity is all around us. In fact, it includes us.
Biodiversity refers to the variety of living species on Earth, including plants, animals, bacteria, and fungi. Biodiversity provides functioning ecosystems that supply oxygen, clean air and water, pollinate plants, control pests, treat wastewater and every other essential ecological service. Biodiversity is necessary for the planet to function.
During the month of May, the Temple Ambler Field Station will be placing a spotlight on biodiversity in a way that gives everyone the opportunity to contribute to important research.
"Biodiversity Month is going to be an annual celebration of biodiversity at the Field Station. National Biodiversity Day is Friday, May 22; we wanted to take the opportunity as a field station to really celebrate the biodiversity we have on our campus," said Mary Cortese, a PhD candidate in Biology at Temple University and Research Assistant with the Temple Ambler Field Station and Freestone Lab. "We wanted to get the community involved in exploring that biodiversity and introduce them to some of the ways that they can participate in the research that we have going on as citizen scientists."
According to Cortese, the goal of the Field Station's Biodiversity Month "is to help the community understand the kinds of biodiversity that we have at Temple Ambler and get to know that on a more personal level by making their own discoveries on campus and getting invested in some of the research that we do."
"It is also an opportunity for us as a research station to update our counts and take stock of biodiversity research that we do year-round. This will become an annual marker for us to really look at that data and share it with the public, she said. "Some of the biodiversity found on campus may include different species of birds or animals, and the different types of plants, which of course the Ambler Arboretum does a great job with. It's an overall exploration of the biodiversity that we have on campus."
Biodiversity Month will kick off on campus on Sunday, May 1, in coordination with the Ambler Arboretum of Temple University's May Day festivities, a celebration that dates back decades on the campus when it was the Pennsylvania School of Horticulture for Women.
The May Day event will also include tours, the unveiling of the newly created Vine Display in the Arboretum, a project undertaken by Tyler School of Art and Architecture Landscape Architecture and Horticulture programs Adjunct Assistant Professor Michael LoFurno and the students in the Junior Design-Build Studio, and more.
Field Station Biodiversity Day will take place from 12:30 to 3:30 p.m. on May 1, and will include a guided citizen science tour at 12:45 p.m.
"For the kickoff event we're going to additionally be a part of the City Nature Challenge, a worldwide citizen science event where people go out into their backyards and identify species using an app called iNaturalist (for more information on the app and other citizen science tools, see below)," Cortese said. "We'll have a table from 12:30 to 3:30 p.m. where we'll talk about how to use tools like iNaturalist."
The Philadelphia City Nature Challenge is designed to document the plants, animals, and fungi in Philadelphia, Delaware, Montgomery, and Bucks counties in Pnnsylvania and Camden, Gloucester and Burlington counties in New Jersey.  
"Our guided citizen science tour on May 1 will be a way for participants to put their new citizen science skills into practice," Cortese said. "We'll walk around campus, talk about some of the biodiversity systems that we have and what biodiversity looks like in those systems. It will really give people a chance to practice making observations here so that they can, in turn, do it on their own."
For the month of May, the Field Station will also have different weekly biodiversity challenges, Cortese said.
"Those will be done on your own at the Ambler Campus. At the end of the month will we give away two prize packs — one for the person that records the most observations and one for whomever records the highest number of different species (please note that only observations made at Temple Ambler will count)," she said. "That doesn't mean you can't observe other things, it's just a jumping off point."
The weekly themes will be:
May 1 to May 7 — Things That Crawl
May 8 to May 14 — Things That Blend In     
May 15 to May 21 — Things That Are Fast
May 22 to May 31 — Things That Are Smaller Than a Deck of Cards
"We hope that Biodiversity Month will encourage people and help them engage with the environments in their own backyard. We want them to be able to go out and find a cool species that they didn't realize was there — maybe they'll learn to identify something that they've seen around before but they weren't sure what it was," Cortese said. "One of the cool things about apps like iNaturalist is that they have a level of AI designed to help you identify things. You can take a picture of something, and it will give you the top three possibilities at what it is."
Biodiversity Month is designed to help people "get engaged, or re-engaged, with nature and become comfortable as a citizen scientist," Cortese said.
"They will be contributing to a worldwide data set that researchers use. Even for my own research, I use iNaturalist data — the observations that people make on these platforms really does get used in research, almost in real time," she said. "I think the benefit for participants is getting outside making observations and enjoying a little Nature Rx — it is beneficial to slow down and just look at the world around you. For some of our challenges like Things That Blend In, it is an opportunity to look for things that they might not otherwise discover. We get to look around and play in the dirt a little — it's about recapturing that sense of wonder in discovery and observation."
For the Field Station, the observation will "help us get an even better sense of what we have on campus."
"A citizen scientist might see something that we have never seen before," she said. "You're helping us better understand our ecosystems and that will directly benefit our researchers — if we don't know they're there, we can't study, monitor and track them."
Citizen Science Tools
The Field Station partners with the Ambler Arboretum to use citizen science applications to facilitate data collection on a variety of species, from birds and insects, to native and invasive plants.
iNaturalist
iNaturalist is a biodiversity platform that allows users to contribute to scientific research around the world by recording their encounters with wildlife. iNaturalist, a partnership between National Geographic and the California Academy of Sciences, is for naturalists of all skill levels. 
With iNaturalist you can submit observations of almost any organism making it perfect for those who want to improve their identification skills for local organisms, or those who want to contribute to a global diversity network. The observations added to iNaturalist are later added to scientific repositories like the Global Biodiversity Information Facility to be used by scientists around the globe.  
On a local scale, you are helping the Temple Ambler Field Station create a database of species found on our campus. These data will be used to help understand impacts of global change in the Greater Philadelphia area. Visit here for a step by step guide on how to start collecting.
eBird
EBird is a platform that allows birders the chance to share their birding knowledge with the world. Run by the Cornell Lab of Ornithology, users can easily create checklists of birds they have seen and upload those to the eBird platform.
Once uploaded, these observations help researchers monitor current bird biodiversity, distribution, and abundance trends. With its easy to use collecting app, eBird can be used by novices, experts, and everyone in between. Visit here for a step by step guide on how to start collecting.
iMapinvasives 
iMapinvasives is a platform that is focused on tracking invasive species throughout the North America. Each state can join the iMapinvasives network and create a custom list of species that are considered invasive in that area.  
Observations are shared with stakeholders throughout the state or region in order to coordinate control efforts and track the spread of invasion. The Temple Ambler Field Station currently has an active project tracking Spotted Lanternfly throughout our campus. With a dropdown menu of known invasive species preloaded on the app, observations are easy. Visit here for a step-by-step guide of how to start collecting.
Budburst
Budburst, a project of the Chicago Botanic Garden, is a platform focused on bringing together educators, researchers, and citizen scientists. As a Budburst Partner, Temple Ambler Field Station has created a list of 10 commonly found plant species on our campus. 
With its hands-on guide to ecological observation, Budburst is the perfect place for new citizen scientists to learn the ropes. Plant observations, including features like flowers, leaf color, or fruits, are used by scientists to track plant life cycles. With a focus on education, Budburst also has plenty of resources for students of all ages. Visit here or a step by step guide on how to get started.