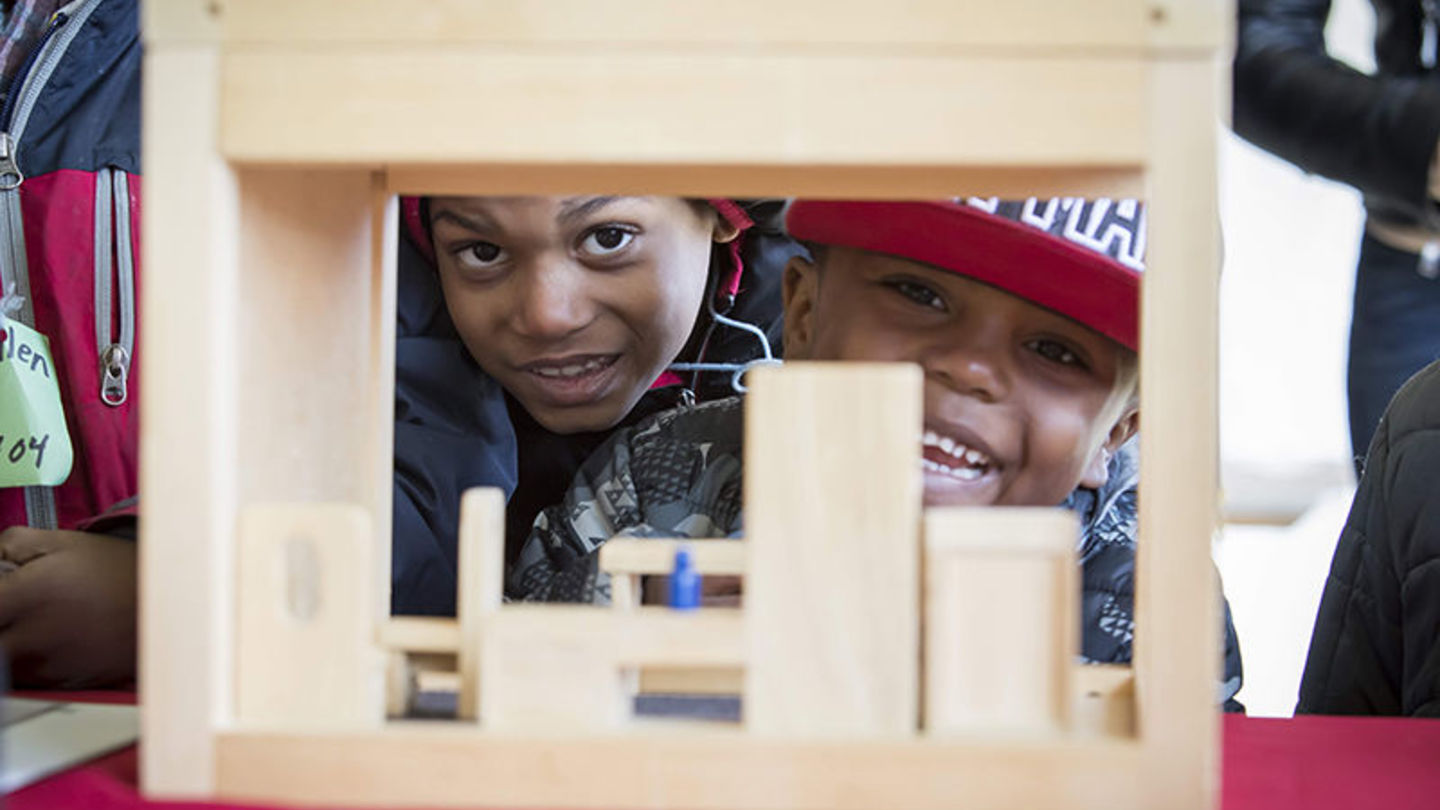 There might have been chill winds blowing, but that didn't cool the enthusiasm of the 5,000 students, teachers, parents and chaperones that spent April 20 celebrating the Earth at Temple University Ambler.
"We couldn't be more pleased with how EarthFest 2018 turned out this year. Our visitors and exhibitors fully embraced the day as an opportunity to learn about and share information that will be beneficial for this and future generations," said EarthFest Coordinator Susan Spinella Sacks. "EarthFest was dedicated to the memory of Dr. Jeff Featherstone, who was one of the essential founders of the event. I think he would be very proud that 16 events later, we are still inspiring a new generation of environmental leaders."
EarthFest is one of the most highly anticipated events of the year at Temple University Ambler. Thousands of students from all over the region come together and spend time learning about the world in which we live and the interconnected systems on which the lives of people and animals depend.
With inquisitive crowds eager to interact with more than 85 exhibits for 2018, EarthFest takes a veritable army of volunteers to be successful each year.
"Our volunteers — students, faculty, staff and community members — were excellent ambassadors for Temple at EarthFest," said EarthFest Volunteer Coordinator Eric Rivera. "We had several volunteers from outside organizations and businesses and volunteers from a variety of Temple schools and colleges, which I think shows how important the event has become in the region — people want to be a part of this special day."
University College Vice Provost Vicki Lewis McGarvey welcomed visitors to EarthFest along with 6abc Meteorologist Melissa Magee, who returned for her ninth year as EarthFest emcee; 6abc was also the media sponsor for EarthFest 2018.
"Since its inception in 2003, EarthFest has welcomed well over 120,000 students, teachers and chaperones to campus for the singular purpose of helping them understand that they have the power to effect change — they can leave the world a better place than they found it," said Dr. McGarvey. "That message is an essential part of Temple Ambler's lasting legacy. Everyone can make a difference. Everyone can have an impact on the world around them. It's why we've expanded EarthFest into a series of events in tandem with the Ambler Arboretum's growing list of lectures, tours and programs".
Magee said she hoped visitors to EarthFest came away with "an appreciation for what's around them."
"EarthFest engenders a greater awareness and cognizance about how we contribute to the world around us in both positive and negative ways. This is a great stage to talk about the environment and sustainability; to help kids see what is going on and take it all in, to help them realize that this isn't just a trend," she said. "Protecting the environment will be in their hands in the future, but it starts right here. And for the students that become exhibitors at EarthFest, they are so proud to showcase what they have learned — they become the teachers!"
EarthFest newcomers Upper Merion Middle School and Philadelphia Academy Charter High School joined with the Temple University Ambler Aquaponics Lab and Evergreen Lane Farm to showcase the potential of aquaponics systems inside and outside the classroom. They, in addition to fellow newcomers William Tennent High School and Lewis C. Cassidy Elementary School were among the more than 20 school exhibits at EarthFest, including eight from Upper Dublin High School.
At Upper Dublin, EarthFest has become part of the 10th grade Environmental Science curriculum. Students have the opportunity to present an exhibit at EarthFest as an independent or group project, according to environmental science teacher Lisa Fantini.
"It has been a great experience for the Upper Dublin students to understand what preparation and education is needed for a public event like EarthFest," Fantini said "Our students are required to independently work through the process from beginning brainstorming of a topic and presentation type, to researching, to obtaining supplies, to preparing those models, take-homes and visuals for the kids, to practicing, to the endpoint of running the day's event efficiently. In May, they will do reflections and have an informal discussion with classmates about their experiences."
In addition to popular returning exhibitors such as the Franklin Institute, Barn Nature Center, National Park Service, Academy of Natural Sciences, Elmwood Park Zoo and the Philadelphia Insectarium and Butterfly Pavilion, exhibitors such as the Federal Emergency Management Agency (FEMA), the U.S. Army Corps of Engineers, and U.S. Environmental Protection Agency pulled out all the stops in sharing interactive messages supporting EarthFest's theme of "sustaining our communities."
Temple University departments and student organizations highlighted the possibilities of a variety of green industry professions. Division of Architecture and Environmental Design exhibitors included the Department of Landscape Architecture and Horticulture, Temple Planning Student Organization, Landscape Architecture and Horticulture Association, Department of Planning and Community Development, Temple University Ambler Aquaponics, Pi Alpha Xi, Society for Ecological Restoration, Food Forest Club and the Department of Architecture.
Participating Temple departments and organizations also included the Office of Sustainability, Temple Athletics, Temple University Municipal Police Academy, the Center for Obesity Research and Education, Temple University Computer Recycling Center, Temple University Summer Programs, Temple Community Garden, Temple University Infant and Child Laboratory and Aramark at Temple University.
The Ambler Arboretum of Temple University also hosted about 110 students on special tours of the campus gardens exploring the theme "Not All Bugs are Bad." The 2018 tours were designed around the seventh grade curriculum standards in Pennsylvania. Arboretum Director Kathleen Salisbury said she hopes to expand the tours for additional grades at EarthFest 2019.
"I think one of the most exciting things about EarthFest is that while our mission remains the same — promote environmental awareness and ways to sustain our communities, every year is a little different," Spinella-Sacks said. "Sixteen EarthFest celebrations and we'll soon start working on the 17th — this is a tremendous achievement. EarthFest has become an essential part of sharing what Temple University Ambler does best — promoting environmental stewardship in our communities."
EarthFest 2018 sponsors included Air Quality Partnership - Delaware Valley Regional Planning Commission, Green Mountain Energy, Janet and Lew Klein, PECO Energy, American Planning Association, Pennsylvania Chapter, Schiel Family Foundation, Temple University Ambler, Township of Upper Dublin, Gold Medal Environmental and support from the University community.
According to Spinella-Sacks, EarthFest will continue to expand in 2018 and beyond, partnering with Temple And outside organizations for a variety of environmental interests.
"The need to share ideas about sustainability and protecting and preserving the environment with a wide audience is critical, now more than ever," she said. "Temple Ambler EarthFest will be hosting a variety of events, in addition to our main event each April, in partnership with the Ambler Arboretum and other partners designed to get people really thinking about the world around us."