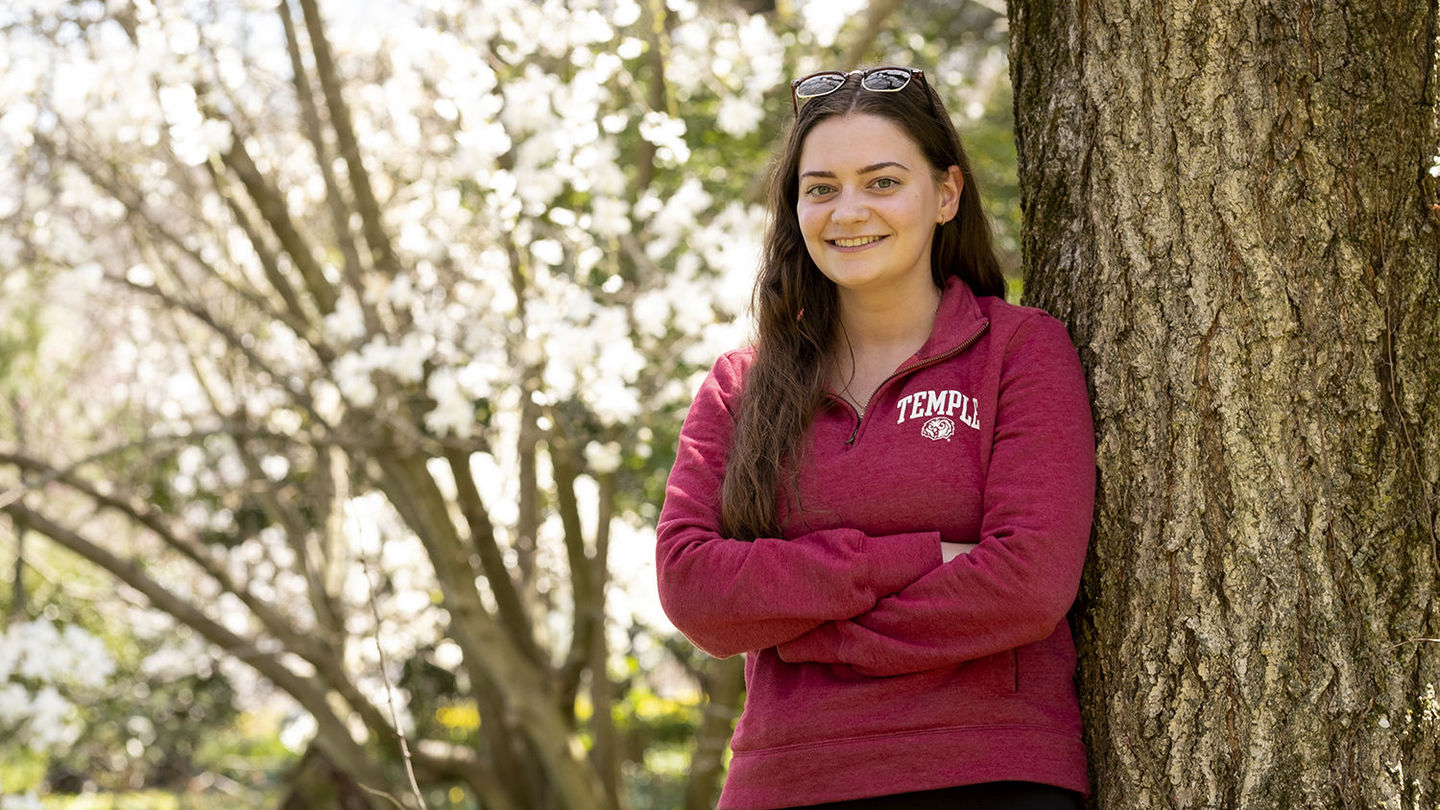 Photo by Joseph Labolito
Alexandra Carr is a Temple Owl through and through. In fact, she comes from a whole nest of Owls!
Her brother, Peter Carr, is finishing up his Business Management degree at Temple's Main Campus. Her aunt, Jennifer (Sheuring) McQuarrie has a degree from Temple in Business Management. Her mom, Anne (Sheuring) Carr, completed her degree in Business Management and a Master's in General and Strategic Management, both at Temple. She happened to go to Temple Ambler, "so she's a huge fan of the campus," Carr said.
If you haven't sensed a trend, you're not paying attention. All of her fellow family Owls completed (or are completing) majors in the Fox School of Business. Business is a way of life for the family, Carr said, so when it was time for her to transfer to Temple from Montgomery County Community College, following in those footsteps seemed like a no-brainer.
Carr arrived at that choice, however, by forging her own path.
"I originally started out as an early education major and I was ready to do that, but I didn't know if I wanted to be a teacher exactly. I realized I wasn't truly set on what I wanted to ultimately do as a professional," said Carr, 21. "I knew I wanted to do something that was broad but had opportunities for specialization. Most of my family is in business so I thought I'd give that a try."
After taking a few business classes, Carr said, "I fell in love with it."
"I wound up switching everything to business. I knew that was the right move for me," said Carr, who will complete her own Business Management degree, with a minor in Marketing in May 2021. "When I was at Montgomery County Community College, it was always my plan to transfer to a four-year school — community college was best for me to start off and I think it worked out in my favor. I started looking at schools that I could commute to as I wasn't committed to living on campus."
Carr then discovered Temple University Ambler.  
"I love the city, but I didn't think I was ready for such a huge change. With Temple Ambler, I still got the Temple experience, but I could continue to live at home, save money, and I love the campus community here; it was perfect for me," she said. "Once I got acclimated here, I wanted to eventually go to the city and Main Campus — I was able to take a few classes there and find a good balance for me. Even as a senior, I'm able to take a mix of courses at Temple Ambler and Main Campus. I also do a lot online even when we're not completely online."
The transition from community college to Temple was a smooth process made all the easier by a welcoming, student-centered campus community, Carr said.
"I didn't think I'd find a college that would really fit my needs as a student. I was almost ready to go with something I didn't think I wanted," she said. "Then I toured Temple Ambler and loved it; Temple was the only school I applied to. I pushed myself within the first semester of coming here to get a lot more involved. I got involved in Student Life and my job as an Owl Ambassador, which unlocked a whole other world, a part of the campus that if you just go to class you don't get to experience."
Becoming a dedicated part of the Ambler Campus community was essential to achieving her personal goals, Carr said.
"Once I transferred, I thought I was lacking a little bit in my college experience. The best way to fix that was getting involved. I was a little hesitant at first but then I started to get to know people and see familiar faces at events and programs," she said. "I knew I would blend in well here and I've made some great friends. I'm glad I pushed myself because it is so important to get involved if you want to get the most out of your college experience."
As an Owl Ambassador, "my goal is to get as many students as I can to join our community," Carr said.
"I think a lot of people want that big school feeling and then they come here and also like the smaller class sizes. My role and the role of all of the Owl Ambassadors, I think, is opening high school or transfer students' minds to what our campus has to offer," she said. "Temple Ambler is unique; it's not cookie-cutter in what it has to offer. The community is my top thing and it sets us apart from so many other schools — you really feel like you're a part of something here."
Becoming involved with student life, "what I personally needed to grow."
"I was such a shy person at first but now I've become much more ambitious. I've loved the experience and it's something I can put on my resumé," she said. "It helped me get the other job I'm in now and it's great to have something outside of class. I couldn't imagine coming to school and just going to class and leaving; I needed something else."
With a stellar 3.88 GPA and 4.0 GPA in her major, Carr is currently focused on "getting my degree, networking and making connections," she said.
"I approach my school work as if it is a job, which really benefits me in my ambassador job and my job outside of Temple," she said. "It gets me used to a professional lifestyle — I think Fox in particular helps me do that."
While working on completing her degree, Carr also works part-time with a pharmaceutical consulting company, Design Space Inpharmatics.
"It's great because even before the pandemic they were a completely virtual company. I'm doing a lot of the things I've done as an Owl Ambassador," she said. "I've become head of their social media at this company. I also do some of their marketing work, which is why I chose my minor in marketing because I loved it so much at this company. My classwork and my job are really interconnecting."
Completing her degree, working part-time and her extracurricular activities require striking a balance between her responsibilities, Carr said.
"Taking school and approaching it as a job I think personally helps. I don't really see my extracurricular involvement as work; I see it as my downtime, time to do things I thoroughly enjoy," she said. "I'm able to find a good balance. With my jobs, they know I have school, and my bosses are very supportive. I also schedule my classes so I can do my job and I can have time for extracurricular activities."
Carr said the "Temple spirit" has been something she's truly enjoyed about her Temple experience.  
"I love the Temple spirit, the school pride. It's amazing. I also make sure to show my school spirit," she said. "In the Fox School, there is such professionalism. So, it's a balance of having fun and also having that professional student experience."
Right after graduation, Carr said, she will be continuing at Temple Ambler throughout the summer as an Owl Ambassador in addition to continuing to work at Design Space Inpharmatics.
"I'm really taking the summer to look more for a job that I really want," she said. "I want to continue to do a lot more research on what specific area of business management I want to pursue."
Carr has some key advice for other transfer students.  
"Get the four-year degree and complete your education. I'd recommend getting involved. It makes the transition much smoother. Students coming from other colleges, put yourself out there," she said. "Don't be afraid to make friends right off the bat. Also, make sure you have a plan that fits your specific needs — Ambler Campus, Main Campus, online or a combination of them — do what works best for you to achieve success!"