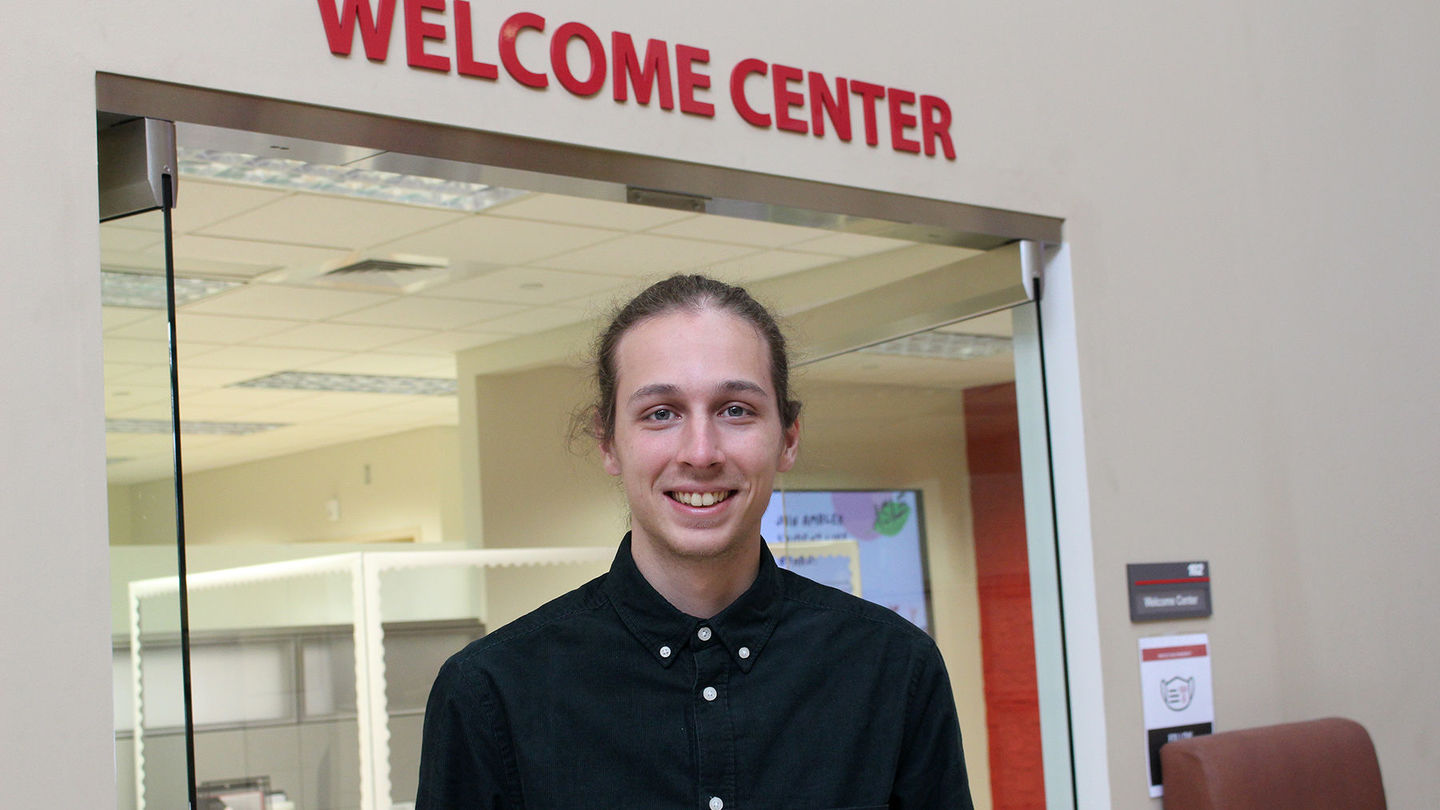 James F. Duffy
Eric Sphar would be the first to tell you that the road to achieving his degree was less than smooth.
"I started at Boston University initially very sure of myself and got smacked down pretty hard by the reality of it. There were some definite bump in the road when I was pursuing my degree, which is fairly common," said Sphar, who began as Temple University Ambler's new Enrollment Coordinator on November 29. "I think there were likely some things I could have heard from advisors at universities that could have directed me in a way that would have made it all easier to navigate. I'd like to be that person for other students starting out at Temple Ambler."
After Boston University, Sphar landed at Bucks County Community College while trying to decide what he wanted to do in the future. 
"My closest friend was at Temple — I think Temple was the most popular school with my graduating high school class — so I decided to visit and see if it was a good fit," he said. "Within two months, one of my General Education professors recognized how invested I was in the course material and she suggested I make a change in majors. From there, I became an Environmental Studies major and also completed a GIS (Geographic Information Systems) certificate."
Having a passion for learning about climate change and environmental science, it was easy for Sphar to make connections to the material on an academic level — he completed his Environmental Studies degree at Temple in 2020.
"What I wasn't expecting was being able to make real connections with the professors and students in the program — it was very welcoming," he said. "It was a small department, with a tight knit group of professors and students, many of whom were also transfers or otherwise non-traditional students. I really credit my professors with helping me grow as a person in a big way." 
What he benefitted most from at Temple, "and want students I'm working with to experience, is support," Sphar said.  
"I needed that support to pick myself back up, realize that bumps in the road are normal and get moving on achieving my goals," he said. "Especially at Temple Ambler, where students and faculty truly have an opportunity to build long-lasting connections, support is the one thing I want to offer during the application process, the prospective student process, after they've been admitted and when they've started taking classes. I want to be a point of contact, someone that people know that they can talk to and ask questions; whatever they need."   
As Enrollment Coordinator, Sphar said, he'll be overseeing the Owl Ambassadors, who often provide prospective students with their first glimpse of everything that Temple Ambler has to offer.
"I'll also be working on event planning for information sessions, admitted student days and other programs for prospective students. I'll be involved in recruiting, visiting local high schools and hosting virtual events," he said. "I'll additionally explore some of the marketing side, analyzing data and looking at recruitment strategies. I think everything I'll be doing is designed to help students build strong connections with the University as they get their start."
When Sphar left Temple after completing his degree, "I think what happened to me happens to a lot of students when they truly enjoyed their time at school — I never really wanted to leave," he said.
"Seeing the Enrollment Coordinator position available at Temple Ambler, I knew it was something that I would really enjoy doing. I think one the big strengths — especially from an outside, third person point of view — that Temple Ambler has is the setting," he said. "Regardless of how the tornado in September impacted campus — and the fact that the campus is using what happened to create new learning opportunities — there is such a diverse range of unique educational experiences here."
Being able to go to a campus that is close to the city and to smaller communities such as Ambler Borough but is also a separate, more naturalistic learning environment, "gives students a broad range of possibilities," Sphar said.
"There is such a passion around the programs offered at Temple Ambler. Being exposed to different environments, different backgrounds and experiences is never going to be a bad thing," he said. "My biggest initial goal is to be open and excited to making strong connections with prospective students."
Personal connections when you're a student exploring college possibilities "is not something that happens everywhere you go," Sphar said.
"Some schools — especially the schools that I looked at — are so big you don't really expect to make connections like that. I think that's one of the strengths that I learned working for a time in the service industry; how important making personal connections with people is on a day-to-day basis," he said. "Internally, fitting into a group of dedicated, hardworking people is very exciting. The opportunity to get involved in a broad spectrum of ways on campus, that's something I'm ready for."